If coaching Xavier or 3rd-grade girls, hoops is family for Chris Mack
Xavier's Chris Mack is a coach on the rise. He puts the same effort into coaching his daughter's 3rd-grade team because if you were raised like Mack, it's what you do.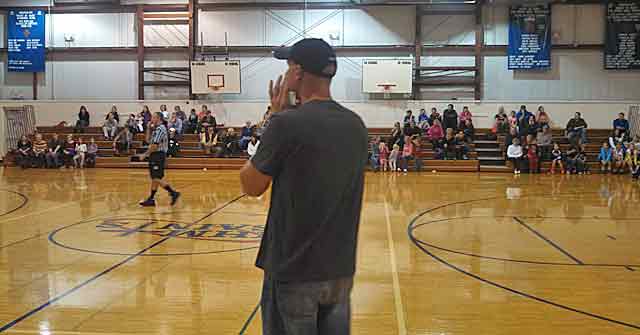 BURLINGTON, Ky. -- This is going to be a cute story, maybe worse than cute. It's going to be adorable. Disgustingly so. That's what I'm thinking as I walk into a tiny gym to watch third-grade girls play basketball. The team is from Blessed Sacrament School. The coach is one of the kid's dads. He happens to be the coach at Xavier, Chris Mack.
Disgusting, right?
You don't know the half of it. Chris Mack is so disgustingly, adorably cute that this video right here was his idea. It's Mack and his family -- wife Christi, daughters Lainee and Hailee -- lip-syncing Call Me Maybe by Canadian pop star Carly Rae Jepsen. The video starts with the Xavier head coach looking into the camera, serious as serious can be, pretending to sing these words:
I threw a wish in the well
Don't ask me, I'll never tell
And it goes from there. Christi Mack has Call Me Maybe as her cell phone's ring tone, and the Harvard baseball team spoofed the song last year. Chris Mack saw that. Decided he wanted to do that with his wife and girls. It's adorably, disgustingly cute.
That's Chris Mack. He's a hard-ass on the court with his team at Xavier -- every bit as tough as one of his role models in coaching, Sean Miller -- but he's every bit as decent as another, the late Skip Prosser. And goofier than both of them. Earlier this season at Musketeer Madness, Xavier's players met the crowd to music. Mack's walk-in song is from Eminem, because he knows this: They're bald and they look alike.
So I'm at Immaculate Heart of Mary's elementary school to watch this bald Eminem lookalike coach his daughter, and I'm prepared to be delightfully disgusted. Tipoff is 15 minutes away, and one after another the girls from Blessed Sacrament walk into the gym in headbands and long socks, pony tails and running shoes. This isn't a game, it's a fashion show, and Chris Mack's team looks delightful.
It's about to start, so I sneak over to the scorer's table, closer to Chris Mack than half his bench, because I want to see him swoon and hear him coo. And right before tipoff I'm rewarded by this: Mack looks at his center, Molly O'Connell, and shows her what to do. He pantomimes tapping the ball back with his arm, because I don't care who you are -- Xavier coach with two Sweet 16s on your resume or the nurse coaching the other team, from St. Pius -- that's what you do when you coach third-graders. You show them how to tap the ball.
St. Pius wins the tap. Mack scans the court.
"Lainee," he yells to his daughter, "you have No. 10."
Lainee moves toward No. 10. Chris Mack is watching, and now he is shouting, and this is where I realize maybe I had it wrong. This story might not be so adorable.
"Get her," Mack is shouting to his 8-year-old. "Get her!"
•••
Basketball means family to Chris Mack, and not in some stupid esoteric way. It means family, because it means family. When he was a kid Mack was like lots of us. He read the sports page at breakfast and he played sports in the backyard and his dad, Tom, coached his basketball team. And Tom Mack didn't do it to be adorable or cute. He did it because he knew basketball would teach Chris about life, and he wanted it taught the right way. And also, absolutely, he wanted to be there.
"I think of when my dad coached me and the lessons learned -- competition, sportsmanship -- and I remember driving in the car, talking about the game, and I look back at that with so much fondness," Chris Mack says. "I didn't want to be that dad who shows up with the lawn chair and then leaves at halftime because I have [a recruit coming on] an official visit. I want to have that same experience with my kids, and I want them to have those memories like I have with my father."
Mack became a pretty good player -- city player of the year, scholarship at Evansville where he averaged 10 points a game, then a few years at Xavier where his career was decimated by knee injuries -- but soon he was finished, skilled enough to play in Europe but not healthy enough to make it. He came back to Cincinnati. What now?
Well, Mack's sister, Carrie, was a senior on the varsity at McAuley High. Her coach was also the junior varsity coach, and he asked Carrie for a favor: Ask your brother if he'd like to coach the JV.
"We went 18-2," Chris Mack says, a player because of his father and now a coach because of his sister.
How did Chris Mack become a husband and father? It's like I told you: basketball is family for this guy. He became head coach at a girls school in Cincinnati, Mount Notre Dame High, where one of his players, Sarah Schloss, went on to play at Dayton. A few years later Mack was a rising star in coaching -- he inherited a Mount Notre Dame team that went 7-14, and in his first season the team was 19-4 -- and soon he was the director of operations under Prosser at Xavier. Sarah Schloss was at Dayton, and Mack stopped in to watch her in practice. Mack spent the practice watching and chatting with Dayton's leading scorer, Christi Hester, who was sitting out that season with a knee ailment.
Four years later, at a graduation party for Schloss, Mack ran into Christi Hester again. He asked her out. She said no. He asked her out a few weeks later. She said no. He tried again, and she said yes. They were engaged four months later.
Basketball and family. It's all intertwined for Chris Mack. But that doesn't make this an adorably cute story.
"I don't care who St. Pius is guarding," Mack yells to his players after walking near the midcourt stripe. "You guard who we say you guard."
Mack returns to the bench, slumps in his chair and mutters something to assistant coach Jeff McCoy.
"We don't have our matchups."
•••
Tennessee came calling after the 2010-11 season, because of course it did. Xavier had won 50 games in two seasons under Mack, and Tennessee wanted some of that. The Volunteers offered eight years and about $16 million. Chris Mack said no, because of course he did. He graduated from Xavier. His wife was coaching a high school in the area. His girls were attending Blessed Sacrament. Basketball isn't just basketball, you know. It's family.
But basketball is serious business, too, which is why Mack wants to beat St. Pius. It's a low-scoring, defensive affair -- OK, it's third-graders playing basketball and the score is tied at 6 late in the fourth quarter -- and Mack is pacing the sideline, sipping from a water bottle and calling the only play the team seems to have. It's an inbounds play under the basket, something Mack calls "Up," where four girls set up on a block on the lane and the fifth waits to pass the ball. The girls on the low block set screens for the other two, who come to the ball and present a target. Here's a pass. There's a layup. Bingo.
In overtime Lainee swishes a high-arcing a 10-footer with 41 seconds left, and Chris Mack reacts as a coach, not a dad.
"Get back!"
Lainee is back, and let me tell you something about Lainee Mack: She's relentless on defense. She comes from some great athletes -- Christi Hester Mack's 1,268 points at Dayton is the family high, which she says "I remind him all the time" -- and Lainee has quickness and tenacity. She is a one-person press, surrounding her poor opponent all by herself. Afterward I tell Chris Mack that his daughter plays defense like former Duke point guard Steve Wojciechowski, an offensively limited but relentless defender who was named national defensive player of the year in 1998. Mack smiles.
"Good," he says, "because tonight she was playing offense like him, too."
Oh, stop that. Thanks to Lainee's bucket the game is going to a second overtime, sudden death this time. First team to score, wins. Before the second overtime I walk over to a woman wearing jeans, sweater and green-and-white polka-dot scarf. Her name is Laura Dickman, and she's coaching St. Pius.
"Do you know," I ask her, "that you're going against the head coach at Xavier?"
Dickman looks at me like I'm the stupidest man alive.
"Well, yeahhhhh," she says. "Making him sweat over there, too."
•••
It's not like Chris Mack is coaching his daughter in the summer, you know. This is the heart of basketball season for Xavier, the program's first in the Big East, and Mack is coaching a third-grade team in and around that. In a few weeks Xavier will play archrival Cincinnati on a Saturday night. Mack won't be home until well after midnight and then he'll watch the game on DVD, but at 1:40 p.m. the next day he'll be at Immaculate Heart to coach Lainee's team.
On Dec. 21 the Musketeers will be in Tuscaloosa, Ala., to play the Crimson Tide at 8 p.m. They'll be home before dawn, but not much before dawn. No matter. At 1:40 p.m., Chris and Lainee Mack will be at Immaculate Heart for their regularly scheduled game.
"It's not so bad," Mack says. "Seriously, the day after a game is the most down time we have. I'll get a nap somewhere and it'll all work out. I can spare an hour to coach some third-grade basketball."
And he coaches it, too. He enjoys the postgame brownie -- chocolate with cheesecake batter drizzled on top, courtesy of Riley Quinn's mom -- and he loves the high-fives with Lainee and visiting after the game with his own dad, Tom, who's in the gym watching today, but during the action he's coaching. And he's suffering. When one of his players misses two free throws, Mack slumps into his chair and says to nobody, "I'm sure the message boards are saying, 'They're not shooting free throws good enough.' "
At Xavier, the message boards really are saying that. The Musketeers are 3-0 but they're shooting only 59.6 percent from the line. And now this. Now Mack's team at Blessed Sacrament is missing free throws and facing defeat after its own perfect start (1-0) and the second game of the season isn't going the right way at all. With 5.1 seconds left in overtime Mack designs a play for one of his best players, Ava Summe -- Mack leans over and tells her, "When you get the ball, go to the basket and shoot it" -- and Ava does as she's told and almost makes it.
So now the game is in sudden death and Mack finds himself in a battle of wits with Laura Dickman, the nurse from Children's Hospital, and ... wait, there's a whistle. Foul on St. Pius. Free throws for Blessed Sacrament, but all it takes is one and this game is over. Elizabeth McCoy, daughter of Mack's assistant, goes to the makeshift line eight feet from the basket and hops up and down. She's excited to be there, though I'm not sure she understands the game is in the balance. She's just excited to shoot. And when she makes the first free throw the game is over. Blessed Sacrament wins 9-8. Chris Mack is now 5-0 on the season -- 3-0 at Xavier, 2-0 in the Immaculate Heart of Mary third-grade league -- and he's walking out of the gym with one of Riley's brownies, his family and a smile on his face.
"Double overtime? Sudden death?" he says, between bites of brownie. "I didn't sign up for this."
Sure you did.
"Yeah," Chris Mack says. "I did."
Things escalated very quickly and both drivers were detained by police

Junior revealed on Instagram that his first child will be a girl

What does it take to compete at the CrossFit Games? Check out 'Fittest on Earth' on CBS Sports...
Keselowski passes Ryan Newman on the final lap to claim the checkered in a wild, crash-filled...

Three of our four picks have yet to win a race this season

Dale Earnhardt Jr. will be making his final ride at Talladega Superspeedway this weekend