If hoops genius LeBron says Napier's the man at PG, Shabazz is for real
Some folks are blessed with genius. LeBron James proves it in his vocation time and again. When he says Shabazz Napier is the real deal at point guard, you best believe it.
More 2014 NBA Draft: Draft Tracker | Trade Tracker | Complete coverage
The biggest steal in the 2014 NBA Draft was Shabazz Napier. I mean it, I believe it, and I'm not concerned even a little bit about being wrong someday. Know why?
Because LeBron believes it, too.
And LeBron's the best general manager in the NBA.
No, really. Said this before, will say it again: LeBron's smarter than most people. Most players, most sports writers, most general managers. Most people. Don't confuse education with intelligence. My grandmother didn't graduate from high school and she talked with a big mouthful of the sun-scorched Oklahoma countryside, but she was one of the smartest people I've ever known. Her brain, her comprehension, just worked at a speed that you had to experience to understand. One of her kids became the highest-ranking enlisted man in the U.S. Army. Another became a judge. They got her brain, and they went places because of it.
LeBron's the same way. That brain -- he gets it. Simple as that. And when he focuses that brain on basketball, he gets it like Mozart gets music. Maybe I talk and write in grandiose language at times, but that's not a grandiose statement. LeBron is a basketball genius? That's not an exaggeration. That's an absolute fact.
And if LeBron thinks Shabazz Napier will be a great NBA point guard, then that's another fact.
And look, I've seen LeBron do this before. He picks and chooses who he will befriend, and when he sees a special talent, he's all over that guy. He's all over that guy before the rest of us, I mean. He saw Kyrie Irving as a high school freshman and latched onto him, knowing a future NBA star when he saw one. He did the same with Chris Paul when they were teammates at the 2003 McDonald's All-Star Game. All those great young players, and LeBron zeroed in on Chris Paul. He liked him as a person? Sure he did. But he respected him as a player, and that's a vital component for LeBron.
I remember watching the 2008 NCAA Tournament from the best seat in the house -- following Davidson. Got lucky there, getting assigned to the same region as the Wildcats, and that was the Stephen Curry tournament. He went nuts, scoring 40 points against Gonzaga and then 30 against Georgetown, 25 in the second half. I saw it happen and lamented the fact Curry wouldn't be a star in the NBA, because he was just too small to play shooting guard and not skilled enough to run the point. That's what lots of people seemed to think.
Not LeBron. He latched onto Curry, getting to Detroit for the Sweet 16 to take in the show for himself. When Curry made one of the signature plays of that whole tournament -- pump-faking Wisconsin's Joe Krabbenhoft past him, then silky-smoothing a 3-pointer through the net -- LeBron was on his feet, hopping up and down. LeBron was sitting in the first row behind the Davidson bench. How did he get there? He'd called Davidson after the second round and asked for some tickets. Because he knew. Afterward he and Curry exchanged phone numbers. They've been friends since. And Curry has become a superstar NBA point guard. LeBron knew it all along.
When Eric Bledsoe was drafted in the first round in 2010, he was the 18th player taken. Hell, he was the fourth Kentucky player taken. But LeBron saw something, befriended Bledsoe, talked him up to everyone who'd listen. And look what happened: Eric Bledsoe, who averaged 11.3 points and 2.9 assists in his one season at Kentucky, is coming off an NBA season where he averaged 17.7 ppg, 5.5 rpg, 4.7 apg and 1.6 steals. Only four players reached all four of those figures last season: Paul George, Russell Westbrook, Eric Bledsoe, LeBron James.
James just knows. How does he know? I don't know. Same way Mozart knew what to do with all those piano keys, I guess.
And now LeBron has anointed Shabazz Napier as his next guy.
No way u take another PG in the lottery before Napier.

— LeBron James (@KingJames) April 8, 2014
Check the date. That wasn't Thursday night before the draft. That was April. And then you saw what happened Thursday night in the draft, maybe. You saw the Miami Heat, LeBron's (sort of) team, making a trade with the Hornets to get the 24th overall pick:
Shabazz Napier.
Trying to make LeBron happy? Well, sure. But also the Miami Heat know what I've been telling you, that LeBron's genius for basketball extends beyond his ability to jump 40 inches and shoot 30-footers and zip blind passes. His genius is in his brain, his ability to evaluate talent. Hell, he basically put together the two-time champion Miami Heat. And now he says Shabazz Napier is the best point guard in this draft?
Then Shabazz Napier is the best point guard in this draft. Me and LeBron, we agree.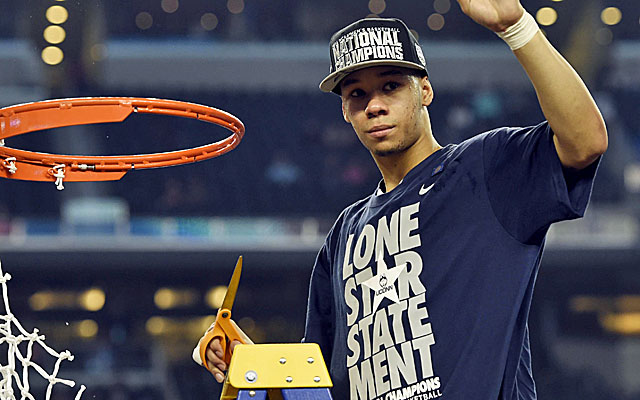 The popular driver opposed the views of several NASCAR figures and cited Americans' rights...

While NFL teams protested en masse on Sunday during the anthem, NASCAR teams were at full...

Kyle Busch claims a big win Sunday while Kyle Larson clinches a spot in the Round of 12 on...
Petty says 'anybody that don't stand up for the anthem oughta be out of the country'

New England native will start from the rear of the field in Sunday's playoff race

A playoff driver could join Martin Truex Jr. in the Round of 12 with a win on Sunday