If Jackson gets Fisher the players, this Knicks marriage could work
Phil Jackson wants to coach the Knicks without actually coaching. With the proper personnel, Derek Fisher's makeup and pedigree under Phil could fill that void.
More Knicks: Knicks introduce Fisher |

Talking Fisher | Latest news, notes
Since taking over the Knicks as team president, Phil Jackson has made it clear he wanted to install Phil Jackson as the head coach, minus the actual hard work. He wanted Phil Jackson's offense, Phil Jackson's leadership philosophy, Phil Jackson's fingerprints all over this hire -- so when the Knicks won, assuming the Knicks won, the reflection in the team's mirror wouldn't be the coach or the players. The reflection would be Phil Jackson.
That's what I thought. Hell, that's what I still think. But now, after some time to think on it some more, I also think this:
By hiring Derek Fisher, Phil Jackson got it right.
Maybe Derek Fisher works as a head coach. Maybe not. Me, I'm of the opinion Fisher could be a great, great coach. He'll need the players, because nobody wins without great players. If it was easy to win simply because the coach is a genius, Phil Jackson would've hired Phil Jackson. But he didn't, because there's no Michael Jordan and Scottie Pippen on this roster. No Kobe and Shaq. There's Carmelo, and that's it, and Carmelo long ago proved he's not good enough to make it happen on his own. And if it can't happen easily, Phil wants no part of being the coach. Those losses? They're going to stick to somebody's official record. Losses are forever. Phil wanted all those wins with MJ and Kobe. Losses with Carmelo? No thanks.
Kudos to Timberwolves president Flip Saunders, who had the guts to install himself as head coach of a franchise that hasn't been to the playoffs in 10 years and could see its star player, Kevin Love, bolt after the upcoming season. Flip Saunders didn't make himself the coach because he's in love with Flip Saunders -- because whoever coaches Minnesota in 2014-15 is going to lose a lot of games. Saunders was willing to do that, to travel and grind and lose, because he surveyed the landscape and after failing to bring in a big-time coach, decided the best coach he could hire was Flip Saunders.
Phil Jackson surveyed the coaching landscape and decided to ignore the all-time leader in NBA championships, a guy he sleeps with every night, a guy already on the team's payroll. Phil Jackson didn't have the guts to hire Phil Jackson, because he wants nothing to do with those losses -- but he'll take the credit for the wins, if they can somehow happen. So he tried to get ex-Bulls player Steve Kerr, with no head coaching experience, as his coach. Kerr would be grateful to Phil for the chance. He'd run Phil's offense. He'd do what Phil said. Phil wins, or Kerr loses. Perfect.
Kerr said no.
So Phil went down the rosters of his past teams and found some other names to consider, including Tyronn Lue and Luke Walton. That was the point where the absurdity got to the jackals on Twitter, and one of the jackals tweeted thus:
Phil Jackson is clearly going to hire an ex-Phil Jackson player. How far down the list is Rodman? And can we please hurry and get there?

— Gregg Doyel (@GreggDoyelCBS) May 15, 2014
But something has happened in the past three weeks. Maybe my Grinch heart grew two whole sizes. Or maybe I finally stumbled onto this realization:
Phil Jackson knows one system at a championship level: the Triangle. He has seen it, coached it, lived it for decades. He knows what players fit, and what players don't. Yes, yes, he knows Jordan and Kobe and Pippen and Shaq fit the triangle. But he also knows what supporting players make it work. Robert Horry and Steve Kerr. Derek Fisher and Rick Fox and Sasha Vujacic. Luc Longley, for heaven's sake.
Phil knows one thing, one system, so asking him to ferret out players for another thing, another system, wouldn't make sense. So he needs to hire a coach who knows the triangle. Got it. I'm on board with it now. I still wish he'd have hired himself, if for no other reason than to see just how good the guy really is. People call Phil Jackson and Red Auerbach the greatest coaches in NBA history as if it's an unassailable fact, and I get the hives. Look at those rosters. Look at the Hall of Famers. Now look at this Knicks roster. Win there, Phil Jackson, and I'm convinced. Lead the 2014-15 Knicks to 54 wins, and I'm convinced. Winning a title with Michael and Scottie? Shaq and Kobe? Cousy and Russell and Havlicek and Heinsohn and Sharman and Sam Jones? Unconvinced.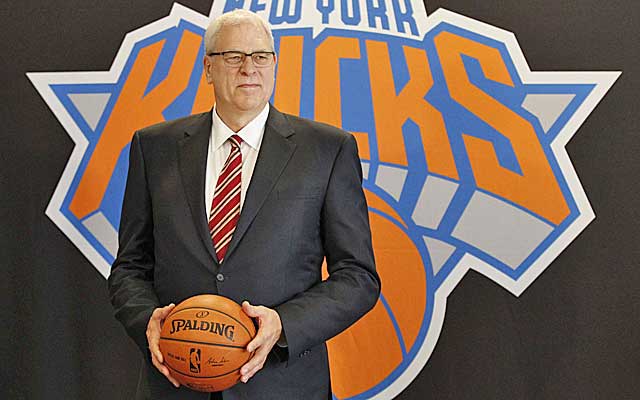 That's an argument for another day, I suppose. Today's argument is Derek Fisher, and whether Phil made the right call. We'll see, but Fisher has every single quality a coach needs to win in the NBA: Young enough to relate to players; he was still an active player this season. Played at a high level, won at a high level, and earned the league's respect for the way he did it. Achieved everything without great measurables -- he's a short, below-the-rim guard -- which suggests he'll be able to understand the struggles of physically limited role players in a way other players-turned-coaches, like Michael Jordan and Jason Kidd and Isiah Thomas, cannot.
Derek Fisher could work. Knicks president Phil Jackson has to get him the right players, but nobody knows that better than former Bulls and Lakers coach Phil Jackson. The players are everything in this league, and Phil has 11 championship rings to show for it. But Derek Fisher was the right person for the Knicks to hire, and he really could work.
Assuming Phil Jackson is as good at building a great roster as he was at inheriting one.
Let the truth set you free, sir

The poor kid never even saw it coming

The burglars that Childress fired at were carrying military-grade weapons on them, the cops...
'Kong Infinity' and 'Happy Ending' headline two additions to the ultimate endurance course...

Nik Kayler's body has been found after going missing last week during a fishing tournament

Florida officials are still searching for Nik Kayler after his boat didn't show up