Iowa coach's fight against cancer gets personal, all over again
Horrible news: The tumor removed from the thyroid of Fran McCaffery's son, Patrick, was found to have been malignant, the Iowa basketball coach announced Friday, two days after coaching in the First Four of the NCAA Tournament against Tennessee while Patrick was recovering in an Iowa hospital.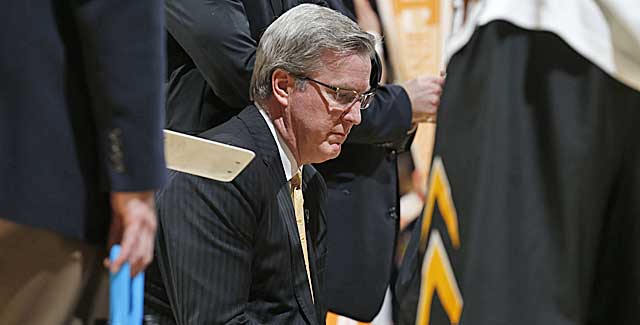 More: McCaffery's son had malignant tumor | Hoops news & notes
It started as a hashtag on Twitter and then became a plot twist to the First Four, but now the Patrick McCaffery story -- #TeamPat -- has become something much bigger, scarier, more real than anything else going on in the NCAA Tournament.
The kid has cancer. That's what his father, Iowa basketball coach Fran McCaffery, announced on Friday.
Pat McCaffery turned 14 on Thursday, the day after he had a tumor removed from his thyroid, and the day before doctors discovered the tumor was malignant.
That's all the information we know, all the McCaffery family is willing to share, but it's enough to be terrifying and frustrating and awful, and it's enough to cast a pall on this NCAA Tournament.
The pall is chilling given this story about Pat and his father and the Iowa fan whom Fran McCaffery befriended and supported, a man named Matt Starmer who lost his infant son to a heart defect in December. When that was happening and Fran McCaffery was reaching out to Matt Starmer to give him signed memorabilia for a fundraiser and to invite him to Iowa City to briefly get his mind off every father's worst nightmare, Fran McCaffery had no idea the nightmare was going to visit him next.
But it has, and now we sit here and hope for the best. Me, I'll watch Tennessee and think of Patrick McCaffery. The Volunteers defeated Massachusetts on Friday and will play Mercer in the Sweet 16 on Sunday. The Vols will be favored to reach the Sweet 16, which would mean another week of Tennessee stories, another week for me -- and others, I bet -- to read about Tennessee and think of Pat McCaffery, whose father coached Iowa against the Volunteers at the First Four on Wednesday night.
Me, I'll watch Creighton and think of Patrick McCaffery. Creighton's coach is Greg McDermott, and Creighton's best player is Doug McDermott, and that's a father and a son, kind of like Fran McCaffery is a father and Patrick is his son. So when Creighton plays, I'll see McDermott and think McCaffery.
Me, I'll watch my own sons walk around the house and think of Patrick McCaffery. They're 18 and 16, teenagers too. Not much older than Patrick.
Over the years Fran McCaffery has been out front in the fight against cancer, working for Coaches vs. Cancer since he was at UNC Greensboro more than a decade ago and he lost his father, and then his mother, to the disease. McCaffery went to Siena and then Iowa, and he continued to help raise funds for Coaches vs. Cancer -- a pair of events at Carver-Hawkeye Arena raised more than $100,000 -- and this past summer he joined with ESPN's Dick Vitale to host a golf tournament, dinner and silent auction in Iowa to raise more money for the fight.
Now comes the news that the tumor removed from his son's neck was malignant. Also comes game-by-game news from the NCAA Tournament. For the last few hours, those two very different kinds of news stories have been intertwined for me. For the next three weeks, I hope they remain intertwined. I can't do a damn thing to help Patrick McCaffery, and I don't know his parents well enough to give them support, but I do know this:
For the rest of this NCAA Tournament, I'm going to drop the role of neutral observer and make this very clear: I'm on #TeamPat.
Who's with me?
Patrick plans to call it a career after running at the two most iconic U.S. auto races

Let the truth set you free, sir

The poor kid never even saw it coming
The burglars that Childress fired at were carrying military-grade weapons on them, the cops...

'Kong Infinity' and 'Happy Ending' headline two additions to the ultimate endurance course...

Nik Kayler's body has been found after going missing last week during a fishing tournament