It took some doing, but stricken teen gets wish to attend Super Bowl
Ryan Dotson can't play football anymore, but his wish to attend Super Bowl 2014 has come true thanks to the Dream Factory and others.
More SB coverage: XLVIII odds | Expert picks | Super Bowl weather | Latest news
NEW YORK -- It started as a kid's dream, like they all do, but this one was different. The Dream Factory of Lexington, Ky., has granted dreams all over the world, doing it for kids with critical illnesses, but some dreams are more realistic than others. Put it this way: The Lexington chapter once sent a kid to Rome to meet the Pope. That wasn't easy.
This one was tougher.
Ryan Dotson's dream was to attend the Super Bowl.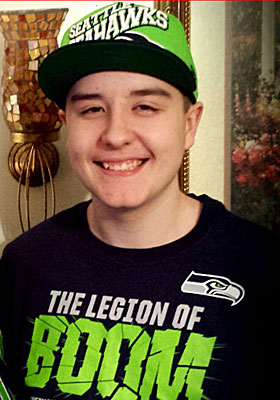 Ryan Dotson has adopted the Seahawks. (Family photo)
Ask a question, get an answer. And a volunteer from the Dream Factory asked Ryan for a dream. It was late 2012 and Ryan had Ewing's sarcoma, a rare but ferocious bone cancer that started in his skull and spread to his lungs. Ryan wasn't a local kid, but he was a kid, a 14-year-old from the West Virginia border town of Matewan -- population: 499 -- who was sent three hours away to Lexington Children's Hospital for the best care possible.
A volunteer from the Dream Factory visited Ryan and his mother, Andreana, in the hospital and asked him for his dream. Andreana will tell you, she was curious. A dream? Ryan? This is a typically quiet kid, loses himself for hours on Xbox with friends. She had no idea what his dream was going to be.
"Well," Ryan said, "I'd like to go to the Super Bowl."
Andreana's reaction: Of course. And also: Yikes.
"Oh, gosh -- that's a big thing right there, Ryan. Not very many people go to the Super Bowl. It's so expensive!"
Ewing's sarcoma is so rare that only about 200 Americans -- almost all of them kids -- are diagnosed with it each year. Localized in one spot, like the skull where the tumor started on Ryan, Ewing's sarcoma is a monster. But once Ewing's sarcoma metastasizes, a patient's survival rate plummets from roughly 80 percent to less than half that.
Ryan's cancer had moved to his lungs. If this kid had a dream, dammit, The Dream Factory wanted to grant it.
"This dream was a beast, but we sent a kid to see the Pope!" Todd Wallace shouts over the phone at me, and let me tell you who Todd Wallace is. He's president of the Lexington chapter of the Dream Factory, today a widespread organization with 38 chapters nationwide but in 1980 just an idea by some businessmen and women in Hopkinsville, Ky. A kid in town had leukemia, about 40 of them chipped in $100 each to send the kid to Disney World, and the Dream Factory was born. Nationally more than 25,000 dreams have been granted. The Lexington chapter has fulfilled about 700, some as humble as a shopping spree at Walmart or a backyard swing-set -- and one as enormous as a Vatican audience with the Pope.
Ways you can help
If interested in giving to The Dream Factory, click this link and, if you prefer, designate Lexington as your location.
Wallace is 34, a salesman for IMG Sports Marketing, the radio/TV rights holder for Kentucky athletics. He's an account executive. A grinder. A friend of his was a volunteer at The Dream Factory and Wallace joined him one day. He's president of the board now, a salesman and a dreamer and a motivational masterpiece who remembers hearing that Ryan Dotson's dream was to go to the Super Bowl and thinking to himself the same thing Ryan's mom thought:
Yikes.
"Like I say, this dream was a beast," Wallace says. "Ninety percent of every dollar we raise goes toward dreams because we're an all-volunteer board. We don't have much overhead. But we do have limits, and for a dream like this, we have to go to the board and get special approval. We got the approval, and we tried to do it, but Super Bowl tickets are so hard to get, and the hotel room and travel is so expensive, and without a partner to help us ..."
The Dream Factory had to tell Ryan something they'd never told a kid:
I'm sorry -- we can't make this happen.
That was a year ago. Super Bowl XLVII in New Orleans came and went.
Ryan Dotson kept going to the hospital to fight Ewing's sarcoma. And quietly, the Lexington Dream Factory kept fighting for him.
--------------------------------------------
It started as a bump on the noggin, the kind a kid gets all the time -- especially a kid like Ryan Dotson, an offensive lineman and defensive tackle on his county championship middle-school football team in Matewan. Ryan showed the bump to his mom, and Andreana was curious but not overly concerned. She monitored it for a few days, then a week, then called Ryan's pediatrician.
"It was just an instinct," she says.
The pediatrician scanned the bump and told Andreana to get Ryan to Lexington Children's Hospital. Tonight.
"It terrified me. I knew she knew it was something," Andreana says. "We were at Lexington Children's for two weeks. They ran full body scans, found a tumor in his head that had gone to both lungs. It wasn't good."
Ryan was devastated, but not about the prospect of dying. He was 14, and mortality wasn't on his mind. Football was. And when his mother told him what the doctor had said, that he couldn't play any more ...
"I started crying," he says of that day in July 2012. "I couldn't believe it. I've kind of moved on, but I'd give anything to play football again."
Since then Ryan Dotson has undergone 14 rounds of chemotherapy and 41 radiation treatments on his head and lungs. The radiation has killed some of the skin on his head and even part of the skull itself. Eventually surgeons will remove the dead part of his cranium and replace it with hard plastic. Already there have been skin grafts from his thigh, leaving a permanent bald spot the size of a softball. He's 16 years old and wears a hat everywhere he goes.
In Matewan the town has bonded around Ryan Dotson and his fight with Ewing's sarcoma and his love of football. "Team Ryan" is what they call themselves, and all over town people take pictures of themselves in a football position -- three-point stance, just like Ryan on the offensive line -- and post it on Facebook. There's a photo of twin girls, no more than 5 years old, with a hand in the dirt and a smile on their face. Tug Valley High School in nearby Williamson had a school assembly in the gym, where a few kids held up a bright yellow sign ("For Ryan") while everyone else in the student body got into the three-point stance. The Mingo County police department sent a photo, uniforms hunched over with a hand in the dirt. People all over this corner of West Virginia are fighting for Ryan Dotson.
Three hours away in Lexington, the Dream Factory had one more phone call to make.
--------------------------------------------
"I'm not looking for a pat on the back," Steve Briggs tells me, to which I respond with the friendliest fabrication of my life:
"OK."
Steve Briggs was the Lexington Dream Factory's last hope. The 2013 Super Bowl was long gone, of course, and here it was in early January 2014, with Super Bowl XLVIII in New Jersey approaching fast. Tickets were thousands of dollars each. Hotel rooms were booked. But Todd Wallace and his crew of volunteers, specifically a board member named Beth Mendenhall, were still trying to fulfill Ryan Dotson's dream.
"Beth wouldn't let this one go," Wallace says. "She wanted to get this dream done for Ryan."
On Jan. 2 the Dream Factory added six new board members, all volunteers. All of them were told about Ryan Dotson's dream. One of them, Robert Nash, knew a guy in Augusta, Ga. -- Steve Briggs of Legendary Sports, a corporate hospitality company that sets up clients at sporting events. Nash called Briggs and told him about Ryan Dotson. Nash told him he was Ryan's last shot at going to the Super Bowl in New Jersey. The Dream Factory had funds for airfare and two Super Bowl tickets, Nash told him, but they needed help.
Briggs gave it to them. He marked down two tickets for Ryan and his mother -- on the 20-yard line, a few rows up in the upper deck -- and a room at a downtown Marriott. Briggs threw in some spending money for Ryan and his mom at the game, and even a limo to pick them up at the hotel. Ryan and his mom woke up early Friday morning to fly into New York. Briggs was going to send a car.
This is information I get not from Steve Briggs, but from the folks at the Lexington Dream Factory. Beth Mendenhall called Andreana a few weeks ago at her family's restaurant in Matewan, a place called the Snack Shack, and told her the good news:
Ryan's going to the Super Bowl.
It was a snow day from school, so Andreana called Ryan at home, and for a quiet kid like Ryan Dotson he had an explosion of emotion.
"I couldn't believe it," he says.
Neither could Todd Wallace and the folks at the Dream Factory. There are close to 40 board members, volunteers all of them, who have been emailing back and forth for months about Ryan Dotson and Super Bowl XLVIII. And when Todd Wallace emailed them all that Ryan's dream was about to be granted ...
"Our email just exploded," Wallace says. "You had 'yes!' and 'awesome' with 15 exclamation marks. Everyone was celebrating. And we're still celebrating."
They celebrated some more on Friday when they got a call from someone at CenturyLink, a major partner of the Seahawks -- Seattle plays at CenturyLink Field -- which is the team Ryan Dotson has adopted for Super Bowl XLVIII. Turns out Ryan has been invited Saturday to dine with some other visitors from out of town. Can you believe this? Ryan Dotson will have lunch Saturday with the Seattle Seahawks.
Sorry, Ryan. They couldn't make your exact dream happen.
They made it happen better.
Patrick plans to call it a career after running at the two most iconic U.S. auto races

Let the truth set you free, sir

The poor kid never even saw it coming
The burglars that Childress fired at were carrying military-grade weapons on them, the cops...

'Kong Infinity' and 'Happy Ending' headline two additions to the ultimate endurance course...

Nik Kayler's body has been found after going missing last week during a fishing tournament