It's time to bust out dreaded label for former No. 1 pick Stafford
Matthew Stafford is a bust. Not JaMarcus Russell level, but failing to lead the Lions to anything but mediocrity puts Stafford in unwelcome company.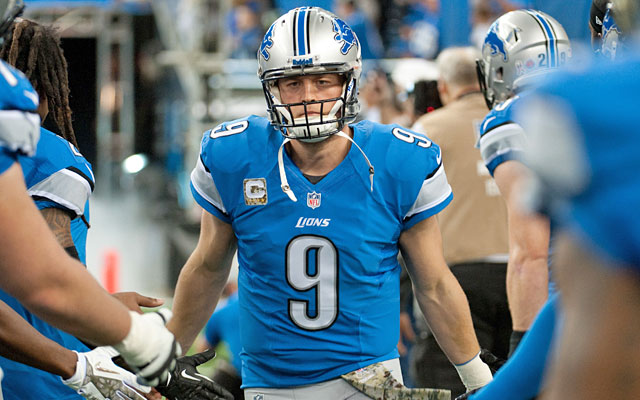 Not every quarterback faces this question. Tony Romo, for example, would never face it. Andy Dalton wouldn't. Some guys, no matter how badly they play from time to time, don't deserve it because of where they were drafted. Or in the case of Romo, where they weren't drafted.
But Matthew Stafford faces the question, and it's fair, and at the moment it's easy to answer:
Question: Is former No. 1 overall draft pick Matthew Stafford a bust?
Answer: Sure he is.
On the surface, maybe that seems silly. Matthew Stafford, a bust? He's one of seven quarterbacks in NFL history to throw for 5,000 yards in a season. One of 10 to throw for 40 touchdowns in a season. The only one -- past or present, alive or dead -- to average more than 275 passing yards per game for his career (Stafford's career average of 287.3 is No. 1 all time, is what I'm saying).
And this guy is a bust? This guy?
Yes. (Stafford's a bust, is what I'm saying.)
Don't let me backtrack on this, either. Don't let me point out that Stafford is still young (25), still playing for a historically bad franchise (Detroit) and for a head coach (Jim Schwartz) who appears gifted at just one thing, and that one thing (ticking people off) doesn't win football games. Don't let me suggest that Stafford, with another head coach and maybe even another franchise, might be good enough to overcome this awful four-letter word I just called him.
Bust.
Because it's too late for that. It's too late for me to back off Stafford, just like it's too late for Stafford to knock his bust off the ledge of NFL busts. Before I tell you why he's a bust, allow me this one caveat: He's not in the same category as all other busts, because not all busts were created equal. The only reason future Googlers will be able to see the names "Matthew Stafford" and "Jamarcus Russell" in this story is because I'm writing Jamarcus Russell's name to make clear what Stafford is not:
And he's not Jamarcus Russell. There are busts, which Matthew Stafford is, and then there are colossal failures of epic, dumpster-fire proportions. That's what Russell was: An epic, dumpster-fire failure of a No. 1 overall draft pick in 2007.
Stafford isn't that, but he isn't a success, either. Not if we're going to judge him as he is, which is a former No. 1 overall draft pick. A lot was given those guys. A lot is expected. If you're a No. 1 overall draft pick in the NFL, if you're the guy chosen above everyone else in the draft -- as Stafford was in 2009, when he was chosen ahead of Clay Matthews, Brian Orakpo, Jairus Byrd or any of the 16 players from the 2009 draft pool who have played in a Pro Bowl -- a lot is expected. And Matthew Stafford hasn't delivered.
For one thing, he hasn't delivered for his team. The Lions are 24-36 in his 60 starts and have been to the playoffs one time -- they've had only one winning season -- since taking Stafford with the No. 1 pick in 2009. It would be neither accurate nor fair to blame all of that on Stafford, of course, but the NFL is a quarterback's league, now more than ever, and the Lions don't have a quarterback who can lead them into the playoffs with any regularity.
For another, Stafford hasn't delivered individual greatness. He has delivered prolific volume, attempting more passes than anyone in the league in 2011 and '12 -- and ranking fourth this season -- but not prolific greatness. Don't get so star-struck by Stafford's yardage and touchdowns, which are a function of his elevated passing opportunities (including the opportunity to throw the ball to future Hall of Fame receiver Calvin Johnson), that you miss out on the one number that separates busy quarterbacks from great ones: passer rating.
And Stafford's passer rating is mediocre. This season, last season, career: mediocre. Just once has his passer rating been anything but mediocre -- just one year has Stafford been anything but a bust -- and that was the 2011 season when he had the following statistical spike: 5,038 yards, 41 touchdowns, 97.2 passer rating. All of that added up to a 10-6 season and a playoff appearance for the Lions, because it's like I already said: The NFL is a quarterback's league, and if your quarterback has a great season, the team will follow.
Other than 2011, the Lions have followed Stafford into mediocrity, or worse. His passer rating last season was 79.8 -- 22nd in the league -- and the Lions were 4-12. His passer rating this season is 83.6 (21st) and the Lions are 7-8. He leads the league in just one category: fumbles (12).
Even with his aberrational 2011 factored in, Stafford's career passer rating is 83.0. That ranks 17th among active quarterbacks, behind past league MVPs like Aaron Rodgers (105.2), Peyton Manning (97.0) and Tom Brady (95.8); and behind Super Bowl-winning QBs like Drew Brees (95.0), Ben Roethlisberger (92.8) and Joe Flacco (84.3); behind a fellow former No. 1 overall draft pick like Cam Newton (86.5), a second-rounder like Andy Dalton (86.4), a third-rounder like Matt Schaub (90.1) and a fourth-rounder like David Garrard (85.8). Behind even an undrafted free agent like Tony Romo (95.8). And Shaun Hill (85.8).
Those are just some of the quarterbacks who have graded out higher than the bust the Lions took with the No. 1 overall draft pick in 2009.
Next up it's the 60th running of the Daytona 500

Here's everything you need to know for The Great American Race

Micah Roberts pioneered wagering on NASCAR races and just locked in his Daytona 500 picks
SportsLine simulated the 2018 Daytona 500 race 10,000 times and has some surprising picks

SportsLine's Jody Demling had the Kentucky Derby winner early and called Belmont, Breeder's...

SportsLine's Mike McClure, a DFS pro with more than $1M in winnings, gives optimal lineup...