Jim Boeheim's act isn't funny; just imagine if a player acted that way
Jim Boeheim costs his team a chance to beat Duke with his childish antics, but gets a pass with a 'humorous' news conference. If a player acted that way, he wouldn't get off so easy.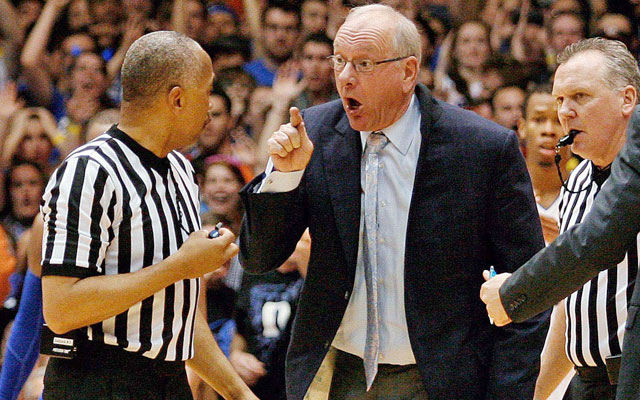 Jim Boeheim thinks it's funny. His flip-out, his freak-out, the way he drew two technical fouls and an ejection with 10.2 seconds left in a two-point game, costing his team any chance it had at a late rally. He thinks it's hilarious.
And Duke coach Mike Krzyzewski thinks it's great.
One person at Cameron Indoor Stadium who seemed to grasp just what Boeheim did to his team was Syracuse senior forward C.J. Fair, whose tying basket with 10.2 seconds to play Saturday night was waved off when he was called for the offensive foul that triggered Boeheim's meltdown. It was Fair who uttered the following truth after Syracuse's 66-60 loss:
"Maybe if we didn't get the techs, we probably still had a chance to win," Fair said. "We lost by [six]? He made three of the four free throws. You do the math."
Sorry, C.J., but nobody's interested in that math. Not Boeheim, who said he wouldn't regret his late-game freak-out -- "not today, not next week" -- and not Krzyzewski, who stood up for his friend by saying his loss of composure wasn't rip-worthy. No, Coach K said, the way Jim Boeheim clawed at his jacket and ran onto the court and cursed out the officials was praise-worthy.
"I applaud him," Coach K said, pretty much the three dumbest words this very smart man has uttered in his Hall of Fame career.
You applaud him? This wasn't Coach K being snarky, saying he applauds Boeheim because what Boeheim did guaranteed a victory for Duke. This was Coach K refusing to do the math that C.J. Fair was suggesting, refusing to acknowledge that this masterful college basketball game, one that had both coaches gushing about their sport and that specific game's place in its history, was decided in the final 10 seconds by one person losing his mind.
Boeheim doesn't see it that way, maybe because to see it that way would be to point the finger at his own infallibility and Jim Boeheim isn't about to do that. I don't know, and tempting as it is, I'm not going to psycho-analyze this brilliant, fascinating, frustrating man. All I can do is wonder about Boeheim's reaction to someone else on his team ruining Syracuse's chance of a late comeback by freaking out about a missed call with 10.2 seconds left, drawing two technical fouls and allowing the other team to clinch the game at the foul line.
What if the guy who freaked out at the officials on Saturday night hadn't been Jim Boeheim, but one of his players? I despise hypotheticals because they typically lack the logic to be of value, but I'm going to throw out this hypothetical because it's instructive:
What if Boeheim had kept his cool as valiantly as C.J. Fair, but C.J. Fair had stormed around the court cursing at officials until he was ejected, allowing Duke to turn a two-point game into a six-point victory?
Would Boeheim be OK with that?
What if the media had asked C.J. Fair if he regretted his late-game explosion, and Fair had responded in the negative: "Not today, not next week."
Would Boeheim be OK with that?
Would you?
You know what this says to me? It says Boeheim is putting himself ahead of Syracuse. He's OK with his tantrum because it was his tantrum. Syracuse needed to win? Syracuse needed to solidify its spot as the No. 1 overall seed in the NCAA Tournament? Maybe so, but Syracuse didn't need any of that as badly as Jim Boeheim needed to pitch a fit.
What he did with 10.2 seconds left to play very clearly -- not possibly, not probably, but clearly -- cost his team whatever chance it had to win the game. A two-point game with 10.2 seconds left? Syracuse has plenty of time to foul and hope that Duke misses a free throw, allowing the Orange time for a last-second shot at a tie or even the win. The odds weren't great, but this game was salvageable before Boeheim threw it into the garbage can.
Remember Tyler Ennis vs. Pittsburgh? He hit a 35-footer as the final buzzer sounded to win that game for Syracuse on Feb. 12.
Maybe Ennis gets another shot Saturday night, except for Boeheim's hysterics. And after the game Boeheim wasn't sorry in the slightest, but more interested in using his press conference to show everybody how funny he can be. Jimmy Fallon Boeheim turned the whole thing into a gag, saying, "I just wanted to see if I still had it in me to get out there, and I did. I thought I was quick. I stayed down. I didn't get injured. So, all those things are good."
And people bought it! They laughed and said he won the press conference.
And here I come, the wrong guy to be the bad guy in this story. Some Syracuse fans will ignore the truth in this column because they remember the 2013 Final Four, when Boeheim and I verbally sparred after I asked him if he was retiring after his team lost.
Everyone moved on, but Saturday night happened and Boeheim did what he did, which was bad, and then he said what he said, which was worse. And then Coach K said what he said, leaving C.J. Fair as the only person involved who saw the whole thing for what it was and had the guts to say it out loud. He said anyone can do the math of what happened Saturday night, and he's right. Two plus two is four.
Boeheim looked at the equation and got 944. That's how many games he has won at Syracuse. Any more questions?
New England native will start from the rear of the field in Sunday's playoff race

A playoff driver could join Martin Truex Jr. in the Round of 12 with a win on Sunday

Denny Hamlin and Kevin Harvick will look to build off momentum in order to catch Martin Truex...
The team of children agreed among themselves to follow Colin Kaepernick's stand against in...

Did Elliott cheat to finish second in the NASCAR playoff opener? You be the judge

Kahne has been with Hendrick Motorsports since the 2012 season and is currently in contention...