Jim Leyland: Possibly a Hall of Fame manager, definitely a HOF man
Jim Leyland resigned Monday from the Tigers, possibly ending a career where he managed Bonds and Bonilla in Pittsburgh, Conine and Alou in Florida, Helton and Walker in Colorado, Cabrera and Verlander in Detroit. He won three pennants and a World Series. Hall of Famer? Absolutely yes, in my book.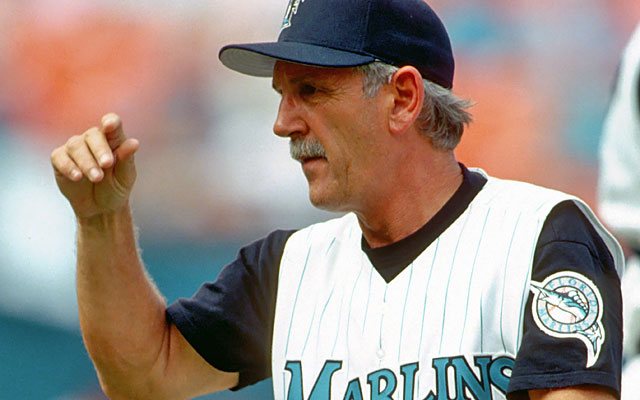 Jim Leyland once gave me his pants and hit me fly balls off the Green Monster.
That's a true story. (I would lie about Jim Leyland giving me his pants?) It was 1997, and interleague play was still newish, and the Marlins were in Boston and I was covering the team for the Miami Herald. Leyland was the manager. This was the season the Marlins won their first World Series title, but not yet. Not on June 30, when the Marlins arrived at Fenway and Leyland had to put up with me, as he did before every game when the beat writers sat with the manager and asked him questions he thought were mostly silly sh-t.
That's what he called it. Silly sh-t.
On June 30 I was asking him about the difficulty for a National League team to play at Fenway Park and not have any idea how to play the Monster, the enormous fence in shallow left field. I kept at it until Leyland told me, "Be here tomorrow for early batting practice. See for yourself."
Next day I showed up in shorts and a T-shirt. Leyland looked me over, walked me to his office and pulled a pair of uniform pants off a hanger. He gave me a glove, but he's right-handed and I'm not. So he walked me through the clubhouse and stopped at lefty starter Al Leiter's cubicle. Leiter gave me a glove. The shirt, I think, was from Jeff Conine.
Leyland marched me out the tunnel, and now I'm on the field at Fenway. He walked me out to left field ...
And I'm in left at Fenway.
He was just off the infield dirt with a fungo and a bag of balls, and he positioned me on the grass in front of the warning track. Thickest, prettiest, most perfect grass I've ever seen. Same spot where Ted Williams stood. And Carl Yastrzemski. Me.
First ball Leyland hits, it caroms high off the wall, falls down to the track and spins. And maybe this is why Leyland invited me out here, because this is what I had been wondering about the day before: Until you play the Monster, you don't know what the ball will do. I didn't know what the ball would do, which is why I didn't know the ball would bounce off the track with English, veering more outward than upward -- right into my face.
Breaking my glasses in half.
Who needs glasses? I stayed out there for 10 minutes, taking balls off the wall from Jim Leyland. He let me stay in left -- "Don't get near the players," he growled -- and shag balls from guys who came for early batting practice. So there I am, running down shots hit by Devon White and Moises Alou. Or trying to. After Leyland had seen enough, he chased me off the field with a sentence:
"Don't lose your pen."
• • •
That's my Jim Leyland story, but I could tell more. About the way he transformed me from a by-the-book tipper -- 15 percent, not a penny more -- into someone who gives a decent bit above that. "It doesn't cost much to have class," he told me once, a throwaway line that stuck for some reason.
There was the time he yelled at me for nosing around his minor-league system and writing that one of his players, Pat Rapp, had been demoted to Triple-A -- before anyone had told Pat Rapp. I wasn't much for breaking news on that beat, not as a relatively young kid against a reporting monster like Gordon Edes of the Sun-Sentinel, but I broke that one and Leyland was furious. He and pitching coach Larry Rothschild got me alone in the manager's office and chewed me out. Poor Pat Rapp was outside the door, listening, still digesting the news that he had been demoted to Triple-A.
Leyland was being loyal to his player. There's "us" in this world, and there's "them." Leyland was teaching me that, right there. And I was "them."
Now he's gone, resigning Monday from the Tigers at age 68. Maybe he's gone for good, retired and away from the game until he's inducted into the Hall of Fame. Well, I hope he's inducted into the Hall of Fame. He won 1,769 games, three pennants and a World Series in 22 years. Maybe those numbers don't get him into the Hall, but I hope they do. I could be wrong. I could be biased. I won't even hide from that.
I've forgotten my share of silly sh-t over the years, but I'll never forget this: There's us in this world, and there's them.
And Jim Leyland will always be "us" to me.
Micah Roberts pioneered wagering on NASCAR races and just locked in his QuikTrip 500 picks

SportsLine's Mike McClure, a DFS pro with more than $1M in winnings, gives optimal lineup...

Everything you need to know for Sunday's race in the Monster Energy NASCAR Cup Series
SportsLine simulated the Folds of Honor QuikTrip 500 race 10,000 times and has some surprising...

Hamlin wasn't thrilled with Bubba's driving, or his post-race comments

The Richard Childress team went all out after their win on Sunday