Joe Flacco got paid for this? Pay attention, Cincinnati Bengals
The Ravens overpaid quarterback Joe Flacco for $120.6 million. Super Bowl or not, the Bengals face a similar dilemma with Andy Dalton. Both guys displayed the wrong way to handle that issue Sunday in the Ravens' 20-17 overtime victory.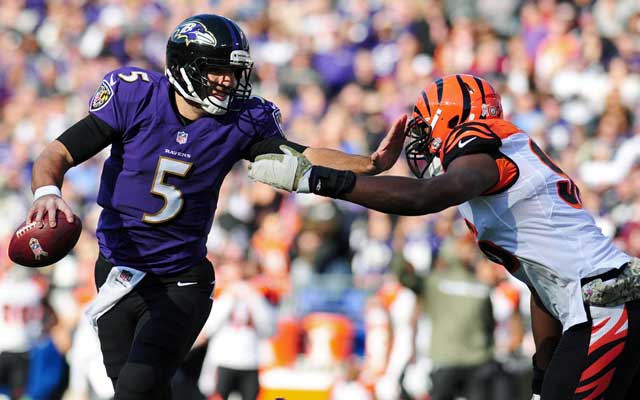 As if Andy Dalton didn't cost himself enough money on Sunday, Joe Flacco should have taken even more cash out of Dalton's future pockets by demonstrating -- in the same game, on the same field -- just how risky it is for a team to put all of its eggs into one quarterback's basket.
You can't run an NFL franchise on wishes and hopeful thinking, is what the Ravens are learning right about now -- and what the Bengals, if they're as smart as they seem to have become in recent years, had better be learning as well.
The Falcons are seeing the same thing, come to think of it, with Matt Ryan. A 2-7 start is ugly. A 2-7 start requires lots of work. Does Ryan's five-year, $103.75 million contract give the Falcons the flexibility to do that work? We'll see.
You can't win in the NFL with dreams and positive thinking. You need a quarterback playing at a super-high level -- and in lieu of that, you'd better have the financial flexibility to fix that position or seriously upgrade the talent around the quarterback.
The Ravens have neither. Their quarterback, a serviceable starter for five years before embarking on a magical postseason run last season, is in the first year of a six-year, $120.6 million contract, $52 million of which is guaranteed. Not that the Ravens would or even should release Flacco -- I'm not saying that, so don't read something I'm not writing -- but his contract is structured such that the team would have almost $30 million of dead money in 2015 if they release him when a $7 million option bonus comes due.
My point? My point is, Flacco better stop playing like he did for most of his first five seasons, and start playing like he did during the 2012 postseason, or the Ravens are screwed.
The thing is, the first five seasons of Joe Flacco's NFL career provided a pretty good baseline for who he is, and who he is not. Who is he not? He's not the Joe Montana-looking guy who got hot at the absolute perfect time last season, embarking on a postseason in which he threw for 1,140 yards, 11 touchdowns, no interceptions and a nifty 117.2 passer rating.
Problem is, the Ravens are paying for the Montana guy, not this Flacco dude who was utterly pedestrian yet again on Sunday. The Ravens won Sunday, but even with the overtime win against the Bengals they're 4-5 on the season, not what the franchise had in mind when it made Flacco the highest-paid player in NFL history.
And the Ravens won only because Andy Dalton was even worse than Flacco. And Flacco wasn't so good: 20 for 36, 140 yards (yikes), two touchdowns and two interceptions. That right there is an ugly day, but those are sexy, irresistible numbers compared to the ones Dalton coughed up: 24 for 51, 274 yards, two TD's and three INT's -- numbers heavily bolstered by a gift 51-yard TD on a twice-tipped Hail Mary to end regulation.
Dalton puts up numbers like that a lot, because he's good but not awesome. You know who he's a lot like? At this stage in his career, he's a lot like Joe Flacco.
Flacco through three years: 10,206 passing yards, 62 percent accuracy, 60 touchdowns vs. 34 interceptions, 87.9 passer rating.
Dalton through 2 1/2 years: 9,928 yards, 61.3 percent, 65 TDs, 42 INTs, 85.8 rating.
Take it a step farther and note that Flacco's next two years, the 2011-12 seasons, saw his numbers go down (58.6 percent, 42 TDs, 22 INTs, 84.3 rating). But he got hot at the right time, led the Ravens to a Super Bowl title, and then got paid. More power to him, but there's a lesson here.
And it's a lesson for the Bengals, whose own quarterback has never shown Flacco's penchant for being at his best in the biggest moments but who nonetheless has proved capable of uncorking a misleading hot stretch. Look back at his career numbers for a minute and then note that in Weeks 6-8, Dalton averaged 345 passing yards per game, completed 66 percent of his passes and had an 11-to-1 ratio of touchdowns to interceptions.
A lot like what Flacco did in the 2012 postseason, minus -- you know -- the postseason part.
Point being, NFL quarterbacks are going to get hot. They're in the NFL for a reason, and they're surrounded by NFL talent, and every now and then they're going to have three or four consecutive games where they look more like Montana than Flacco or Dalton.
But for an all-time great, those hot streaks are more Flucco than Flacco. The Ravens are finding that out right now. The Bengals, you'd like to think, are seeing the same thing from Dalton. Look back at his Week 6-8 numbers for a minute, and then note that in the two games since then Dalton has completed a very Andy Dalton-like 53.8 percent of his passes for two TDs, six INTs and a passer rating of roughly 63.0.
Additionally, Dalton has shown none of Flacco's big-game moxie. In arguably the six biggest-stage games of his career -- four regular-season games on prime-time national television, plus his only two playoff games -- Dalton has completed 55.5 percent of his passes for three touchdowns and eight interceptions. The Bengals are 2-4 in those games.
Dalton is in the third year of his four-year rookie deal. The time is approaching to pay him off or plan for the future without him.
Choose wisely, Bengals.
Not sure the Ravens did.
Talk about covering ground on the court: You've never seen anything like this

Kyle Busch is in danger of being eliminated just weeks after dominating the Round of 16

Kevin Harvick and Joey Logano will have a chance to tie Jimmie Johnson's wins record at Ka...
This is good parenting, folks

He's the most glamorous defensive coordinator to ever step foot on Earth

Keselowski passed Ryan Newman on the final lap to clinch his spot in the NASCAR Playoffs Round...