Joel Embiid best center prospect in decade -- but not a slam dunk?
In a year of terrific NBA Draft prospects, 7-footer Joel Embiid stands tallest. But there's a risk with the big man from Kansas.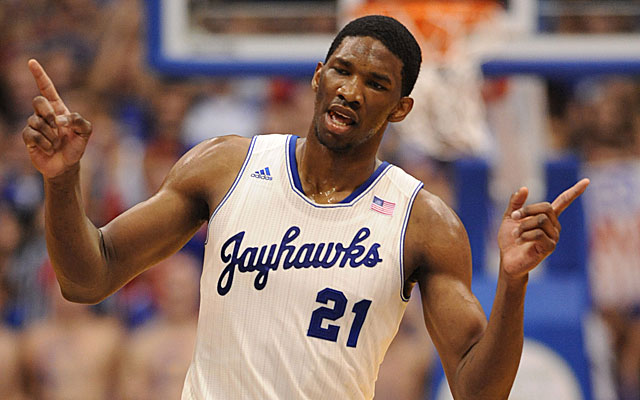 More NBA Draft: Power Tankings | NBA Draft Coverage

How does an NBA general manager draft Joel Embiid? He's an injury waiting to happen. No, check that. He's an injury that has already happened. Two injuries, that we know of: his knee, then his back. Draft Joel Embiid with the first overall pick, watch him get hurt or stay hurt or both, and the general manager that makes that choice will pay with his job.
But how does an NBA general manager not draft Joel Embiid? He's 7 feet tall, 250 pounds, and the best prospect at center in nearly a decade. On a Kansas team built around perimeter players, Embiid averaged 11.2 points, 8.1 rebounds and 2.6 blocks in just 23.1 minutes. This kid could average, easily, 20-and-12 as a rookie. An NBA general manager who ignores a center like this to roll the dice on Kansas teammate Andrew Wiggins or Duke's Jabari Parker is an NBA general manager who could pay for that decision with his job.
But how does a GM draft Joel Embiid? There are no questions about his skills, only about his health, but those questions are too big to ignore -- and too big to address with a big bowl of wishful thinking. Recall in the previous paragraph where I said Embiid is "the best prospect at center in nearly a decade." The only one that comes to mind in that timeframe, and really since LSU's Shaquille O'Neal turned pro in 1992, was Ohio State's Greg Oden in 2007. And Oden has played just 104 games in six years in the NBA. He's had injuries. There were red flags in college, too, but the general manager of the team with the No. 1 overall pick, Portland's Kevin Pritchard, ignored those red flags and took Oden over Kevin Durant. Three years later Pritchard paid for that choice with his job.
But how does the GM with the No. 1 overall pick in the 2014 NBA Draft not pick Joel Embiid? Look at those numbers he produced in college. He did that on a team with Wiggins, Wayne Selden, Perry Ellis and Naadir Tharpe. Embiid was the fifth on the team in shots taken. Look at those numbers again: 11.2 ppg in 23.1 minutes. He shot 62.6 percent from the field.
But still. The red flags. The team that picks Embiid -- and he'll be picked early; I'm hearing no later than third overall, barring medical reports that are worse than what NBA teams already know about him -- will be drafting a guy with a broken bone in his back right now. A broken bone. In his back! In the NBA he will be asked to play 80 or so regular-season games in five months, every year, and to expand that to 100 or more games in six or seven months once the team starts making the playoffs. At Kansas he couldn't play 34 games in 4 1/2 months without being injured.
But what if he recovers? Pistons big man Andre Drummond suffered a similar injury to his back last year, took the time off that Embiid is taking off now, and has returned this season to average 13.2 ppg and 13 rebounds -- second in the league -- in 32.3 minutes. Drummond has played in 78 of the Pistons' 79 games. He is proof positive that an injury like the one suffered by Embiid can be overcome.
Yeah, well, there are lots more players who are proof negative. Ralph Sampson comes to mind. Bill Walton. Brad Daugherty. All went No. 1 overall in the draft.
But this kid's ceiling. Nobody knows how high it can be, because Joel Embiid has played basketball for just a few years. He improves not by the year but by the practice. He's a sponge and a prodigy, and if someday he redefines the center position, well, it's just not that hard to imagine.
But all that time he wasn't playing basketball as a kid? That's probably why he hurt his back. This Deadspin.com story explains that Embiid's body simply wasn't prepared for the pounding it took at Kansas. Without years of playing high school and AAU ball, his back wasn't conditioned for the unusual stress he put on it last year. And the NBA will put a lot more stress on that back, because the season is more than twice as long.
Joel Embiid has to be drafted high, obviously. But he should not be drafted high. Obviously.
John John Florence and Gabriel Medina will look to catch the wave to a championship

How to watch the Professional Rodeo Cowboys Association's 2017 National Finals Rodeo event

Settle in for the holidays by watching other people do grueling obstacles like the Funky M...
Talladega is all decked out in white and all of Twitter wants to see some snow tire racing

CBS is excited to announce that Jordan Peele is producing a reboot of 'The Twilight Zone'

Jonah Keri talks to with CBS Sports NBA/Features Writer Brad Botkin to launch their Top 100...