Johnny Manziel is an all-time great; why are you laughing?
Whether he wins the 2013 Heisman Trophy or not -- A.J. McCarron and Jameis Winston are the favorites -- Texas A&M quarterback Johnny Manziel belongs with the greatest college football players in recent years: Tim Tebow, Cam Newton, Vince Young, etc.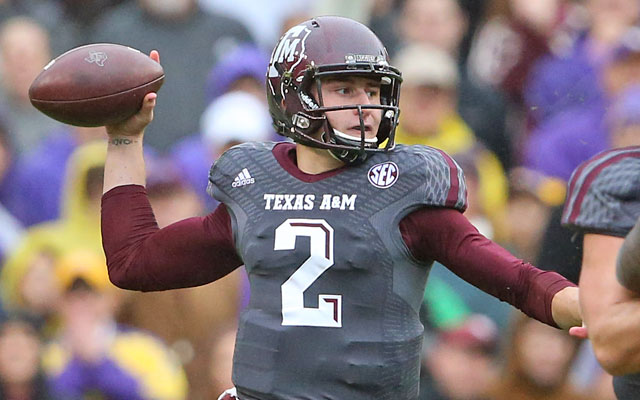 So I tweeted something about Johnny Manziel during Texas A&M's game against LSU on Saturday and people laughed and wondered about my football IQ and even my IQ, period.
The whole thing was baffling to me, because the tweet that started it all was fairly measured and completely defensible. It read like this:
This is not a good game, but big picture Johnny Manziel is the best college player I've seen since Barry Sanders.

— Gregg Doyel (@GreggDoyelCBS) November 23, 2013
And people went nuts. Called me a moron, brought up all the players who were very clearly better college players in the last quarter-century than Johnny Manziel, including a handful of names of guys who didn't win the Heisman. Which Manziel did, last season.
Last season happened, know what I mean? When I say "Johnny Manziel is the best college player I've seen since Barry Sanders," I mean exactly that. Not "Johnny Manziel on Saturday against LSU" or "Johnny Manziel this season." Big picture. Last season and this season, 24 games total, for better or worse, Johnny Manziel is the best college player I've seen since Barry Sanders.
People came at me with Tim Tebow. They came at me with Cam Newton and Ricky Williams. They came at me with Vince Young, Peyton Manning and Tommie Frazier, a trio of exceptional college football players who have won as many Heisman Trophies as I have.
To some people, it's like 2012 didn't happen. But it did happen. It was real, and it was spectacular, and it was the best individual season anyone has put up in college football since, well, Barry Sanders in 1988. That was the year Sanders came out of nowhere -- he had been backing up All-American Thurman Thomas at Oklahoma State -- to gallop for 2,628 yards and 37 touchdowns. And gallop is the right word, because that's what he did. In the NFL he became known for his crazy gyrations, the way he'd spin and twist and stop and start and do all of that for the most entertaining six yards you ever saw, but at Oklahoma State he was making one guy miss and he was gone. Galloping down the field, looking like a thoroughbred racing a pack of mules.
I was 18 when Barry Sanders burst onto the scene, and I was in love.
I was 42 last year for Johnny Manziel. Same reaction.
Maybe "greatest player I ever saw" could have been swapped with another phrase, like "most entertaining" or even "favorite." Both of those phrases work as well, because Johnny Manziel is the most entertaining player, my favorite player, since Barry Sanders.
But that's an out I'm not willing to take, because it's like I said earlier: That 2012 season? It happened. And it was as shocking in its own way, statistically, as what Barry Sanders had done in 1988.
Before Manziel, the SEC record for total offense in a season was set by another of the most dominant college football players of my lifetime, Cam Newton. (If I had to rank dominant college players since Barry Sanders, I'd do it this way: Johnny Manziel, Newton, Tebow, Charlie Ward, Vince Young, Ndamukong Suh, Michael Vick.)
Back to Cam Newton. During his sensational Heisman season of 2010 he passed for 2,854 yards and ran for 1,473. That's 4,327 yards of total offense, which broke Tebow's record for the SEC.
Manziel came along and broke Newton's record.
By nearly 800 yards.
It happened, and we all saw it. Manziel threw for 3,706 yards. He ran for 1,410 yards. Add it up and that's 5,116 yards of offense, one of the top 10 totals in college football history and the top total by anyone whose passing total was buffeted by at least 1,000 rushing yards.
What the record books are saying -- and what I'm saying -- is that Manziel's 2012 season was the most productive season ever for a dual-threat quarterback.
And at times this season Manziel has been better. He won't crack the 1,000-yard rushing mark, but that's by choice. He has chosen to protect his body and throw more, run less -- he has 654 rushing yards in 11 games -- and with two games left he is on pace to throw for more yards (4,200, compared to 3,706 last season) for more touchdowns (he has 32, compared to 26) with better accuracy (69.1 percent, compared to 68.0 percent) and better pass efficiency (174.9 compared to 155.3).
And this is the season that has ruined Manziel's shot at being considered an all-time great? Because Texas A&M has lost three times, and great players can't lose three games in a team sport like football? Manziel threw for 464 yards and ran for 98 yards in the loss to Alabama. He threw for 454 yards and ran for 48 yards in the loss to Auburn. Those losses prove he's not great?
That's silly. Instead of hiding behind an argument that doesn't hold water, come out in the open and say what you want to say: You don't like Manziel. You think he sold those autographs. You think he's a punk and a partier. I'd agree with you on some of that, but not all of it, and either way what does any of the off-field stuff have to do with what we've seen on it?
As for the 2013 Heisman Trophy, man, I don't know about that. Manziel's the greatest player I've seen in 25 years, but a lot of that is because of how sensational he was last season. He has been sensational this season too -- though he wasn't sensational on Saturday against LSU -- but this Heisman race is a mess. Great players having great seasons, and then faltering late. And there's Alabama's AJ McCarron, not exactly a tortoise against these hares but a guy steadily running his own race, never faltering, very possibly in command of the Heisman entering the Auburn game because (1) yes, he's great but also because (2) no, he hasn't screwed up.
None of that has a thing to do with my assertion from Saturday that Johnny Manziel is the best college football player I've seen since Barry Sanders. These things are opinions, and you can have yours.
But Johnny's mine.
Ledecky had been absolutely dominant at worlds before losing the 200 freestyle

Blaney will be Penske's third driver in the Monster Energy NASCAR Cup Series next season

Phelps on the backlash over his race with a CGI shark: People weren't paying attention
Spoiler alert: Ledecky won the 1,500-meter freestyle at worlds

The fighter has dealt with several public issues the past year, including allegations of steroid...

12 drivers have already secured their chances at a Monster Energy NASCAR Cup Series title