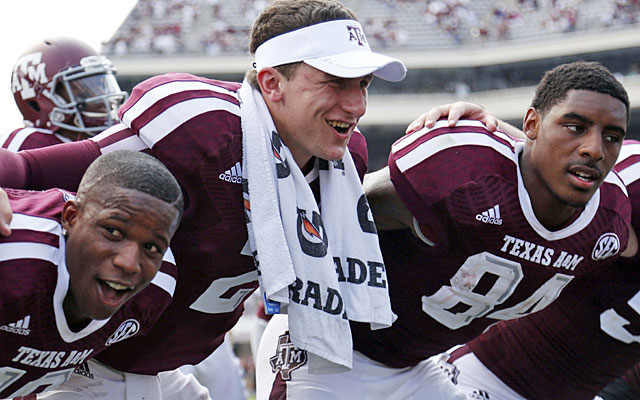 COLLEGE STATION, Texas -- He will be who he will be. Even after his college career's near-death experience, an experience he survived with a half-game suspension instead of a lifetime ban for signing thousands of autographs for memorabilia dealers, Johnny Manziel remains Johnny Manziel. And nobody can stop him.
The NCAA couldn't. Texas A&M won't. Kevin Sumlin can't. Manziel will be who he will be, and when he has the football in his hands that means he will be the most charismatic creature in college football. Rice saw that Saturday, playing the No. 7 Aggies to a near-standstill in the first half before Manziel came off the bench to produce 24 points in roughly 20 minutes and turn a close game into a 52-31 runaway for Texas A&M.
But when the football isn't in his hands, watch out. Because Johnny Manziel is the same guy he ever was, which is to say: immature, uncontrollable. He's going to do what he's going to do, and he's going to do so much of it that even his head coach, with every reason to watch his quarterback's every move, didn't spot some of the stupid stuff Manziel was doing Saturday in his little more than one quarter on the field.
Sumlin saw the penalty Manziel drew after his third touchdown pass, a 9-yard piece of brilliance where Manziel rolled right, kept rolling to buy time for his receivers, and spotted Mike Evans drift open to his left. Manziel threw a strike across his body for the Aggies' final score of the game, making it 52-28 with 9:48 left and leading to the moment that caused Johnny Manziel to be benched.
Because, you see, the play was over. And once Manziel is no longer playing football, he's in trouble. He's a football genius, born to play this game like Clapton was born to play guitar, but when the whistle blows and it's time to act like a grown-up, Manziel struggles. And so it was after his 9-yard touchdown to Evans, with Manziel getting into a trash-talking contest with two Rice defenders. Understand, the game was over. Texas A&M led 52-28 with less than 10 minutes to go. Regardless of who started the talking, the onus was on the guy whose team was way ahead, the guy from the SEC school, the guy with the Heisman Trophy, to show some class.
Only, this is Johnny Manziel. He doesn't have much of that.
And so he started talking trash to the Rice defenders, talking and bobbing his head and doing it so much that a referee came over to stop it. Manziel didn't stop it. So the referee threw a flag, and he threw it only at Manziel.
And Sumlin was ticked.
"Foolish penalty," he called it. "No matter what the comments are, he's going to face that every week with people chirping. That's not OK, and obviously I addressed that on the sideline after it happened."
Manziel didn't play again. That wasn't to protect him from getting injured in the final minutes of a rout. That was a benching. Sumlin said so after the game.
Sumlin didn't have much to say about two other Manziel incidents, two other examples of this indulgent, entitled young talent doing as he pleases. They happened on back-to-back plays on his second possession of the third quarter, the first one coming after he scrambled eight yards on third-and-7 and went back to the huddle walking backward, looking at the Rice defense, responding to whatever they were saying -- possibly taunts about his half-game suspension for signing those autographs -- by pantomiming a signing motion and shaking his head no, as if to say: Nobody wants your autograph.
On the next play Manziel found Evans for their first of two touchdown connections, a 23-yard slant pattern that Manziel celebrated by looking to the sky and rubbing his fingers together in what looked like a "counting money" motion.
Sumlin was asked after the game if he had seen Manziel miming his signature.
"Nope," he said. "If I'd seen that, I'd have done something about it."
Sumlin went on to say that he'll watch the play on film, "And if that did happen, I will address that."
We'll see what that means. Manziel is uncontrollable, possibly the most powerful man on campus, a player so gifted and so marketable that his economic impact on Texas A&M last year is said to be in the $40 million range. Sumlin received a huge raise after the Aggies went 11-2 during Manziel's Heisman season of 2012. The football facility is going through several improvements that will be paid for, in part, by the Manziel mint.
And Sumlin says he's going to "address" Manziel's stupid -- not offensive, just stupid given the circumstances -- celebration? Terrific. Maybe he'll hand down another half-game suspension, though the one Saturday didn't help Manziel calm himself down or grow himself up.
One day earlier, Manziel addressed the team and told them what he had learned -- wink, wink -- from his tumultuous offseason.
"The gist of his message to the team," Sumlin said, "[was] that everyone's individual actions affect the football team."
Manziel talked the talk Friday. But he walked the wild side Saturday, and his team followed their leader right down the tubes. On the Rice possession immediately after Manziel's unsportsmanlike conduct penalty, two Texas A&M defenders were ejected. Freshman defensive end Daeshon Hall was kicked out for throwing a punch, and junior cornerback Deshazor Everett was kicked out for targeting a defenseless receiver. Cause-and-effect? That's one way to look at it, sure.
Sumlin was asked if Manziel seemed to have learned a lesson from his run-in with the NCAA that threatened his eligibility -- and therefore, threatened the national title aspirations of his team.
"I hope he learned that those actions may be actions that [seem to] just hurt you, but they end up hurting the whole football team," Sumlin said.
Nah. Manziel didn't learn a damn thing, and nobody at Texas A&M seems all that motivated to teach him. Rather than facing the media after the game Saturday and dealing with the inevitable questions about his pattern of irresponsible behavior -- from the NCAA-sanctioned autographs to being sent home from the Manning Passing Academy this summer to the unsportsmanlike penalty Saturday -- Manziel was protected. He didn't talk to the media. The school's decision, according to a team spokesman.
Manziel will be who he will be. On Saturday afternoons, he will be the best amateur football player in the world.
But who will he be on Saturday nights?