Jon Jones butts heads with UFC czar Dana White -- who wins?
UFC president Dana White got his way: Jon Jones will fight Alexander Gustafsson at UFC 178 in Toronto, a rematch of their fight at UFC 165 when Gustafsson sent Jones to the hospital but the light-heavyweight champion kept his 205-pound belt.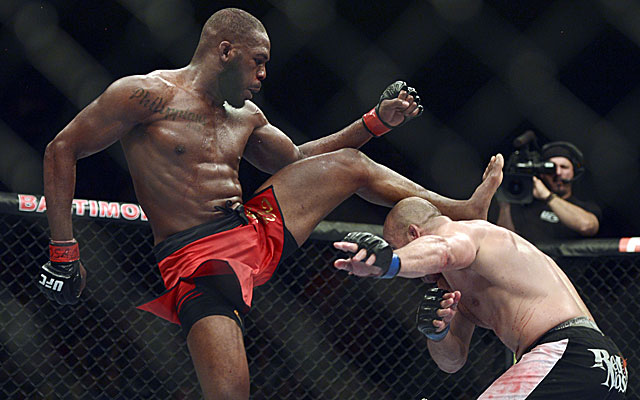 Dana White gets what he wants. Almost always, almost without fail, he gets what he wants -- and what he wanted was for the UFC's light heavyweight champion, Jon Jones, to fight a rematch with the 205-pounder who beat him half to death, and all the way into the hospital, in 2013. Dana White wanted Jon Jones to fight Alexander Gustafsson.
And Dana White gets what he wants.
And so it was announced late Thursday night, the news obscured by a blown transformer in San Antonio, that the power behind the UFC is still very much in full force. Dana White, president and part owner of the UFC, his sport's biggest star without spilling any blood, made Jon Jones blink.
This can be spun another way, of course. It can be spun, and somewhere it will be spun, that Jon Jones made Dana White blink. Not the other way around. That Jon Jones used his leverage and even his Instagram account to extract a few extra drops of money from the UFC's tight little pockets. It will be spun that Jones wanted to fight Gustafsson, not Daniel Cormier, but wanted to pick the day and improve his pay.
And you know what? Maybe that did happen. Maybe what we saw unfold Thursday night, what we've been seeing unfold for the last few years, is the greatest rivalry in UFC history -- and it's not Jon Jones vs. Alexander Gustafsson.
It's Jon Jones vs. Dana White.
For years White has treated his work force like Jones has treated the 205-pound division: defeating everyone in the way, and doing it ruthlessly. Jones has done it with violence and explosion. White has done it with leverage and patience, getting his fighters to fight who, when, where -- and for how much -- he wants. Fighters who play the game by Uncle Dana's rules get rewarded by the UFC, like the cushy jobs given to company men Chuck Liddell and Matt Hughes after retirement.
Fighters who don't go along to get along? Jon Fitch was released with a 14-3 UFC record. Frank Shamrock has been ostracized. Same for Tito Ortiz. Randy Couture is kept at arm's length despite being universally adored. Nick Diaz has "retired" rather than dance this dance with the UFC anymore, and welterweight champion Georges St. Pierre walked away from the sport and his belt after Dana White used his bully pulpit to try to goad St. Pierre, minutes after taking a ferocious beating from Johnny Hendricks at UFC 167 in November, into a rematch with Hendricks.
Most others play by Dana's rules. When Anderson Silva was one of the biggest draws in the sport and widely considered the best pound-for-pound fighter in the world, White made his popular 185-pound champion fight a rematch with Rich Franklin. Silva didn't want to do it. One, he truly liked and respected Franklin. Two, he had destroyed him just 12 months earlier.
White didn't care. Not only did he make Silva fight Franklin again -- but he put the rematch in Franklin's home town. UFC 77 happened in October 2007 in Cincinnati, and Silva destroyed Franklin again, but the baddest man on the planet that night was the bald dude in the front row wearing the dark jacket and blue oxford. No tie.
"I'll fight wherever the UFC wants me to fight," Silva had said a few days before the fight, seated at a podium in Rich Franklin's home town with Dana White sitting next to him, and White had to be thinking something along the lines of this:
Damn right you will.
Because Dana White gets what he wants.
And he got it again with the announcement that Jon Jones will fight Alexander Gustafsson at UFC 178 on Sept. 27 in Toronto, where they fought at UFC 165, and where Gustafsson probably should have been awarded Jones' 205-pound belt. Judges gave the decision to Jones, though many observers -- me included -- scored the fight for Gustafsson. Whatever the case, Jones left the Air Canada Centre for a nearby hospital to tend to his grotesquely swollen face and battered body.
For the last year the UFC has tried to get Jones to fight Gustafsson again, with White taking to social media to whip his fans -- and Dana White is the UFC's biggest star -- into a frenzy. Jones chose to fight Glover Teixeira instead, and when the UFC tried to dictate the date and hurry up the fight, Jones made the UFC change it. Delay it. Because he wanted to fight on his terms.
Jones had done this before, fighting -- not fighting, actually -- on his own terms after Dan Henderson had to back out of UFC 151, a week before the fight, with an injury. White told Jones he was going to fight instead Chael Sonnen. Jones said no.
A week before UFC 151, UFC 151 had no headliner fight. So White canceled the whole thing and blamed it on Jones and his coach, Greg Jackson.
"UFC 151 will be remembered," White said, "as the event Jon Jones and Greg Jackson murdered."
That quote is everything you need to know about Dana White. It's why fans love him, because he will say whatever is on his mind, and he will say it in the most visceral language possible. That quote also is why White has so much power over his fighters, because they know the truth: Cross Dana, and Dana will come down on you as hard as he possibly can. In Jones' case, the worst White could do was bash him publicly. Other fighters, fighters without Jones' leverage? White will banish them to a show's undercard, feed them to better fighters, release them outright. Ask Fitch.
Dana White is brutal when he has to be, and everyone knows it. Fans love him for it. Fighters fear him. The media is no challenge, either, because the UFC will simply refuse to give access to reporters or even entire media outlets who go against White. I know two such reporters personally. This stuff is factual, and it's who White is, and he doesn't hide it.
Jon Jones refuses to play the game. This week when UFC fans were apoplectic about Jones' refusal to fight Gustafsson -- UFC fans knew that because White told them -- Jones put out a short video on Instagram mocking anyone (fans, Dana, media) who would suggest Jones was ducking Gustafsson by asking to fight Daniel Cormier:
"Asking for an undefeated Olympic wrestler, Strikeforce champion makes me somehow a coward? How about the fact that I beat Gustafsson already? Whether you guys like how close it was or not. It's my career. Not yours."
Those were Jones' words, and he delivered them with disdain. White fired back through the media on Tuesday, telling the Albuquerque Journal, "It's just one of those things that sucks, to be honest with you. As soon as that kid [Jones] starts to build some steam and starts to become the star that you think he can be, he comes out and doesn't want to fight somebody."
Two days later Jones was in Las Vegas meeting with White and other UFC officials, and that night the Gustafsson rematch was finalized.
White got what he wanted. Maybe so did Jones. But how much did it cost both? Jon Jones should be the breakout star the UFC has awaited, one of the most recognizable athletes in the United States. But because he doesn't play by Uncle Dana's rules, he is seen by UFC fans as difficult, selfish, a bad guy. That's what Dana White wants, and Dana always gets what he wants.
Even if what he wants is, on occasion, stupid.
How to watch the Professional Rodeo Cowboys Association's 2017 National Finals Rodeo event

John John Florence and Gabriel Medina will look to catch the wave to a championship

It's probably better to just buy your shoes online these days
Settle in for the holidays by watching other people do grueling obstacles like the Funky M...

Talladega is all decked out in white and all of Twitter wants to see some snow tire racing

CBS is excited to announce that Jordan Peele is producing a reboot of 'The Twilight Zone'