Josh Pastner created a package deal at Memphis? Nothing wrong with that
Gregg Doyel: If new assistant coach Keelon Lawson brings his talented sons with him to play basketball at Memphis -- it makes sense to me.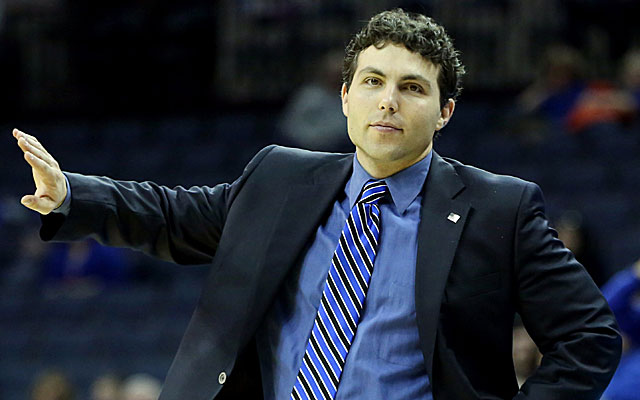 Latest in hoops: Latest News | Coaching Changes | Recruiting
Memphis basketball coach Josh Pastner has set into motion a package deal, and not just a package deal but perhaps the packiest package deal of all time -- and I'm hearing crickets. Can you actually hear tumbleweeds? No? Good, because that's what I'm hearing in complaints about this particular package deal.
Nothing.
Tumbleweeds. Crickets. Zero.
So here's where I come riding to the rescue of righteousness. And if it also allows me to be a contrarian, well all the better. Right? I mean, this story, the following column, was meant for me. It's the column I've been waiting my whole self-righteous, contrarian, miserable life to write.
And here it comes:
Tumbleweeds. Crickets. Zero.
Because I got nothing. Not for this package deal. Because there's nothing wrong with it. Even if it is the mother of all package deals, what with Josh Pastner hiring the father of not one, not two, not three, but four big-time recruits.
It's obvious what is going on here, but it's also obvious why nothing is going on here. Nothing nefarious, anyway. Not to me. Not to anybody, from what I can tell, though that could change any day now because you know how it is: Show us something suspicious, especially something suspicious that is flying under the radar of self-righteousness, and somebody will come charging out of the woodwork to attack the development, beat his chest, feel smarter and better than everyone else. Normally that person would be me, but not on this.
I have my reasons:
(1) The dad Pastner hired isn't just some dad. This isn't Danny Manning's father hopping out of a truck to lead his son to Kansas in 1983. The dad in question, Keelon Lawson, is a high school basketball coach -- and apparently a really good one. Lawson has coached at Hamilton High since 2003, and in that time he has won a state title (with a perfect 39-0 season in 2006) and made two other state playoff appearances, with district and region titles in 2014.
(2) The school where Keelon Lawson coached since 2003, Hamilton High, is in Memphis. Same town as the University of Memphis. And the four kids who call Keelon Lawson dad? They are big-time recruits. It's possible all four will be McDonald's All-Americans. Think about that: Four possible McDonald's All-Americans. From Memphis. At a high school 5 miles from campus.
(3) If Pastner didn't do it, someone was going to. In fact, someone honorable was going to. Vanderbilt coach Kevin Stallings was interested in hiring Keelon Lawson, as CBSSports.com's Gary Parrish has reported, and Kevin Stallings is a square. He's so honest, he couldn't spell "cheat" if you spotted him the first three or four letters. If I were to write a list of the college basketball coaches whose ethics I would trust without question, I don't know how long it would be. But I know Kevin Stallings would be on that list.
(And another coach, a coach even more square than Stallings, also was talking to Keelon Lawson about joining his staff. This coach will remain nameless, but you know his name, and you know he's a square, so honest and so square that he's a dork. But he wanted Keelon Lawson. In part -- maybe completely -- because he wanted Lawson's kids.)
(By the way, Josh Pastner would be on that list of coaches whose ethics I would trust without question. I've followed his career closely, and I stress closely, since he was a player at Arizona. From everything I've ever seen and heard, Pastner's ethics are beyond reproach.)
Add all of that up, and you have a really good high school basketball coach -- the kind of guy who often gets hired as the third assistant on a college staff, though maybe not at a basketball school as good as Memphis -- who can bring in some great recruits to Memphis, and who will definitely take those great recruits out of Memphis if Pastner doesn't hire him.
Is that the principal I'm supposed to stand here and defend? Josh Pastner has the right to watch the best four players in the city go play for another school! All because he wouldn't hire their dad, who by the way knows a thing or two about the game of basketball!
Maybe this is where I come clean and add (4), that I'm changing. Maybe not for the better, maybe so. Whatever, who I am today would not attack Bill Self for hiring Mario Chalmers' father in 2005 to sign his McDonald's All-American son, as I did when that happened, or John Calipari for hiring Dajaun Wagner's father in 2000 to sign his McDonald's All-American son. (Pretty sure I'd still rip the Ed Manning hire, though SkyHawk09 makes a great point in the comments below.) Chalmers' dad, Ronnie, was a high school coach. Wagner's dad, Milt, was a former NBA player. That's gray right there, and there's lots of gray area in sports in general and package deals in particular.
Several years ago, then-Arkansas coach Houston Nutt hired a local high school coach on his staff and then -- lo and behold -- signed that high school coach's best four players, including the No. 1 quarterback recruit in the country, Mitch Mustain. And I hated it. Lashed out, wrote all kinds of angry things and made some rather uncomfortable analogies. Because who was this high school coach to be given such a plum job at Arkansas, just because he had great players willing to follow him?
Who was the high school coach?
Gus Malzahn.
Gray area here. Fifty shades, maybe more.
Hamlin wasn't thrilled with Bubba's driving, or his post-race comments

The Richard Childress team went all out after their win on Sunday

Wallace is a jumble of emotions after finishing second in his first Daytona 500
Danica got in some beach time with her famous boyfriend before Sunday's big race

Junior reflects on the legacy of his father at Daytona at an emotional pre-race press conf...

Dillon won the race while driving the famed No. 3 car originally driven by Dale Earhardt S...