July 4, we remember Gehrig's speech, but we must not forget ALS fight
While MLB honors the 75th anniversary of Lou Gehrig's famous July 4 speech, we must not forget the cruel way Gehrig died and that we must find a way to stop ALS.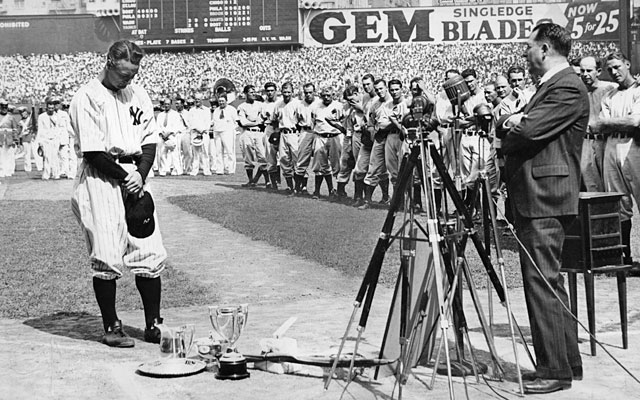 He did it without notes. That speech Lou Gehrig made on July 4, 1939 -- "Today, I consider myself the luckiest man on the face of the Earth" -- just came pouring out of an amazing man, one golden sentence after another until he was finished and people were crying and decades later we're still talking about what he said. Friday, on the 75th anniversary of that speech, Major League Baseball is honoring it at ballparks around America.
That speech was so good and wonderful and inspiring, though, it has obscured the truth about what made Lou Gehrig give it in the first place. It has obscured the truth that Gehrig and his widow, Eleanor, would have wanted everyone who heard that speech -- and everyone who didn't -- to know:
ALS is a cruelty that must be stopped.
That's what killed Gehrig. ALS, or amyotrophic lateral sclerosis, ended his consecutive game streak at 2,130 and ended his life two years later. Today we know it as "Lou Gehrig's Disease," but that too has obscured the truth of a cruel disease that is diagnosed in another American every 90 minutes.
The ALS community is divided when it comes to "Lou Gehrig's Disease." On the one hand, having such a famous and noble name attached to the disease has raised global awareness, and the ALS Association repeatedly refers to ALS as Lou Gehrig's Disease on its official website. On the other hand, having such a famous and noble name attached to ALS has managed to cloak exactly what ALS does to the human body. I know leaders in the ALS community, high-ranking officials, who prefer not to call it Lou Gehrig's Disease for that reason.
Too many people, through no fault of their own, know that Lou Gehrig's Disease is fatal -- but they don't know how or why. Hey, I was one of those people. In January 2013 I was in New Orleans for the Super Bowl, and long-haired former Saints player Steve Gleason came to the media center to talk about his ALS foundation. Thinking this might make a nice story, I went to the interview room and saw up on the dais a handsome man with thick, wavy hair. Gleason, I figured. A few minutes later the guy introduced himself as another former Saint, Scott Fujita.
Then Fujita introduced Steve Gleason.
Gleason rolled onto the stage in a battery-powered wheelchair. He was a quadriplegic, his body shriveled. He spoke to us through a disembodied voice, his written thoughts becoming words through eyeball-registering software on his computer. His expressions were the occasional lifting of an eyebrow, or a one-quarter smile.
Oh. That's what ALS does to you?
I had no idea, and I grew up a Lou Gehrig fan. My elementary school library had biographies of all manner of sporting legends, from Gehrig to Ruth to Joe Louis and on and on, and I must've read the Gehrig book 10 times. Nowhere, I promise you, did it tell me that he died like that. Paralyzed, helpless. Suffocated, possibly, because that's how ALS claims so many of its victims. It turns off the neurons in the brain that tell the muscles to move, and eventually atrophy sets in. Paralysis, then something worse. In its final stages, the atrophy attacks the lungs. Patients suffocate over the course of several days.
That's Lou Gehrig's Disease.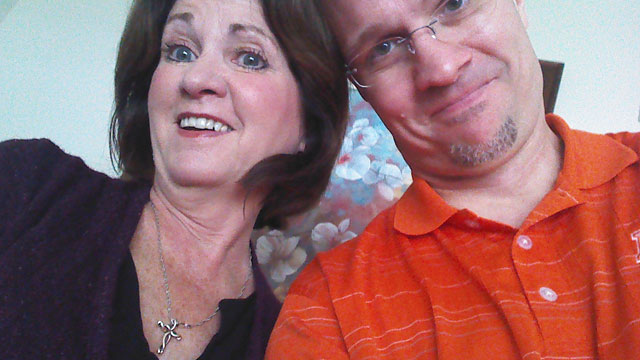 ****
Her name is Maureen, and she's one of my best friends.
Maureen learned last year that she has ALS. Something was wrong, or at least something wasn't right, but she couldn't figure it out. Why were her words slowing down? Her left hand was weaker, dropping things. And her left foot. Why wasn't it keeping up with the rest of her? Doctors tested for other things until they diagnosed ALS. See, there is no test for ALS. Doctors test for everything they can, and given certain symptoms and a lack of positive tests for conditions like multiple sclerosis or stroke, they make the ALS diagnosis. They made it on Maureen in the fall.
It's moving fast.
Today Maureen would rather communicate with most people by text message or on Facebook, because talking makes her feel anxious. She doesn't eat as much as she used to, not because she isn't hungry but because swallowing is just so difficult. But let me tell you something about Maureen, something she shares with Lou Gehrig and Steve Gleason and O.J. Brigance and the late Dick Kelley and so many others with ALS:
She's stronger than we are.
Doctors still don't know why ALS attacks most of the people it does, and they have no idea why US veterans are two times more likely to get ALS -- and Air Force vets are 2.7 times more likely -- than the rest of the population. There's a theory going around, and people like Maureen have made me subscribe to that theory, that ALS attacks the strongest of us. Why that would be, nobody knows. But it does attack our vets, and it does come after strong person after strong person, and oftentimes their strength is revealed after the diagnosis.
So it is with Maureen, who takes a bucket of pills every day, walks regularly with her husband Jim, reaches out to other ALS patients -- when Indianapolis fire chief Brian Sanford was diagnosed, Maureen spoke with him -- and says two things to me every time we talk on the phone:
She says, "I'm a fighter. I've got to keep moving."
And she says, "I'm so glad I have this and not my kids."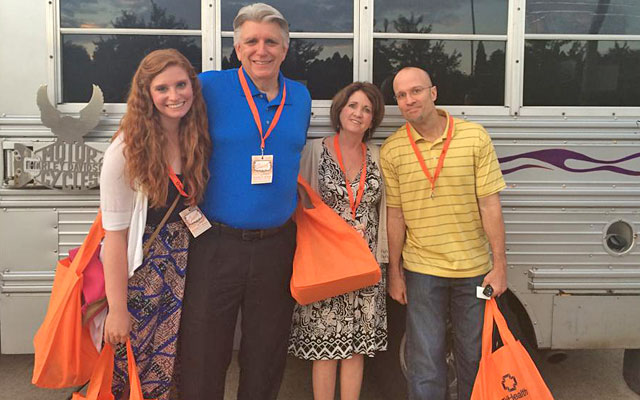 ****
Lou Gehrig died as he lived, privately and with dignity, keeping the reality of his final months not just from a curious American public but from most of his friends.
In truth, Gehrig played many of the final games of his 2,130-game streak with undiagnosed ALS. The signs are there in hindsight, and not just the way his batting average plummeted in his final full season more than 50 points, his OPS dropping by nearly 200 points in 1938, or the way he started the 1939 season 4 for 28 (.143) with just four singles before taking his name out of the lineup forever.
At home Gehrig was dropping silverware.
Doctors thought it was a gallbladder condition. His wife, Eleanor, feared a brain tumor. At the Mayo Clinic he was diagnosed with ALS, but Eleanor got to the doctor first and asked him not to be so blunt. And so it is that Lou Gehrig knew only that he was suffering from some sort of chronic infantile paralysis, and thought he had a 50-50 chance of survival.
Eleanor knew better, and soon she was typing his correspondence for him, and then she was signing his name when he couldn't hold the pen. Eventually he was taking his meals in bed, delivered to him by Eleanor. The Gehrigs had a maid, but she wasn't allowed into his room. Nobody could see what was happening to him.
He died in his sleep on June 2, 1941. To this day, this most famous man died in a condition unknown to the world. Was he totally paralyzed in his final months, his body wasting away? We don't know. That was Eleanor Gehrig's choice.
But so was this: After her husband died, she pleaded with Congress for extra research funds for ALS. Her final will and testament dedicated most of her estate to the fight against ALS. The Eleanor and Lou Gehrig MDA/ALS Multidisciplinary Care Center at Columbia University -- Lou attended Columbia before signing with the Yankees in 1920 -- is devoted to the cause.
The cause is crucial. Please consider supporting an ALS Walk in your area. And today when you hear about Lou Gehrig and you watch his speech as it is performed by active MLB first basemen, understand exactly what killed him and how ALS claims most of its victims and why there are people uncomfortable that a man as good as Lou Gehrig is forever associated with a disease so vile.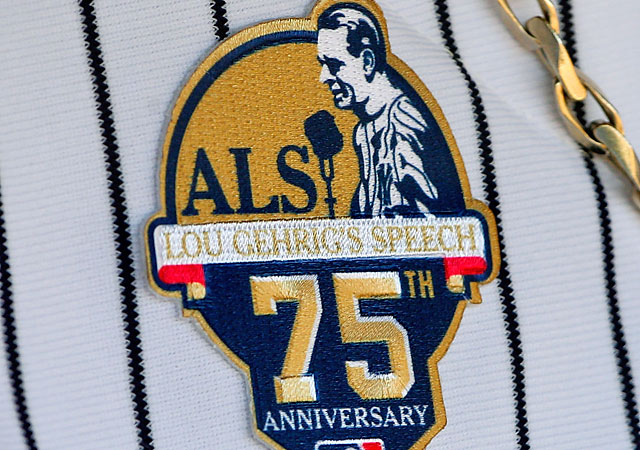 How to watch the Professional Rodeo Cowboys Association's 2017 National Finals Rodeo event

John John Florence and Gabriel Medina will look to catch the wave to a championship

Froome was found to have double the legal limit of an asthma drug in a September doping te...
Flanagan, after winning the New York City Marathon, is out to win her 'hometown race'

It's probably better to just buy your shoes online these days