Katin Reinhardt on leaving UNLV: 'I like to pass'
After announcing his intention to transfer to USC, Katin Reinhardt told Doug Gottlieb he didn't think he would be comfortable at UNLV or a good teammate in his role playing mainly off the ball.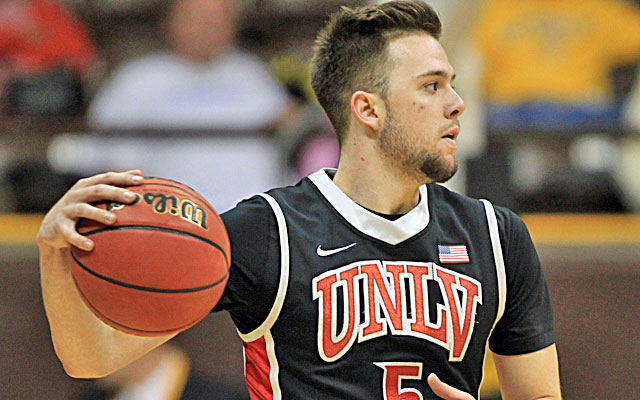 "What we've got here is failure to communicate." -- from the movie Cool Hand Luke
Recently departed UNLV guard Katin Reinhardt and his ex-coach, Dave Rice, had several conversations before Reinhardt told him last Friday he wanted to transfer. But their two talks last Friday -- one in the morning, one in the evening -- amounted to essentially a stalemate in which Reinhardt made up his mind. On Sunday it was first reported that Reinhardt would transfer, and earlier this week he announced his next destination would be Andy Enfield and USC.
What is most interesting is that Rice was honest with Reinhardt, Reinhardt was honest with Rice and yet neither truly understood what the other wanted or was trying to say. Rice thought there was a good chance Reinhardt was just a freshman frustrated by how difficult his first year was at the collegiate level, and that things could be worked out. Failure to communicate.
UNLV had the following this past season; No point guard, no chemistry, limited experience and gobs and gobs of talented pieces that never really fit together. UNLV made it to the NCAA tournament but with 10 losses including a first-round exit to Cal, the Rebels were viewed as underachievers.
Rice is an inexperienced head coach, but he is not an idiot. In college basketball you have to have a point guard. So Rice, lesson learned from having a terrific senior competitor in Anthony Marshall, a skilled passing two guard in Katin Reinhardt and a freshman who was set to redshirt before begging off redshirt in Daquan Cook, did what smart people do, he learned his lesson.
In fact he over-learned his lesson. UNLV signed two point guards next season and Daquan Cook returns. Add in the wildly talented but hard to deal with Jelan Kendrick who (though 6-6) likes to think he is a point, and from an empty stream there appears to have emerged a logjam at the point in Vegas.
Those facts left Reinhardt in a place he didn't want to be.
"Everybody thinks I want to be a point guard -- that isn't true," Reinhardt told me Wednesday night. "But coach Rice just said I would play mainly off the ball and I am just not comfortable that way. I averaged three assists a game because I like to pass and can pass and I need to have the ball in order to create, not just stand in the corner or run off screens. I'm not that type of player."
What does "off the ball" actually mean?
My guess is that Rice simply meant not at the point. "Off the ball" in coaching means those who are not the primary ignition for the offense. But those three trigger words made Reinhardt feel he would be transformed into a J.J. Redick-type instead of his idol, Jimmer Fredette.
"Coach Rice is a great guy, he really is and you can talk to him as easily as anyone I have ever played for, but I was not comfortable staying in that role. I wouldn't have been a good teammate trying to play in a way in which I didn't feel anywhere near comfortable".
To Rice's credit, although he sold Reinhardt on the Jimmer parallel in recruiting, he knew he wasn't a point guard after seeing him for a year and didn't mince words. On the other hand, trusting Jelan Kendrick (a former McDonald's All-American who wore out his welcome at both Memphis and Ole Miss before heading to junior college), top returning scorer and two-guard Bryce Dejean-Jones (who has a selfish streak) and three unproven point guards is a risky proposition heading forward.
To Reinhardt's credit, he knows he has to improve his body and shoot a higher percentage at his next destination of USC, but the Orange County native believes he is better as a combo guard than a wing. He also knows he needs to shed the stigma that comes with being yet another recent Mater Dei graduate who has transferred.
"I can be close to home, work with my trainer when SC is on the road and get my game together," Reinhardt says. "Coach Rice taught me how to defend and I felt like I shut down [New Mexico star] Kendall Williams at the end of the year. I know USC is going to let me be me and that should be good enough. My dad wanted me to stay [at UNLV] and I know the whole 'Mater Dei transfer thing' makes me look like all other MD guys, but this is my decision and I am excited."
Reinhardt strikes me as a guy, who like a of Orange County kids, is well educated and maybe a little too smart for his own good. He's also a little too caught up on playing at the next level, instead of just enjoying the process of growing into being a great college player.
I have to admit that he strikes me as being a lot like, well, me. After my freshman year at Notre Dame in 1995-96, I also wanted to leave due to my role, the style of play and my fit with the personnel. Of course, my off-the-floor actions made it impossible for me to return and I went to Oklahoma State. But the point is a lot of freshmen feel the way Reinhardt is feeling, and at 20 years old sometimes you don't think things through fully or see the future very well.
Katin is right, he is a very good ball handling two guard and is not a "wing" per se. He also played on a selfish team (my word, not Reinhardt's). Dejean-Jones was hunting shots, Reinhardt was doing a bit of the same, Anthony Bennett was super talented but if he made a shot he would shoot the next three times he got the ball, and Mike Moser was trying to prove he was a three-man who could shoot (he shot 26.7 percent from 3-point range). It was a hot mess at times.
The irony is that USC is kind of selling Reinhardt on the same thing Rice did. He wants to be a "playmaker" with and without the ball. Can he get his own shot? Yes. Can he create other players' offense? Some. Can he be efficient doing it? He will improve. Will USC win because of his playmaking? It depends on his supporting cast.
As for the reason why Mater Dei guys transfer, my feeling is they are so used to having a dominant team that adversity is difficult. Mater Dei coach Gary McKnight, though a dictator within his program, is also a terrific coach and his teams play together, play hard and pull for one another. When an MD kid goes from that environment to the wrong high level team, sometimes they struggle with others' selfish me-first mentality. Also, some Mater Dei kids are overrated as the coaching, skill development and surrounding talent can obscure their upside. Some kids are spoiled and aren't patient with limited success and yes, there is a bit of entitlement that goes with winning all the time -- it isn't that easy in college.
This is the same reason some coaches are leery of SoCal players. SoCal players don't have their hands out, they don't have runners/agents, but what they are is forward-looking "league hounds" thinking only about positioning themselves for the NBA. Jrue Holiday was never happy that he had to play the 2-guard spot even though UCLA had Darren Collison at the point. (Holliday is a Campbell Hall alum, but he left for the NBA Draft instead of transferring).
Katin Reinhardt, and I told him this, was a very normal talented freshman. His shooting percentage was low but got better late, his defense was terrible early but got better late and his overall game started to come together during the Mountain West tournament. He gave up a year of sweat equity from a coach that trusted him so he could sit for a year and eventually play for a coach -- Enfield -- who Reinhardt saw for three games in March and sold him the same sale as UNLV did two years ago. Will it all work out in the end? Maybe.
But the fact is that the failure of Rice and Reinhardt to understand what the other wanted led us to this point.
Doug Gottlieb is a college basketball analyst for CBS Sports. A former player at Notre Dame and Oklahoma State, Gottlieb is 10th in NCAA history in assists. Watch Doug on Lead Off, weeknights at midnight ET on CBS Sports Network, and listen to him on CBS Sports Radio weekdays from 3 p.m. - 6 p.m. Follow Doug on Twitter @GottliebShow.
Everything you need to know to tune into this weekend's action

Justin Gallegos has a goal to finish a half marathon in under two hours, and Nike wants to...

Jody Demling cashed his trifecta and superfecta at the Pennsylvania Derby
Everything you need to know ahead of this weekend's run in the Windy City

Here's everything you need to know to tune in for this weekend's action

From expert picks to fantasy sports, SportsLine members get it all