Ken Norton Sr. fought when boxing was the baddest sport around
Ken Norton Sr. has died, leaving behind the memories of a special fighter -- and a time when boxing was a special sport.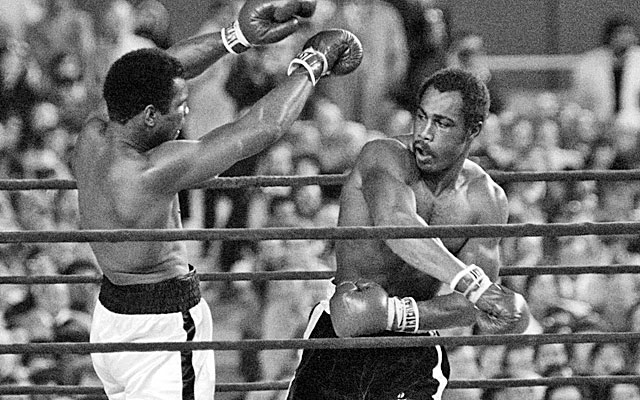 The death of Ken Norton Sr. is another reminder, to me anyway, that the sport he served so admirably is hurting in a bad way.
Over the years people (including me) have discussed the death of boxing, as if (A) the sport is going to just disappear someday and (B) that's an appropriate analogy to use. Let's be clear about this: (A) is false, and (B) seems an inappropriate choice of words, never more so than in the hours after the literal death of one of the toughest men ever to box.
Boxing isn't going away, but not even a record-setting pay-per-view event like Mayweather-Alvarez can hide the fact that it's not what it was. And while it may well come back -- these things go in cycles -- I don't see it coming back anytime soon. There are too many other sports, too many lifestyle choices competing with boxing not only for the viewer's entertainment but for the sport's supply of athletes.
(Quick aside: The next great American heavyweight is already fighting, just not in boxing. His name is Jon Jones. He's 6-foot-4 with an 85-inch reach, and he would box at about 230 pounds if he weren't competing at another sport. He's the 205-pound UFC champion. He's a mixed martial artist, a sport that has eaten into the fan base, and talent base, of boxing.)
But once upon a time, Ken Norton's time, boxing was the most amazing sport around. And that division, the heavyweight division, was spectacular. This was before the Internet, before ESPN, before cable television -- before cable television came to my house, anyway. But I knew the top 10 fighters in the heavyweight division. In the light heavyweight division, too. Middleweight, welterweight also. When I say I "knew" them, I don't mean that I recognized their names. I mean, I could list the top 10 in each division from memory, maybe not exactly in order but pretty damn close.
And I was 10 years old.
Look, this isn't about what a sports geek I was as a kid, though I was definitely that. This is about the allure of boxing several decades ago when men like Ken Norton roamed the sport. The hardest puncher I ever saw, or read about, was a man named Earnie Shavers. Ever heard of him? Maybe not. He was never the heavyweight champion, though he fought twice for the title -- losing to Muhammad Ali and Larry Holmes. As I recall, and I say this without looking it up so I could be wrong (but I'm not), Shavers rocked Holmes early and onlookers were stunned that Holmes not only stayed upright, but recovered enough to win.
For fun every now and then, I'll click on the Wikipedia page of a guy like Holmes and look at who he fought, remembering the names, and then click on one of those names to see who that guy fought. I'll bounce from page to page, and just now I went from Larry Holmes to Mike "Hercules" Weaver to Big John Tate, which reminds of the time I watched Weaver knock out Tate -- I mean, cold -- in the 15th round.
Back then, big fights were on free TV. There were just two major outfits, the WBA and the WBC. There were just a handful of weight classes, not the 5-pound incremental steps you see now. Today there must be 200 or more world champions, given the number of organizations and weight classes. That's great for each individual champion, but it's bad for boxing. Too many belts. Too many champions. The best way to damage a sport is to water it down and then hide its biggest draws on pay-per-view.
Boxing has done that.
But once upon a time boxing was full of true sporting giants, men like Ken Norton and Holmes and Weaver and Tate and Shavers -- and Joe Bugner, Tex Cobb, Oscar Bonavena, Jerry Quarry, Ron Lyle, Jimmy Ellis, Ossie Ocasio and more. Great names, great fighters, great memories.
I remember you, Ken Norton Sr.
I remember all of you.
Hyeon Chung defeats Tennys Sandgren; Angelique Kerber into semis on women's side

Catch Miami University (Ohio) take on Colorado College on Jan. 27

ABC is looking to revive the popular '90s hockey film franchise
Patrick will drive the No. 7 Premium Motorsports Chevrolet in her final NASCAR race

Patrick plans to call it a career after running at the two most iconic U.S. auto races

Let the truth set you free, sir