Kidd deal shows Bucks' Lasry as worst kind of owner -- the meddling kind
Bucks owner Marc Lasry has cash and brains, but the Jason Kidd coaching deal has Larsy treading into Jerry Jones territory, a place the Bucks don't need to be.
More Offseason Analysis: Coaching changes, news | Free agency | Latest rumors
And things were looking up in Milwaukee. Well, they were. The Bucks drafted second last week and still got the player they wanted, former Duke star Jabari Parker, and for Parker the feeling is mutual. He wants to be in Milwaukee. That doesn't always happen in today's superficial, take-my-talents-to-South-Beach NBA, but that's what happened for the Bucks.
Last year was a 15-67, injury-riddled disaster, but a promising core emerged in the form of Brandon Knight, John Henson, Giannis Antetokounmpo and (erratic) Larry Sanders. And now Parker. Five terrific young players, four of them 23 years old or younger, and Sanders is only 25. The Bucks also have new ownership, a pair of billionaires planning to pour money into the franchise as it builds a new arena in the next four years.
Happy stuff, all of it. Until we learned this weekend about one of those billionaires -- and saw what kind of owner the Bucks now have.
The wrong kind. The meddling kind. What kind of owner is Marc Lasry?
The losing kind.
Sorry, Milwaukee fans. Don't get mad at the messenger here, because you people are my kind of people. Midwest, small-market, humble. Milwaukee is the kind of place, as a sports town and a city, that has my heart.
But this new owner of yours, this Marc Lasry character -- he has my eyes rolling.
It's the Jason Kidd thing, but it's more than that. Not that there needs to be more than that, mind you. This Jason Kidd thing is embarrassing for all parties involved. Sure it's embarrassing for Kidd, but he did this to himself, and he has spent a decade undermining his image to the point where something like this happens -- something like Jason Kidd plotting to overthrow the Brooklyn GM who hired him as head coach despite zero coaching experience -- and we just shrug at it.
A surprise? Well, sort of. It's a surprise any time an NBA head coach tries to overthrow his boss, overplays his hand and finds himself flirting with -- then working for -- a whole other franchise just to save some face.
But when that coach is Jason Kidd?
Ah. Him. No, not such a surprise.
What happened is embarrassing for the Nets, who poured all that money into their roster and their new coach, stood by him even as his high-dollar team lost 21 of its first 31 games and as he stuck a symbolic knife in the back of his hand-picked top assistant, Lawrence Frank, and as he made like a World Cup soccer player and flopped a drink onto the court in a transparent attempt to get a timeout in a game in which he didn't have any actual timeouts left.
Jason Kidd, who has pleaded guilty to domestic abuse and DWI, may be a basketball legend but he's not much of a man. Brooklyn hired him anyway, and now this. This betrayal of Nets GM Billy King. It's embarrassing for everyone.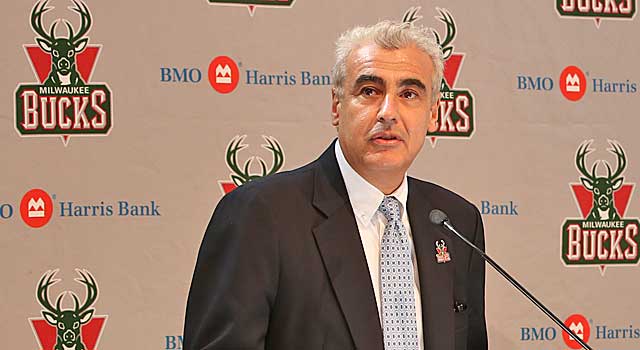 But for Marc Lasry, it's more than embarrassing. It's informative. This one move, this deal to land serial jerk Jason Kidd when the team already had a coach and a general manager -- neither of whom had any idea this flirtation was happening -- tells us what we need to know about Marc Lasry. That he's a meddler.
One of those guys. The kind who thinks he's smarter than everyone else. And with guys like Lasry, that's an occupational hazard because he often is smarter than everyone else. He didn't inherit his riches. His parents immigrated from Morocco to America when he was 7. His mom was a school teacher. His dad was a computer programmer. They worked two jobs, helped Marc get into college and law school, and he took care of the rest. He worked his way up corporate America until he was a hedge-fund manager, and today he's a billionaire.
Marc Lasry, self-made billionaire. In most rooms, he's the guy best suited to make a decision.
Until he buys the Milwaukee Bucks, looks around at this silly basketball thing, and decides he knows better than everyone else. Smartest guys in the room never realize their mistake, assuming they ever realize their mistake, until it's too late. Look at Jerry Jones, another self-made billionaire who bought America's Team, the Dallas Cowboys, installed himself as general manager and is stuck with a fool running his team into eternal mediocrity. Because that fool owns the team and thinks his genius for business deals extends to this silly football thing. And it doesn't. One is not the other. Business may well be harder than sports, but being great at business has no bearing on a person's ability to maneuver a sports franchise.
Look at Memphis Grizzlies owner Robert Pera, another self-made billionaire who bought himself a sports toy, looked around and decided he'd reinvent the wheel. Pera had a franchise that was set up to win 56 games and reach the Western Conference Finals in 2013, but he meddled and remade the front office around two former agents and a stats guy from ESPN -- and I say that wanting John Hollinger to succeed -- and saw his handpicked front office get rid of coach Lionel Hollins. Eventually Pera turned on his own, getting rid of the former agents and bringing back former GM Chris Wallace, but along the way Hollins' replacement, Dave Joerger, flirted with the Timberwolves before deciding to stay. The Grizzlies won 50 games last season, hitting a new gear once Joerger went back to the defensive principles used by Hollins, but they lost in the first round of the playoffs.
The Grizzles are a 50-win train wreck. Pera did that.
Looks like Lasry is one of those guys. Another Jones, another Pera. Another James Dolan, if you can believe it, seeing how Lasry -- a former part owner of the Brooklyn Nets -- is sniffing Jason Kidd's jock in the same way Dolan once sniffed the jock of Isiah Thomas. How'd that work out for the Knicks?
Lasry has owned the team for six weeks, and while acquiring Kidd is the biggest move, it's not even his first meddlesome screw-up. Last week the Bucks were doing what all teams do before the draft -- playing it coy, tipping no hand at all -- until Lasry stumbled into a press setting and showed their cards.
Lasry told a local Rotary Club the Bucks wouldn't be drafting injured Kansas center Joel Embiid, thereby taking one potential trade scenario -- who knows how badly the 76ers wanted him? -- off the table. It was such a preposterous thing for the owner of the Bucks to say that general manager John Hammond tried to walk it back the next day when he told the Milwaukee Journal Sentinel that the Bucks had not, actually, zeroed in on either Andrew Wiggins or Jabari Parker.
Oh, but Lasry wasn't done that day. Hours after undercutting the value of his team's No. 2 overall pick at the Rotary Club, Lasry threw out the ceremonial first pitch at a Brewers game. While speaking about his relationship with Brewers owner Mark Attanasio, Lasry was asked for any advice Attanasio had given him. Lasry offered this ironical gem:
"Just tell everybody what you're doing," Lasry recalled. "Let everybody know what your plan is and honor it."
A few days later Lasry was interviewing the coach of the Brooklyn Nets about coaching the Bucks. Never told current Bucks coach Larry Drew what he was doing. Never let GM John Hammond know what the plan is. A couple of days after that, the Bucks have a new coach.
That's how it is with guys like Lasry: You can give 'em all the advice in the world, but they won't listen. They're the smartest guy in the room, and here's the thing about that:
You're not.
Raisman said she is 'beyond disgusted' by Nassar's actions and says it's 'about time' he's...

A Florida woman allegedly stalked and harassed Stewart for more than a year after he failed...

Jonah Keri talks to with Vox senior politics reporter Jane Coaston
The movie also stars Channing Tatum, James Corden, Zendaya and Danny DeVito

Travel plans for the PyeongChang Games have been 'stagnant,' one agency told USA Today

'Generous roll' doesn't exactly do this one justice