Kingmaker? How LeBron could impact 2016 race for White House
LeBron James is the NBA's biggest power broker. His reach, albeit indirectly, could help decide who is elected president in 2016.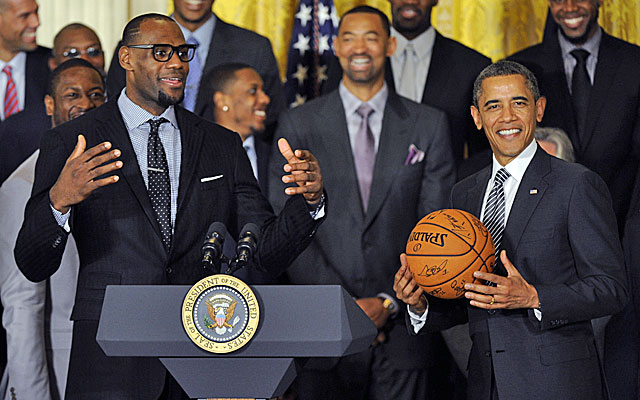 More NBA Offseason Analysis: Coaching changes, news | Free Agency | Draft
LeBron James picked Cleveland, and the value of the Cavaliers franchise instantly rose a half-billion dollars. LeBron left Miami, and the value of the Heat tumbled by millions. Fortunes rise and fall on this one man -- and that's nothing.
Because now the country hangs in the balance.
Well, it could.
LeBron's presence in Cleveland probably will force the Republican National Convention to delay its 2016 convention by three weeks, meaning three fewer weeks for the presumed GOP nominee to become the actual GOP nominee. Three fewer weeks of access to presidential campaign cash. Three fewer weeks of having the spotlight to himself.
Three fewer weeks to convince voters to pick him and not Hillary Clinton or Joe Biden or whomever the Democrats nominate. (And they're going to nominate Hillary.)
This column is not written as a joke, either. This is really happening. LeBron James' return to Cleveland is going to make its mark on the 2016 presidential election in one way or another, the least of which would be if the 2016 RNC Convention is hastily thrown together because the Cavaliers are in the NBA Finals, making Quicken Loans Arena off limits to the RNC until roughly a week before its preferred convention date of June 28.
The GOP says Plan B is to move the convention to July 18. Plan C, largely unspoken because it's just too awful to say until it has to be said, is keeping the convention on June 28 and moving the Cavaliers' home dates in the 2016 NBA Finals -- if they get that far -- to Ohio State's arena in Columbus, reports the Washington Post.
Cleveland was never going to be a GOP stronghold in 2016, but if the Republican National Convention moves the Cavaliers 140 miles away for the 2016 NBA Finals, well, you can imagine how Cleveland would vote. In a state as closely contested as Ohio, and with the Cleveland metropolitan area accounting for 18 percent of the state's population (2.1 million of roughly 11.5 million), an even larger-than-expected landslide Democratic turnout in Cleveland could swing the most crucial swing state in the country. The last president to win the election without carrying Ohio was John F. Kennedy in 1960.
LeBron hasn't swung the 2016 election just yet. But he could. Can you imagine?
Expect the RNC to avoid that doomsday scenario by announcing on Aug. 8 -- its deadline to make official the city and date of its 2016 convention -- that the convention will be held on July 18. Not a doomsday scenario for the Republican party, but one it was trying to avoid.
From the Post: "Because of complicated campaign finance laws, [RNC Chairman Reince] Priebus has decided that the Republican presidential contender should be formally nominated far earlier than in recent elections, when the conventions were held around Labor Day weekend. Instead, Priebus wants a June convention, which would allow the nominee to begin tapping an account of campaign cash that can be spent only on the general election."
What's the difference in a few weeks? According to CBS News, "tens of millions of dollars in general election cash" could be at stake.
Could that swing the election? Don't know, but the GOP is taking this quite seriously. A convention requires several weeks -- six is ideal -- to prepare the arena, and if LeBron leads the Cavaliers to the 2016 NBA Finals (seems not just possible but likely, given his track record and the way the Cavs are improving their roster), that would leave barely a week to prepare Quicken Loans Arena.
"Obviously if the Cavaliers are in the [NBA] Finals," Priebus has said, "it makes things difficult for a June 28 start."
Crazy, right? There's more. The Florida governor's race is centered for the moment on LeBron, with Republican Gov. Rick Scott's re-election campaign sending reporters an image of LeBron next to Democratic challenger Charlie Crist, an ex-Republican whose party switch was compared to LeBron's franchise switch.
"What do these two guys gave in common? They both ran away," is what Scott's campaign wrote next to the images of LeBron and Crist.
Meanwhile, LeBron leans Democrat. He donated $20,000 to the party in 2008, and he has appeared in an ad for President Obama's health-care reform. Does LeBron's support for the Democratic party matter? A new Harris Poll finds that LeBron -- for the first time -- is the most popular male athlete in the United States. That has to be worth a few votes.
Add it up, and what do you get?
LeBron's fingerprints all over the 2016 NBA season presidential election.
Kahne has been with Hendrick Motorsports since the 2012 season and is currently in contention...

After finishing second in the first playoff race of the season, can the 21-year-old son of...

Find out if you're as smart as you think you are
Truex Jr. automatically advances to the Round of 12 and will have five more bonus points carried...

Martin Truex Jr. leads the way as the NASCAR playoffs begin Sunday at Chicagoland

Kyle Busch will be on the pole for the start of the NASCAR playoffs