LeBron makes right basketball play but wrong move in Game 5 loss
Paul George scored 37 points and LeBron James passed up the final shot, passing to Chris Bosh for a miss that sealed the Pacers' 93-90 victory Wednesday night against the Heat in Game 5 of the Eastern Conference Finals.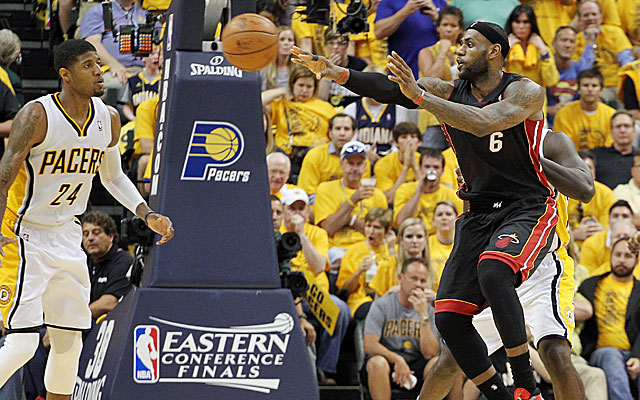 More postseason coverage: Playoff schedule, results | Latest news, notes
INDIANAPOLIS -- The right basketball play isn't always the right basketball play. It wasn't on Wednesday night in the final seconds of Game 5 of the Eastern Conference Finals when LeBron James got past Paul George near the foul line, cupped the ball inside one of his powerful arms and took off for the rim. Pacers center Roy Hibbert was coming over to contest the shot, but LeBron had momentum and he had power and he had the angle.
The right play at that moment, final seconds of a potential closeout game to reach the NBA Finals, is for LeBron James to rise up in a show of power and fury and shove the ball through the basket. If Hibbert's hand or arm is in the way, then Hibbert's hand or arm gets shoved through the basket, too. Sometimes the right basketball play isn't an unselfish page clipped neatly from a coach's manual, but a greedy, hungry, emphatic display of this is my world.
But LeBron didn't make that play. He made the right basketball play, passing to Chris Bosh in the corner for a 3-pointer for the victory. But Bosh missed, and so the Pacers won. Indiana hit a late free throw and the final score was 93-90, but those are just details.
Paul George led the Pacers with 37 points, helping Indiana cut the Heat's series lead to 3-2, but that's another detail.
Pacers guard Lance Stephenson was unruly to the point of being almost unhinged, roughhousing LeBron on defense and dominating the ball on offense so much that Pacers coach Frank Vogel called timeout to stop one selfish rampage in the third quarter, then removed Stephenson for the Pacers' final possession, lest he screw the whole thing up. Another detail.
LeBron's final decision with the ball was so bizarre, and yet so expected, that not even his own foul trouble was the story of this game. He had two fouls in the first quarter, three in the first half, five early in the third quarter. He played just 24 minutes and finished with seven points, two rebounds and four assists. Crazy numbers, but just a detail on a night when the game was right where the Heat wanted it -- in LeBron's hands in the final seconds -- and LeBron put the game where the Heat probably didn't want it.
Into Chris Bosh's hands.
Final seconds. Bosh sandwiched between the Indiana bench to his rear, and George Hill closing out from the front. Bosh, unusually active but not particularly accurate, missing his 21st attempt (he made nine), including his seventh 3-pointer (he made two). The long rebound was batted to midcourt where David West ran it down, was fouled with a second left, made a free throw for the final margin and then missed the next one as the final second ticked off the clock.
Game over. A game that was in LeBron's hands.
Did LeBron make the right decision there? Depends on the prism you're looking through. From a pure basketball standpoint, he did what coaches typically want their players to do. LeBron attacked the rim, collapsed the defense and passed to an open teammate. Hibbert slid over to contest LeBron at the rim. LeBron recognized that and found Hibbert's man, Bosh, in the corner.
Paul George loved it, and not in a mean-spirited way. He loved it in a basketball IQ way. Or at least, he said he did.
"LeBron's the smartest player in this league," George said. "He's going to make what he thinks is the right play. Chris Bosh, we're fortunate he missed."
Hill closed hard, but Bosh had an open -- if hurried -- 3-pointer. Bosh has been a great shooter at times, if not on this night, and that corner 3-pointer is his favorite spot on the perimeter, a spot from where he has made 11 of 20 attempts in the postseason. Heat coach Erik Spoelstra said he loved the shot. Because it was a coach's shot. It was the right basketball play, and LeBron always makes the right basketball play.
"We'll take that," Spoelstra said. "We'll take that look. One of our better clutch 3-pointers shooter in his spot. That was good to see that poise."
That's the Spoelstra prism. He's a coach. He liked it.
Roy Hibbert loved it, because Hibbert saw the best player in the world bearing down on him. Coming soon to a poster near you? That's what Hibbert saw happening, until LeBron passed to Bosh. LeBron was told about Hibbert's relief at his decision to pass, and LeBron dismissed it.
"That's easy to say that after the fact," he said. "It's like playing cards. That's why they got backs on them -- you don't know what's going to happen. My teammates trust that I'm going to make the right play to help us win. I trust myself that I'm going to make the right play to help us win.
"It doesn't matter from somebody else's perspective. We got a great look. [Bosh] make that shot, we make a stop, we're headed to the [NBA] Finals. It's a make-or-miss league. You don't think about things you did in the past. You just correct them in the future."
Sounds good, but enough with the right basketball play. Enough. Sometimes, the right basketball play is the best player in the world trying to finish at the rim. LeBron is a 6-foot-9, 275-pound monster. From a running start, his vertical has to be in the 40-inch range. Hibbert is 5 inches taller but plays well below the heights that LeBron can reach. This was LeBron's moment to ignore the right play and get selfish and get nasty, but LeBron doesn't have that particular gene. Jordan did, as you know, but LeBron does not -- and that's one of the most unique, even beautiful things about his game. As good as he is, he's happy to share the ball, even to a fault.
And that finish, that was his fault.
And that's what we'll be talking about for a few days, as we should, though there is so much to get into from Game 5. Freed from having to contend with LeBron at both ends, Paul George erupted for 31 points in the second half. He was stealing passes and driving for dunks and catching passes and sinking 3-pointers. And he was doing it over and over and over. This was the Paul George to whom LeBron gave that famous fist-bump in the playoffs last year. In fact, this Paul George was better than that. This was Paul George in all his rising superstar glory.
David West had his best game of the series, scoring 19 points on 7-for-11 shooting. The unpredictable Hibbert wasn't great, but he was good enough to produce 10 points and 13 rebounds. In all, 10 players scored more than LeBron James, including Lance Stephenson, who had 12 points, five rebounds, five assists, two steals. Stephenson played dangerously close to the edge all night, on a day he started by apologizing at shoot-around for talking so much trash about LeBron before Game 4. In Miami, Stephenson had said, he had "messed up. It was between me and him, not everybody else."
Even as he apologized, Stephenson was wrong. What happened in Miami wasn't between Stephenson and LeBron, because that implies he's on LeBron's level. Like they're equals or something. They're not. Nobody is LeBron's equal -- nobody outside of maybe, just maybe, current MVP Kevin Durant, and Durant is in the Western Conference Finals. This is the Eastern Conference, and LeBron has no equals in this series.
Roy Hibbert damn sure isn't LeBron's equal, but in the final seconds of a two-point game LeBron didn't want to find out. He passed the ball to an open teammate in the corner, because that was the right basketball play and LeBron will always make the right basketball play.
Even if it's occasionally wrong.
Patrick will drive the No. 7 Premium Motorsports Chevrolet in her final NASCAR race

Patrick plans to call it a career after running at the two most iconic U.S. auto races

Let the truth set you free, sir
The poor kid never even saw it coming

The burglars that Childress fired at were carrying military-grade weapons on them, the cops...

'Kong Infinity' and 'Happy Ending' headline two additions to the ultimate endurance course...