LeBron wakes up in fourth, rallies Heat past Pacers in Game 2
After an uneventful three quarters, LeBron James and Dwyane Wade turned it on in the fourth to rally the Miami Heat past the Indiana Pacers 87-83 in Game 2 to even the Eastern Conference Finals at 1-1.
More NBA: George struggles for Pacers | Wade sets up LeBron | Playoff schedule
INDIANAPOLIS -- This was LeBron James at his worst, the version of LeBron we see from time to time and can never understand it. For most of three quarters he had been a cross between bored and boring, and this was the Eastern Conference Finals for god's sake. His Miami Heat had lost Game 1 and they trailed the Pacers by six in Game 2, and LeBron was just another guy. Eight points, four rebounds, two assists. What's he doing?
Then it happened. LeBron remembered he was bigger than almost everyone else, faster than everyone else, stronger than everyone else.
Better than everyone else.
In the last 14½ minutes, he scored 14 of his 22 points. He grabbed three of his seven rebounds. He handed out four of his six assists. He also made the killer steal, and he threw the final bounce pass to Dwyane Wade's two-handed reverse dunk for the game-clinching play that emptied Bankers Life Fieldhouse with 21 seconds left.
Thanks to LeBron remembering who he was and what this was, the Heat won 87-83 in Game 2 on Tuesday night to even the conference finals at 1-1 and steal home-court advantage from the Pacers.
What happened early to LeBron was the Roy Hibbert Effect. It happens to lots of players, and it has happened over the years to LeBron himself. Hibbert is the Pacers' 7-foot-2 rim protector, and for whatever reason LeBron has had games where he doesn't attack Hibbert. Not because he can't get to the rim -- please -- but because he doesn't want to.
Unwilling to attack the rim, LeBron snoozed through most of three quarters. This was a full-court malaise, his indifferent offense bleeding into inattentive defense, highlighted most egregiously by the time he was guarding C.J. Watson and let the smaller, older, slower Pacers backup guard sneak alone to the rim for an open layup.
Watson blew the layup, because this was that kind of game for the Pacers. Other than Lance Stephenson, who led all scorers with 25 points and added six rebounds and seven assists, the Pacers allowed the LeBron-less Heat to stay in the game. Paul George and David West were a combined 9 for 32 from the floor. West was particularly awful, missing a series of open mid-range jumpers and even a handful of open looks near the rim. Hibbert had 12 points and 13 rebounds, but he was inconsistent at things like "catching an entry pass."
All of that left the door open for LeBron to roll off the couch, step into a phone booth and become Superman. And with 2½ minutes left in the third quarter, his team trailing 60-54, that's what he did. LeBron, who to that point had a triple-single in 29 minutes -- eight points, four rebounds, two assists -- started the flurry with a 19-foot jumper.
Then LeBron drove into the lane, drew three defenders and found Chris Bosh in the corner for an open 3-pointer. Next time down, same thing. Only this time it was Norris Cole in the corner. Another 3-pointer, and the third quarter ended with the Pacers holding an uneasy 63-62 lead.
From there it was just a matter of picking the final score, because LeBron James had just remembered that he's the best player in the world -- and the Pacers were helpless. They had nobody to stop him on defense, and they had nobody to match him on offense. James was doing big and great stuff like drilling a catch-and-shoot 3-pointer over the 6-9 George, and he was doing the little bitty fundamental stuff that gets lost amid his extraterrestrial athleticism but is often there, proof of his otherworldly basketball IQ.
Little stuff like a cut early in the fourth quarter. Shane Battier was trapped on the baseline, and LeBron was standing in the corner, and when George turned his head LeBron was gone to the rim, taking the pass from Battier for a layup. He made another cut later in the fourth quarter, throwing the ball to Chris Andersen in the corner and then making a beeline for the rim, where Andersen rewarded him with a pass for a layup. That came during a run of nine straight points by LeBron, a run that could have been 11 when he stole the ball from George Hill and had a layup that he missed. But Wade was there for the follow jam that gave the Heat an 80-75 lead with 3:17 left.
The lead became 86-78 when LeBron was fooling around near the free throw line and spotted Wade on the baseline, cutting to the rim. LeBron found him for a reverse dunk that emptied the arena.
Wade and LeBron scored the Heat's 20 last points. Wade had 10 of them and led the team with 23 points, but he wasn't trying to share this moment. This one belonged to LeBron, sitting beside him at the postgame press conference.
"This guy to my left," is how Wade described LeBron.
That guy to his left, LeBron, he was feeling pretty proud of himself.
"I did a great job in the third," LeBron said of his passes to Bosh and Cole for those open 3-pointers. "But I needed to make a few buckets to help us in the fourth, and I was able to come through for us."
As for his malaise earlier? LeBron has no idea what you're talking about, just like he had no idea during the 2010 NBA Finals against the Mavericks when he was shrinking and someone asked him about it and he pretended to not know. He did it again Tuesday night, answering a question about his three-quarter snooze like so:
"I just play the game," he said. "However the game presents itself, I just try to take advantage of it."
Sounds good, but it's a lie. He tried to take advantage -- he took advantage -- of nothing for most of three quarters, which is why the Pacers led by seven late despite horrible games from George and West, so-so games from Hibbert and Hill, and awful games from three of their four players off the bench.
The Pacers had no business winning this game, but they were. Because of LeBron.
And then the Heat, who had no business winning this game, did. Because of LeBron.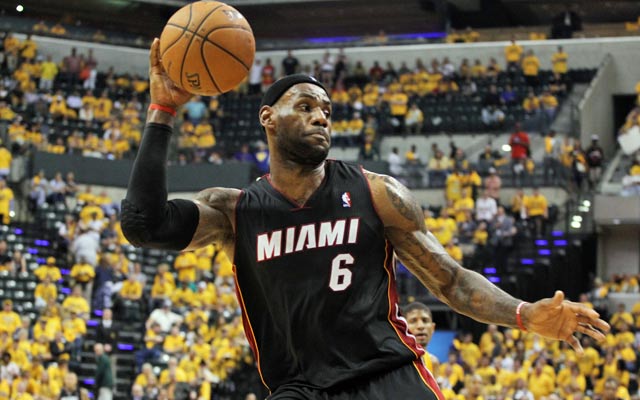 Rowdy took to Twitter after winning Friday night's NASCAR Xfinity Series race

Rowdy will go for the sweep Saturday night after winning both the Xfinity and Truck races.

Truex's Furniture Row Racing teammate Erik Jones will lead to field to green on Saturday n...
Rowdy swept all three stages en route to his eighth NASCAR National Series victory of the...

NASCAR drivers had some fun with Kenny Wallace after he posted a 'crazy story' to his Twitter...

Martin Truex Jr. could clinch the NASCAR Cup Series regular-season title Saturday night