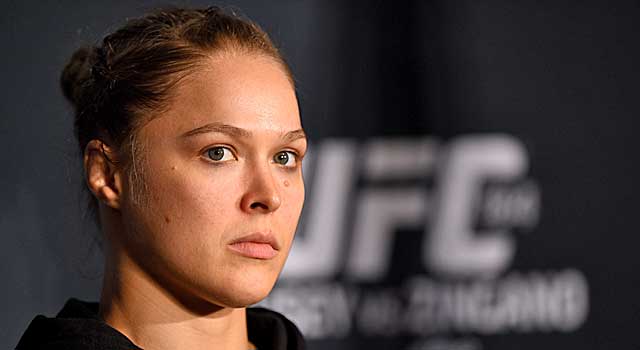 WrestleMania moments can be hard to come by but Ronda Rousey -- with The Rock by her side -- certainly made one on Sunday.
Rousey, the UFC Women's Bantamweight Champion who was spotted sitting at ringside earlier in the night, hopped over the barrier to join The Rock during a heated argument against Triple H and Stephanie McMahon. McMahon had slapped The Rock, but he was unable to retailiate and needed a woman's help.
Entering the ring to a huge ovation, Rousey refused to be intimidated by McMahon and dropped the following line:
"You need to understand something, Steph. Any ring I step into is mine. If you want me to leave, why don't you make me?"
"That is called BEING OWNED!!" - @THEROCK @RondaRousey #WrestleMania @StephMcMahon pic.twitter.com/rPFB4irCwo

— WWE (@WWE) March 30, 2015
The Rock began fighting with Triple H, leaving him stumbling as he approached Rousey, who delivered a hip toss.
McMahon then tried to slap Rousey, only for Rousey to turn the tables, put McMahon in a standing arm bar and chuck her out of the ring.
That's RONDA's arm now!!! #WrestleMania @RondaRousey @STephMcMahon pic.twitter.com/mf3UEkrIgC

— WWE WrestleMania (@WrestleMania) March 30, 2015
Rousey's appearance will immediately raise suspicions about her participating in a WWE match next year at WrestleMania 32. In fact, a tag team match with her and The Rock on one side, Triple H and McMahon on the other, would certainly be a headliner.
Rousey's agent, Brad Slater, told Ariel Helwani of MMAFighting.com that UFC head honcho Dana White was certainly aware of his client's participation in the event. "I've told you many times how I work with Dana [White]," Slater said. "I always, always call him and make sure he is OK with anything we ever do in movies, television and otherwise."