Mack's firing is no joke, but Horns' handling of coaching switch sure is
Apparently the only guy who doesn't know Mack Brown is out at Texas is Mack himself. At least that's the way it seems as Texas fumbles its way through a monster coaching change.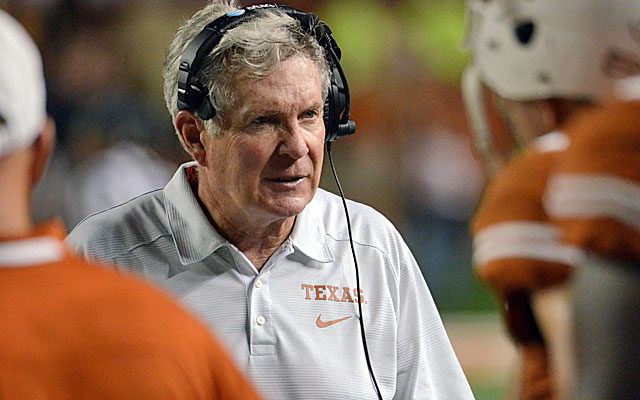 Grab a seat and some popcorn. Texas is about to hire a football coach.
Hell, Texas firing its football coach already has been a hoot, comedy masquerading as drama and put on by a bunch of middle-schoolers. It's a farce and it will become a bigger farce, and even if Texas thinks this is deathly serious -- show some respect; this is Texas football -- it won't be serious. Not to us. To us it will be a hoot.
It already is a hoot, with coach Mack Brown being fired after 16 years at Texas by Orangebloods.com. That was the website that broke the news to the world -- and to Mack Brown -- that he wasn't coming back in 2014. Brown said he had no idea. He was on a recruiting trip in Florida. If that trip was a misdirection, 62-year-old Mack Brown knowing he was resigning but still flying 1,100 miles and putting on his Texas gear and watching a bunch of high school kids practice, it's the greatest misdirection of all time.
But it wasn't, so it's not, because nothing about this Texas coaching search will be clever. Not in this age of Twitter and rumors and reporters tracking Texas' airplanes through various aviation websites and even fans tracking those planes and then going to a message board to blow Texas' cover and screw the whole thing up.
See, Texas will hire only a great coach. It's Texas football, and Texas football deserves nothing less. You don't hand the Maserati keys to the kid delivering pizza, and you don't hand the Texas football job to John Mackovic Randy Edsall. Well, you don't. Texas football is too valuable a commodity to be given to anyone but the best of the best, and I say that sincerely, and the booster or two who run Texas football understand that better than I do. They're going to pursue the best coaches in the business, college or pro, and the best coaches in the business demand one thing above all else:
Secrecy.
Mike Tomlin or Jim Harbaugh or Urban Meyer or Nick Saban might be willing to listen to Texas, if for no other reason than to increase their leverage where they are now. Texas comes calling, and your employer takes note. Saban can't go to his boss at Alabama and threaten him by saying Boise State is on Line 1. What Saban can do is go to Alabama athletics director Bill Battle and tell him Texas is on Line 1, but he won't answer it in exchange for another raise or another statue or lower admissions standards for five recruits a year. That's what Saban has been doing since that ridiculous Texas rumor broke a year ago, and it's working; he just lost the Iron Bowl as well as every cornerback on his recruiting radar to Auburn, and he's about to get an enormous raise. How does that happen?
Texas did that.
Texas will do that for lots of coaches before all is said and done, unless the booster or two running that program -- Lord knows, athletics director Steve Patterson and president Bill Powers aren't running it -- has a stealth hire they're waiting to unload, just as soon as Mack Brown takes his medicine and gets the hell out of the way.
See, when a reporter from Orangebloods.com knows the coach is fired before the coach knows, that's a problem for your school. And I know the reporter who broke it, Chip Brown. I like Chip Brown. That's not a shot at him whatsoever, but a shot at a school -- any school or professional team -- that would allow such a leak as a way to harness public momentum in the direction it wants.
And the school wanted Mack Brown out. Mack wouldn't go. So, enter Orangebloods. That got Texas fans fired up, because Texas fans believe they can do better than Mack Brown, and now the noise has reached a crescendo and CBSSports.com's Bruce Feldman is reporting Brown will in fact take the hint and leave, but only after it becomes "a very messy situation."
Back in September, Orangebloods broke the news that then-Texas AD DeLoss Dodds was stepping down at the end of the year, news that took Dodds by surprise. But see, Dodds is a Mack Brown guy, and the booster or two running Texas football wanted Brown gone. So Dodds had to go first, because it's easier to muscle out an AD than a football coach, and because that would leave Brown vulnerable. About three weeks after Orangebloods let the world know that Dodds was gone, Dodds made it official and confirmed that, gulp, he was in fact stepping down.
And now a few months later it happens again with Mack Brown.
See my point? My point is this: Texas football is out of control, an enormous dog being wagged by a tiny tail, a $100 million enterprise that funds an entire athletic department and created an entire television network and held hostage two or three BCS conferences in the past few years. Texas football is a monster, and monsters don't move with precision. They stomp around in the forest, flattening trees until they emerge into the clearing and trip and fall and land right on top of someone's house.
The monster just fell through Mack Brown's roof.
After lurching toward Nick Saban, the monster will careen toward Harbaugh and Tomlin and Urban Meyer and Gus Malzahn and any other name the booster or two running Texas football thinks is worthy of a job as great as head football coach at Texas.
If the monster wants to do this with any class at all, it would make one phone call to Mike Gundy today and announce his hiring tonight. Gundy would be a home run, but the booster or two running Texas football wants a grand slam. They want to take out a light tower, like something out of The Natural. So the monster lurched toward Nick Saban and will veer off toward Kevin Sumlin and David Shaw and anyone else with a huge name, and reporters will make guesses and fans will track planes and this show will go on and on and on.
I'll be over here with my popcorn, watching and having a grand old time. That's the thing about those middle school Christmas plays. They're so bad, they're kind of good.
How to watch the Professional Rodeo Cowboys Association's 2017 National Finals Rodeo event

John John Florence and Gabriel Medina will look to catch the wave to a championship

Froome was found to have double the legal limit of an asthma drug in a September doping te...
Flanagan, after winning the New York City Marathon, is out to win her 'hometown race'

It's probably better to just buy your shoes online these days