Maclin gives thanks for 'real' mom, adopted family on Father's Day
Every Father's Day, Eagles WR Jeremy Maclin gives thanks to the mother who chose to give him up and his surrogate family. Clark Judge says the events make Maclin a better man today.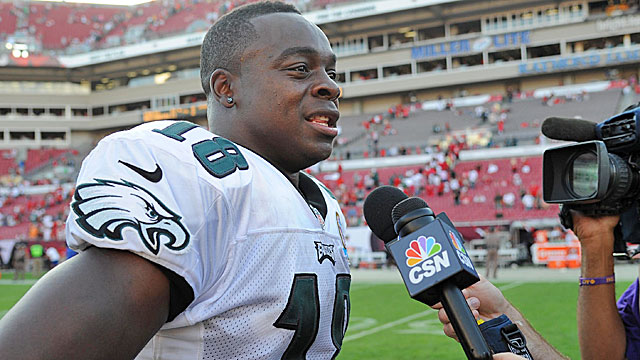 PHILADELPHIA -- You're Jeremy Maclin, it's Father's Day and this is your dilemma: Who gets your first phone call? The surrogate Dad who agreed to take you in when you were 15, or the mother who made the tough decision to let you go to him?
It's a push, and after hearing Maclin's story you'll see why.
He and two older brothers grew up without knowing their biological father. Instead, they were raised by a mother who, when Maclin was a teenager, made a life-changing decision to let the last of her children walk away. Only this wasn't to leave for school or camp. This was to move in with another family, headed by Maclin's former Little League football coach.
After consulting with Maclin and his brothers, she agreed -- and, in so doing, allowed him to escape a troubled neighborhood and unite with a family that offered more than a change of environment; a family that offered him hope.
"That's why for me," Maclin said, "Father's Day just gives me another day to appreciate my real Mom. Understanding that we've had our ups and downs, if it wasn't for her I wouldn't be where I am right now."
Notice how he said his real Mom. If it weren't for his surrogate family -- Jeff Parres, wife Cindy and their two sons -- he wouldn't be where he is now, either. Because Parres, who coached Maclin at 9 when he played on the same team as Parres' son, took him in when his own mother couldn't. Eventually, Maclin would spend so much time with the family that they set him up with his own room, chest of drawers and clothes -- with the idea that he was welcome to stay whenever he chose.
">"Every weekend," said Jeff, "it would be two or three kids spending the night at our house. It was always to or three different kids ... with one exception. And that was Jeremy. He was the one constant. He was there every weekend."
That changed, of course, with time and a mother's hard choice. Maclin would go on to star for the University of Missouri, become a first-round draft pick and evolve into a valuable offensive weapon for the Philadelphia Eagles. But none of that might have happened were it not for Maclin's mother and Jeff and Cindy Parres, all of whom are key players in helping to make Maclin what he is now.
And what he is now is more than a star football player. He's an accomplished young man who runs his own charity -- the Jeremy Maclin Foundation -- that, appropriately, is dedicated to helping youths and families forced into "alternative" living situations that are not unlike what he experienced.
"My main thing," he said, "is that I'm here to help any kid that hasn't gone through that ideal American living situation."
That would be Jeremy Maclin. As atypical as his upbringing might have been, it produced a happy-ever-after ending, and that's a credit to all involved. Maclin went to a family that never forgot what his mother had done, and that family, in turn, not only turned around to offer her support, paying her rent for a year, but was cognizant of what she surrendered to help her child. In the end, the sacrifices of two families combined to make Jeremy Maclin a success.
"We naturally think of him as a third son," said Jeff Parres. "When I see Jeremy now, what makes me proud is not scoring a touchdown on Sunday. What makes me proud is when I flip on the TV and see him present himself well in an interview and act like a decent human being and give back to the community the way he does. That's what I see."
Most people don't know that Jeremy Maclin is more, much more, than a playmaker on the football field. He is a kind and caring individual off of it. When we completed our interview during the Eagles' recent minicamp, I extended my hand to thank him ... only Maclin didn't see it and turned to greet a passer-by. Only after I started to walk away did Maclin notice ... and when he did he rushed to apologize.
"My bad," he said.
There isn't much bad about anything Jeremy Maclin touches these days. Which leads to the obvious question: Where would he be without Jeff and Cindy Parres? Or, better yet, how might his life have changed if his mother hadn't consented, essentially, to giving him up?
"Had he grown up in a different environment," said Parres, who has coached Little League football in the St. Louis area for two decades, "it may have been a different story. There's one other kid that comes to mind that I coached who grew up in a very similar environment and who had ability comparable to Jeremy. Unfortunately, he's dead now. He was shot and killed. Never had a chance. So who knows how it would've turned out."
Maclin doesn't. When I posed the question, he struggled to respond, eventually surrendering. What he does know, however, is that nothing would be possible without his mother giving him the chance to better himself at an early age.
"I applaud her for doing that," he said. "Obviously, it was tough on her, and there were things where we wish we could have had better or different situations. But that's the way life works out. I think everything works out for a reason, and I still thank her to this day for allowing me to do that because it's gotten me to where I am."
But so have Jeff and Cindy Parres, and this weekend is another reminder how fortunate Maclin is to have both in his life.  Where he thanked Cindy last month, he can reach out to Jeff this weekend -- or "Dad," as he sometimes calls him -- to let him know what Father's Day means to someone who was raised without one.
"It gives me a day to recognize him and let him know that nothing can really repay what [he and his family] have done for me," said Maclin. "It's not about the money or the things they got for me. It's about the love and family atmosphere they made for me.
"When I talk to him I'll tell him, 'I appreciate everything you've done for me, and I love you.' Those simple words right there let me know I did the right thing."
Let the truth set you free, sir

The poor kid never even saw it coming

The burglars that Childress fired at were carrying military-grade weapons on them, the cops...
'Kong Infinity' and 'Happy Ending' headline two additions to the ultimate endurance course...

Nik Kayler's body has been found after going missing last week during a fishing tournament

Florida officials are still searching for Nik Kayler after his boat didn't show up