Maddux should be HOF's Mr. Perfect; BBWAA voters won't let it happen
It's ridiculous enough that no one has entered the Hall of Fame unanimously, and it's downright dumb that Greg Maddux won't, either.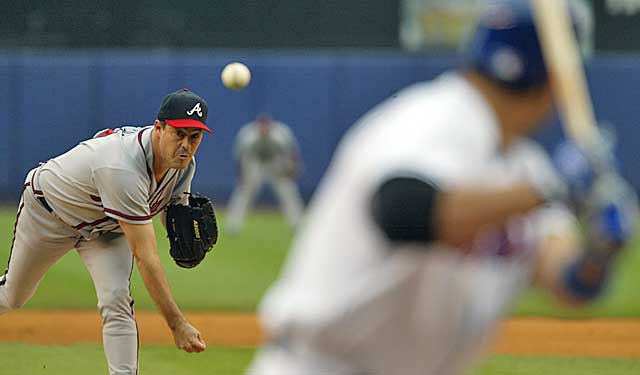 In a few weeks Greg Maddux will be voted into the Baseball Hall of Fame, because voters aren't morons. He'll make it into Cooperstown in his first year on the ballot, probably with one of the highest vote tallies ever, because voters aren't stupid.
But he won't make it unanimously, because some voters are pompous, self-important jerks.
Not sure what else to call them, whoever they are. Lord knows I can't call them by their real name because votes are private, which is the irony of this "stand" a handful of Baseball Writers Association of America voters make every year: They make it anonymously, because while they're convinced it's the right thing to do, they're not willing to make their stand public. A principle in private isn't principled at all; it's an agenda.
But a handful of voters will do to Greg Maddux what 28 self-appointed guardians of the game did to Rickey Henderson in 2009, when Henderson should've been the first player unanimously elected to Cooperstown but fell short -- he was picked on 94.8 percent of the 539 ballots -- because people are jerks. Henderson? He's the greatest leadoff hitter of all time, a guy who played well enough and long enough to accumulate more numbers in more ways than anyone ever has, and a guy who throughout the 1980s was historically dominant.
Henderson should have been the first to make it unanimously in Cooperstown. Before him, Nolan Ryan should've been first in 1999. Ryan came about as close as anyone ever has, being named on 485 -- or 98.8 percent -- of the 491 ballots, which means six voters should have their voting privileges revoked.
Before Ryan, Johnny Bench should've been first. Greatest catcher ever, and Bench was left off 16 of the 447 ballots cast in 1989. He received 96.4 percent of the vote, one of the highest totals ever, but I can't get past the fact 16 people judged him unworthy. I can't get past the idea that one person judged Johnny Bench unworthy.
Top HOF vote percentages
Player (year)
Pct.
Tom Seaver (1992)
98.84
Nolan Ryan (1999)
98.79
Cal Ripken Jr. (2007)
98.53
Ty Cobb (1936)
98.23
George Brett (1999)
98.19
Hank Aaron (1982)
97.83
Tony Gwynn (2007)
96.61
Mike Schmidt (1995)
96.52
Johnny Bench (1989)
96.42
Steve Carlton (1994)
95.82
Babe Ruth (1936)
95.13
Honus Wagner (1936)
95.13
Rickey Henderson (2009)
94.81
Willie Mays (1979)
94.68
Then again, nine voters said no to Hank Aaron in 1982. Can you believe that? Of course you can. These are baseball writers we're talking about. Individually they can be as good and decent as anyone in my business, but as a whole? Nobody does pious like baseball writers, and baseball writers decided long ago that if Babe Ruth couldn't make it into the Hall of Fame unanimously in the inaugural class of 1936, nobody should. So to honor a dead man, the BBWAA insults living legends.
You're next, Greg Maddux.
Thing is, Maddux might just be the best starting pitcher of all time. No, really. Stop swallowing your tongue and consider the era he pitched in -- the cheatingest, steroidingest, dirtiest era ever. In baseball history there have been only 51 seasons of 50 home runs by a player. Almost half of those seasons (22) came from 1995-2002. And you know why that is.
Guess who was in his prime from 1995-2002? Greg Maddux. And he was dominant, going 142-61 with a 2.63 ERA, a Cy Young award and eight Gold Gloves. His adjusted ERA in those eight seasons was 165, a sabermetric number that adjusts his ERA for his team's ballpark as well as for the ERA of every pitcher in his league. What does all of that mean? This: Had Maddux's career spanned only those eight years from 1995-2002, his adjusted ERA of 165 would've been the best ever by a starting pitcher.
As it is, the adjusted ERA for Maddux's career is 132 -- tied for 29th all-time, with yesteryear stars Spud Chandler, Noodles Hahn and Al Spalding -- and it's not like the handful of years Maddux pitched before 1995 or after 2002 were all that clean, either. There's a reason starting pitchers have been mired in what Sports Illustrated's Tom Verducci calls "the Dark Ages," a Cooperstown drought that extends to 1970. No starting pitcher who debuted after 1970 has been inducted into the Hall of Fame.
There are lots of reasons for the Dark Ages -- specialization, closers, injuries -- but the most egregious is this: Hitters have been cheating.
Pitchers have been cheating, too, which is why Roger Clemens didn't snap the Dark Ages drought himself. But muscle-bound hitters were hitting the ball at historic levels during Greg Maddux's career, and still the precision-pitching savant won 355 games (eighth all-time), struck out 3,371 batters (10th) and posted 10 seasons with an ERA of 3.00 or less, including absurd ERAs of 1.56 in 1994 and 1.63 in '95.
And that was the start of Steroid Central.
We'll never know, but imagine Greg Maddux pitching in another era, a fairer era. Greatest starting pitcher of all-time? He might have been. Hell, maybe he is anyway. Remember that adjusted ERA of 165 that Maddux put up from 1995-2002? No starting pitcher has retired with a number close to that. Only one reliever has topped it, and that's Mariano Rivera. His career adjusted ERA is 205, which is as off-the-charts ridiculous as a hitter retiring with a career batting average of .532.
And you know there's a Hall of Fame voter or two waiting to leave Rivera off their ballot.
SportsLine simulated the Folds of Honor QuikTrip 500 race 10,000 times and has some surprising...

Hamlin wasn't thrilled with Bubba's driving, or his post-race comments

The Richard Childress team went all out after their win on Sunday
Wallace is a jumble of emotions after finishing second in his first Daytona 500

Danica got in some beach time with her famous boyfriend before Sunday's big race

Junior reflects on the legacy of his father at Daytona at an emotional pre-race press conf...