Maria Sharapova rips rival Serena Williams as Wimbledon nears
Maria Sharapova responded to Serena Williams' comments in a recent Rolling Stone article in which Williams took a jab at Sharapova's off-the-court relationships.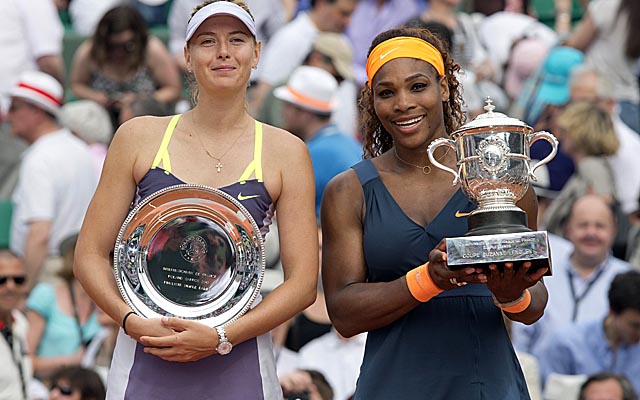 The scorching shots have apparently already commenced between Serena Williams and Maria Sharapova, and Wimbledon hasn't even begun.
At a pre-tournament press conference on Saturday, Sharapova jabbed at Williams' recent interview with Rolling Stone, in which world's No. 1 women's player spoke out on a number of controversial subjects. At one point, speaking about an unnamed player on tour, Williams seemed to be referring to Sharapova -- and the Russian player's relationship with boyfriend Grigor Dimitrov.
"Obviously, I have a tremendous amount of respect for Serena and what she's achieved on the court," Sharapova said, according to an Associated Press report on Saturday. "If she wants to talk about something personal, maybe she should talk about her relationship and her boyfriend that was married and is getting a divorce and has kids."
Williams has been linked romantically to coach Patrick Mouratoglou, who until recently was married.
Williams has been linked to Mouratoglou beyond his coaching her, but neither has confirmed a romantic relationship. When Mouratoglou was asked about the topic at the French Open this month, he smiled and replied: "Sorry. I don't understand the question."
Here's the excerpt from Rolling Stone that Sharapova was responding to:
"There are people who live, breathe and dress tennis. I mean, seriously, give it a rest. She begins every interview with 'I'm so happy, I'm so lucky' -- It's so boring. She's still not going to be invited to the cool parties. And, hey, if she wants to be with the guy with the black heart, go for it."
Dimitrov was rumored to be among Williams' ex-boyfriends, and Sharapova's comments on Saturday seemed to confirm the suspicion Williams was, indeed, talking about her.
Williams, the defending champion and No. 1 seed at Wimbledon, heads into Monday's tournament as the heavy favorite, while Sharapova, seeded third, is one of the few women who could potentially upset last month's French Open winner. 
They could meet in the finals, but Sharapova owns an unspectacular 2-14 record against Williams, last beating her in the 2004 Wimbledon finals. 
Williams is scheduled to hold a pre-tournament news conference at Wimbledon on Sunday.
Aside from the comments lobbed at Sharapova, Williams came under heavy scrutiny for her harsh words in the same article in which she criticized a 16-year-old rape victim from Steubenville, Ohio.
She has since apologized for those remarks. 
Williams issued a statement in which she said she was "reaching out to the girl's family to let her know that I am deeply sorry for what was written."
John Middlemas posed for the photo and stated "those kids have every right to protest."

President Trump tweeted he was 'proud of NASCAR and its supporters and fans' on Monday mor...

The popular driver opposed the views of several NASCAR figures and cited Americans' rights...
While NFL teams protested en masse on Sunday during the anthem, NASCAR teams were at full...

Kyle Busch claims a big win Sunday while Kyle Larson clinches a spot in the Round of 12 on...

Petty says 'anybody that don't stand up for the anthem oughta be out of the country'