Mayweather tabs sparring partner Judah to mimic Pacquiao
In preparation for his May 2 showdown with Manny Pacquiao, Floyd Mayweather will be sparring with Pacquiao-like Zab Judah.
No fighter has beaten Floyd Mayweather Jr. Few have provided even mild irritation.
Brooklyn-born veteran Zab Judah at least reached the latter status upon meeting the then-"Pretty Boy" in Las Vegas nine years ago, winning three of 12 rounds on one scorecard and four of 12 on another en route to a unanimous decision loss for the IBF and IBO welterweight title belts.
And though the fight is best recalled for a late melee that followed a flagrant low blow, it's also worth recalling because Judah had enough early success to put Mayweather in a degree of competitive peril.
Judah, then 28, was one of the few foes to rival Floyd's hand speed, and, combined with an awkward left-handed style and stinging one-shot punching power, he landed well enough to take three of the first four rounds before the still-unbeaten Mayweather upped his own work rate and took control.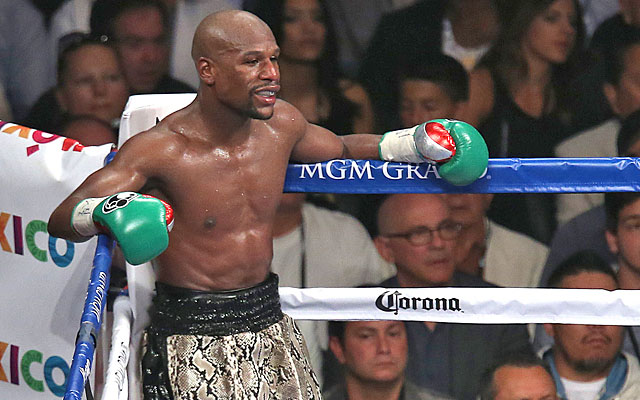 Because Mayweather's imminent May 2 foe -- Manny Pacquiao -- is also fast, powerful and left-handed, it's hardly a coincidence that Team Mayweather has called upon an old rival for preparation help.
In fact, Judah told FightHype.com that he and Mayweather would begin sparring next week.
Ironically, their get-together comes amid claims from the Pacquiao camp that people surrounding Mayweather's adviser, Al Haymon, have called would-be sparring partners for the Filipino and offered more money for them to stay home than to work with Pacquiao.
"Come Monday, we're going to work," said Judah, who, like Mayweather, is now based in Las Vegas. "He's a dominant fighter. I have a lot of respect for him and I want to see him do good. And if I can be of help, that's what I'm here to do."
Judah went 42-9 in a 17-year pro career that yielded world championships at 140 and 147 pounds.
Five of his losses came in 13 fights after meeting Mayweather, and he has not been active since losing a 12-round verdict to Paul Malignaggi in December 2013. But he said that won't stop him from providing the sort of training competition that will help Mayweather come fight night.
"A Zab sparring session is a Zab sparring session," he said.
"I go hard. Anybody that knows me, they know that Zab is going to bring the best of his ability. For me to go in there and give Floyd so-so work is not helping him. If you're going to help him, come in there and give him the dominance that Manny is going to bring -- the good power, the good speed, the good angles, the good movement -- and allow him to learn from those things."
Everything you need to know about tuning in for this weekend's action

Everything you need to know to tune into this week's Friday night showdown

Can Ed Oliver and Houston go on the road to get back-to-back wins over Power Five opponent...
Hank Goldberg won big at the Kentucky Derby, Preakness and Belmont

Sure, it wasn't fast, but not many people could keep their form so intact

Tough Mudder wants you. Here's how you can apply to test the newest obstacles