Me-first Melo may be the lone star immune to Zen Master's mind tricks
Phil Jackson is up to his old tricks by publicly goading Carmelo Anthony to stay in New York (for less) if he's really about winning. One problem: Melo is really only about himself.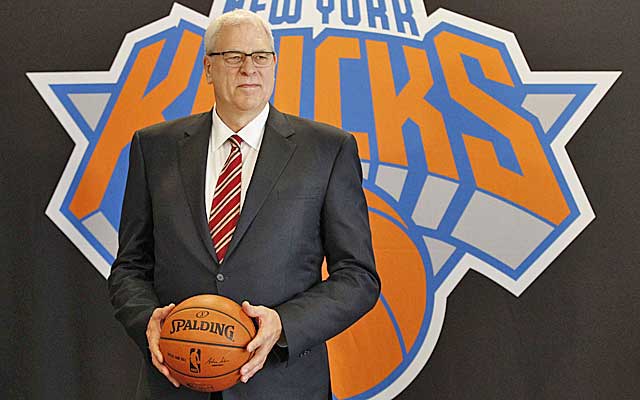 More free agency: Top 40 free agents | Top 20 PGs | Top 20 bigs | Latest news
The mindfreak has served Phil Jackson well in his NBA career, but he's taking a page out of the Jason Kidd handbook -- and overplaying his hand -- when he tries to pull the mindfreak on Melo.
At least, I hope he's overplaying his hand. If loving this is wrong I don't want to be right, because it would be pure pleasure to watch Knicks president Phil Jackson, another in a long line of smartest guys in the room, take a position of strength -- of being able to offer Carmelo Anthony more money than any other franchise can offer him as a free agent -- and squander it because he unleashed his amateur psychology on the wrong guy.
Carmelo Anthony strikes me as the wrong guy to push around with media posturing, guilt trips and passive-aggressive pouting, but Phil Jackson has served up a steady diet of that as he tries to force Carmelo into the corner of 32nd Street and 7th Avenue.
Up to a point, I understand why Jackson is doing it. It's what he knows. It might be all he knows. He won more than titles than anyone in the game, but if he has a genius for coaching it's not in the X's and O's. It's in the motivation. Coaching in the NBA is like managing in the major leagues, a daily grind where players toil through the tedium to reward coaches they like, not coaches they fear.
And players liked Jackson. He motivated Michael Jordan and Scottie Pippen to grind year after year, even after adding the distraction formerly known as Dennis Rodman, and he won six NBA titles in Chicago. With the Lakers, Jackson got Kobe Bryant and Shaquille O'Neal to pull the rope in the same direction long enough to win three more titles, then did the same with Kobe and Pau Gasol and Lamar Odom.
Jackson's the guy who hands out self-help books to players and has a motivational one-liner for every situation. It's psychological gobbledygook, but it worked for him. Then again, maybe it was all the excessive talent that worked for him. Maybe the gobbledygook was unnecessary. We'll never know.
We're about to find out if the gobbledygook works on Carmelo.
Jackson has laid it on thick, clearly setting out on a course of psychological warfare to force Carmelo's surrender into another contract with the Knicks. Know that part earlier in this story when I referred to Jackson as the smartest guy in the room? He could well be. The guy's brilliant. It doesn't mean he's infallible, that every idea he has is brilliant, but Phil Jackson is brilliant, which is why his steady stream of speechifying isn't happenstance. It's his strategy, trying to wear down Melo with Melo's own words, and I can't help but wonder if it's going to backfire.
See, working on a guy's conscience only works if the guy has a conscience, and Melo doesn't strike me as having one. He's all about Melo in everything he does, has always been all about Melo in the way that great athletes sometimes are -- alpha males don't concern themselves with the betas and omegas of the world -- but all of a sudden Melo's going to let this outsider, this guy he's never played for, guilt-trip him into giving the final years of his prime to an organization that hasn't gotten anything right since James Dolan became owner 15 years ago?
That's Phil Jackson's strategy: publicly shaming Carmelo Anthony.
Carmelo gave him some ammunition, but we'll see if Phil Jackson has used it to shoot himself in the foot. The ammunition came at the All-Star Game in New Orleans, when a reporter asked Melo if he'd take less than a max contract to help the Knicks improve. That's the journalistic equivalent of asking a college basketball coach if he's interested in another school, or asking an NFL owner to give his embattled coach a vote of confidence: What do you think he's going to say? That's not a question that will uncover the truth. It's one that will unearth a public relations pitch, and Carmelo answered in the affirmative, hell yes he'd take less money to stay with the Knicks.
"Without a doubt," he said, possibly thinking he'd take less money if it meant landing LeBron James as a free agent or Kevin Love in a trade -- but not to get 34-year-old Pau Gasol. Whatever the case, Melo was asked a question with only one right answer and he gave it, and I'm sure that bouquet of roses played well in the city.
Phil Jackson is using that bouquet as a hammer, telling reporters last week that the Knicks "have every confidence that Carmelo is good for what his word is -- that he wants to be in New York."
So if Melo leaves, he's a liar.
Jackson also noted that Carmelo shouldn't just stay, but he should stay for less money than he could otherwise extract from the Knicks.
"The perception is we want Carmelo to be as interested in winning," Jackson said. "When saying he's competitive and wants to be on a competitive team [then] demonstrate that if push comes to shove in a situation where he may have to take a little bit less."
So if Melo leaves, he's selfish.
Jackson also volunteered that none of this was his idea.
"He's the one who opened that up -- that it wasn't about the money," Jackson said. "I challenged him on that. I wanted our fans to see he's a team player and do what is best for the team."
So if Melo leaves, he's liar and he's selfish -- and Knicks fans will know it.
This is how Phil Jackson is wooing Carmelo Anthony. Pushing him into a corner, publicly daring him to leave. Do that to most alpha males, and they'll take you up on it.
Next up it's the 60th running of the Daytona 500

Here's everything you need to know for The Great American Race

Micah Roberts pioneered wagering on NASCAR races and just locked in his Daytona 500 picks
SportsLine's Jody Demling had the Kentucky Derby winner early and called Belmont, Breeder's...

SportsLine's Mike McClure, a DFS pro with more than $1M in winnings, gives optimal lineup...

SportsLine simulated the 2018 Daytona 500 race 10,000 times and has some surprising picks