NCAA finally does something right, gives Penn State a break
The NCAA reducing penalties at Penn State is fair for those trying to move the school forward, like coach Bill O'Brien and his players.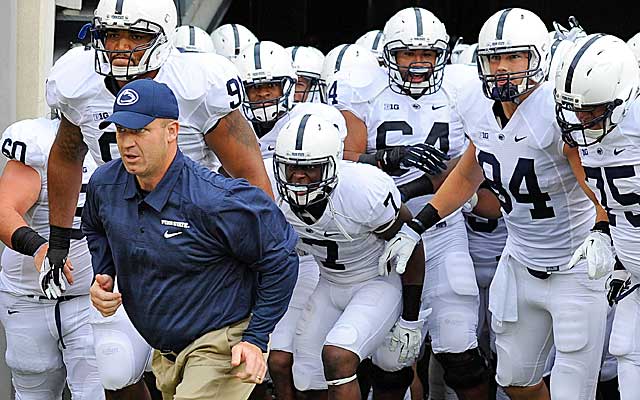 The NCAA showed its fangs. Penn State showed its belly. Now the NCAA has shown something that had been missing in the story of Penn State and Jerry Sandusky:
Grace.
The NCAA announced Tuesday that it has backed off some of its unprecedented scholarship restrictions. Maybe this was a political play by NCAA president Mark Emmert, whose dwindling support took another hit in July 2012 when his organization handled the Penn State sanctions by making stuff up as it went along (although I liked it). Or maybe this is recognition that Penn State has responded to those sanctions with class, sincerity and goodwill. Surely it is recognition that those scholarship sanctions, as written, would have hurt Penn State for longer than the intended timeframe.
Whatever the case, this ruling is a reminder that the people at Penn State who are left to clean up Sandusky's mess -- administrators, coaches, football players themselves -- have paid and will continue to pay for crimes they had nothing to do with.
After doing so many things so wrong under president Graham Spanier, athletics director Tim Curley and football coach Joe Paterno, Penn State has done everything right since the NCAA handed down its sanctions. The school accepted those penalties, watched silently as star player after star player left the program, kept recruiting, kept playing, even kept winning. It has been uplifting, really, to see how positively this school and its new leadership -- president Rodney Erickson, AD Dave Joyner, coach Bill O'Brien -- have responded to something so dreadfully negative.
Had the original sanctions remained, it would have been at least 2018 -- and maybe a year or two longer, assuming any more transfers along the way -- before Penn State returned to full strength. That was going to be too long, and the NCAA isn't showing weakness by acknowledging that. It's showing strength.
Punishing the school financially was the right thing to do. Punishing the legacy of Paterno and the other men in charge -- disgraced names like Spanier and Curley and Gary Schultz -- was the moral thing to do.
But showing grace to the Penn State that is trying to move forward -- to the administrators, football coaches and players -- was the fair thing to do.
Let the truth set you free, sir

The poor kid never even saw it coming

The burglars that Childress fired at were carrying military-grade weapons on them, the cops...
'Kong Infinity' and 'Happy Ending' headline two additions to the ultimate endurance course...

Nik Kayler's body has been found after going missing last week during a fishing tournament

Florida officials are still searching for Nik Kayler after his boat didn't show up