NCAA may not have the stomach for a fight with Alabama
Nick Saban's Crimson Tide is humming along toward a possible third straight national championship. What could go wrong?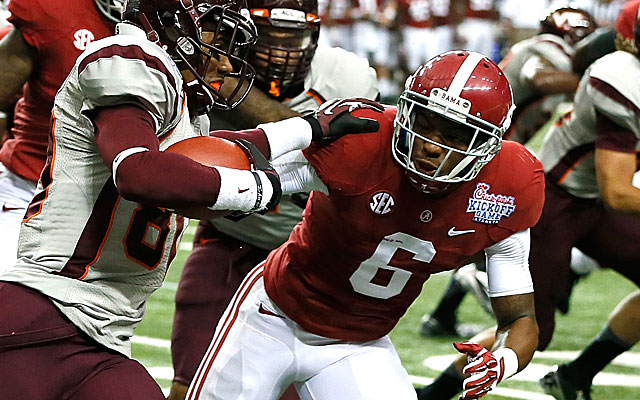 With three national titles in the last four years -- and another one looking good this season -- the only thing that can bring down Alabama is Alabama.
And by golly ...
Both of those sentences are true, you know. Even that second sentence, which has no nouns or verbs but ought to get the point across anyway (if you've been following the off-field football news out of Tuscaloosa). The point being this:
By golly, Alabama just might bring down Alabama.
Some would take pleasure in that. Some are taking pleasure in this story right now. Ooh, he's taking on Alabama! He's attacking Nick Saban! About time ...
Me, I'm not taking pleasure in Alabama's possible NCAA downfall because it's not all Alabama's fault. Some of it? Absolutely, yes. Some of this is Alabama's fault.
But not all of it, because with all the money being generated by college football players -- almost all of it beyond their reach -- a school like Alabama has no chance. The better your team, the more certain it is that you will have leeches on the outside trying to suck money from the cash-making enterprise known as your roster. Most college players will do the right thing, assuming the right thing is saying no to money they've earned. But all of them? Not realistic to say all college players will say no to the money they've earned.
For entrepreneurs with more greed than integrity, a college football star is a blue-chip investment. He'll be drafted by an NFL team. He'll sign for millions. He'll get endorsements. Pretty soon a guy like, say, Alabama All-American offensive tackle D.J. Fluker will be making it rain on the people around him. The scummy entrepreneurs getting close to him when he's still on campus? They're just doing business. That doesn't make them less scummy, but it makes them inevitable. And I feel good saying this: The leech who got close to Fluker when he was at Alabama probably wasn't the only leech in the vicinity. He's just the one who drew blood.
Alabama isn't completely innocent in all this, of course. You ask me, Alabama is (mostly) innocent in the D.J. Fluker saga, given that someone outside the program picked a guy whose family was rendered homeless by Hurricane Katrina. D.J. Fluker was an easy mark, and someone -- a former Alabama football player, though he damn sure wasn't acting in the interests of the Crimson Tide -- made it happen.
This latest news, well, that's different: Star safety Ha Ha Clinton-Dix borrowed a couple hundred bucks from one of the team's strength and conditioning coaches. The story seems mostly benign -- Clinton-Dix had reportedly packed his 2012 Dodge Charger for a trip to see family in Florida, but the car was broken into and his cash was taken -- but it raises questions like this one: If Clinton-Dix or his family can afford a 2012 Dodge Charger, why was he so strapped for cash that he needed to borrow money from a coach? And if Clinton-Dix or his family can't afford a 2012 Dodge Charger, um, who bought it?
There could be a reasonable explanation. No, really. There could. Clinton-Dix's family has the means to purchase a car, but he needed cash that morning. His checking account was low. He panicked and asked the wrong guy. The wrong guy did the wrong thing and said yes. It could happen.
But considering it did happen -- even if it happened in just that way --  Alabama is guilty. A coach gave a player some cash? Can't do that. Add this to D.J. Fluker, and the NCAA has two different Alabama players receiving impermissible benefits in about a year. Throw in defensive tackle Marcell Dareus' dalliance with a leech in 2010, and also that disassociated booster at a local men's wear store who until 2011 was using Alabama players to market his store, and Alabama seems to have a major problem.
Alabama is in trouble -- unless it's not.
Like it or not, that's a possibility. A few years ago we'd be throwing around phrases like "lack of institutional control" and wondering how many scholarships the NCAA would take from Alabama and how many years it might keep Alabama out of the postseason. But now isn't then.
The NCAA is a weakened animal, cowering in the corner out of self-preservation. Last month the NCAA backed slightly off its Penn State sanctions, an unprecedented and symbolically significant move. The NCAA still hasn't ruled on Miami, paralyzed by its own tainted investigation.
And then there's the Johnny Manziel thing.
The NCAA allowed Manziel, the reigning Heisman winner and the quarterback at Texas A&M, to conduct offseason autograph shows for memorabilia dealers with just a half-game suspension slapped to his wrist. Why? Because the NCAA is terrified that the biggest football schools will break away partially or even completely -- and has no desire to rock the SEC's boat.
Manziel is the biggest individual star in college sports. Alabama is the biggest team star. Alabama is Johnny Football, only bigger, because soon Johnny Football will be gone to the NFL -- and Alabama isn't going anywhere, not as long as Nick Saban is the coach. Three national titles in four years. Two in a row. A chance this season to make it three in a row, and four titles in five years. Which brings me back to my first two sentences:
The only thing that can bring down Alabama is Alabama.
And by golly ...
Not even Alabama can do it.
How to watch the Professional Rodeo Cowboys Association's 2017 National Finals Rodeo event

John John Florence and Gabriel Medina will look to catch the wave to a championship

Froome was found to have double the legal limit of an asthma drug in a September doping te...
Flanagan, after winning the New York City Marathon, is out to win her 'hometown race'

It's probably better to just buy your shoes online these days