New York passes bill to lift 20-year ban, legalize MMA: Why it matters
The New York State Assembly passed a bill Tuesday that legalizes MMA fighting in the state for the first time since a ban was enacted in 1997.
• 3 min read
New York was the only state remaining in the union that still prohibited mixed martial arts, but that is almost assuredly changing after the New York State Assembly passed a bill legalizing MMA fighting in the state by a 113-25 vote on Tuesday.
The bill must still be signed by Governor Anthony Cuomo, who has previously stated he would approve it. At that point, the New York State Athletics Commission will have 120 days to adopt sanctioning guidelines, according to MMAFighting.com.
This is the hurdle mixed martial arts had been unable to clear for nearly 20 years since the ban was implemented by New York in 1997. The New York State Senate had previously passed bills legalizing the sport, but they had never reached the floor of the State Assembly until this year. 
UFC and some of its stars took to social media to express their excitement and joy following the vote. 
Thank You NY State Legislature for making MMA in New York a reality! #MMA4NY pic.twitter.com/5fBCsu1nLZ

— UFC (@ufc) March 22, 2016
I've waited a long time for today and couldn't be more excited to have MMA legal in my hometown of New York!! pic.twitter.com/uoxIpPbcQ4

— Chris Weidman (@ChrisWeidmanUFC) March 22, 2016
Mma is legit now!

— Anthony Johnson (@Anthony_Rumble) March 22, 2016
MMA is finally Legalized in the state of New York

— Cub Swanson (@CubSwanson) March 22, 2016
This is a major step not only as a professional fighter but as a business owner and provider for my family! #MMA4NY #ufc @ufc #limma

— Ryan LaFlare (@RLaFlare) March 22, 2016
Back to @TheGarden then!

— Coach (@CMPunk) March 22, 2016
UFC hopes to host its first event in New York later this year at Madison Square Garden, which owns the moniker "The World's Most Famous Arena" and has been a historic home to championship boxing matches.
In a release, UFC said it is committed to hosting four events per year in New York over the first three years that fighting is legal in the state. 
"While there are still additional steps that have to occur before professional MMA becomes a reality in New York, I want to assure our fans that if Governor Cuomo signs the bill into law and the State Athletic Commission puts in place the appropriate regulations, we look forward to hosting our first New York event in the world's most famous arena -- Madison Square Garden, home to so many epic sporting events throughout the decades," UFC Chairman Lorenzo Fertitta said.
"We also look forward to scheduling events in Buffalo, Rochester, Syracuse, Utica, Albany and Brooklyn. We are excited." 
Bellator also released a statement on the ruling, and while the UFC seems headed for Madison Square Garden, Bellator will be hosting events at Barclays Center in Brooklyn. 
"The New York Assembly's vote to legalize MMA is a watershed moment for this incredible sport," said Bellator CEO Scott Coker. "As someone who has been promoting combat sports for more than 30 years, this is a very exciting time for mixed martial arts. We at Bellator MMA are very much looking forward to hosting an event in the 'Crown Jewel of America,' New York.
"Two Bellator champions, Liam McGeary and Marcos Galvao call New York home and I know it means a great deal to the both of them, as it does for the entire promotion. We've already been in contact with the great people at the Barclays Center and several other incredible venues, and we can't wait bring our world-class athletes and action-packed shows to an arena in the Empire State soon."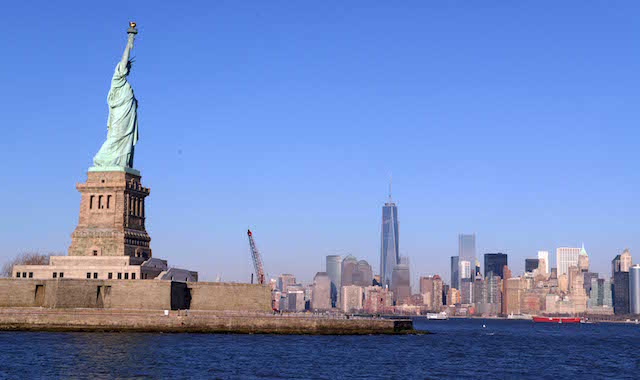 Patrick plans to call it a career after running at the two most iconic U.S. auto races

Let the truth set you free, sir

The poor kid never even saw it coming
The burglars that Childress fired at were carrying military-grade weapons on them, the cops...

'Kong Infinity' and 'Happy Ending' headline two additions to the ultimate endurance course...

Nik Kayler's body has been found after going missing last week during a fishing tournament