Nick Saban leaving Alabama for Texas? No chance that happens
Predictions are for suckers, which is a good reason to give them up. After just one more -- now way Nick Saban is leaving Alabama for Texas.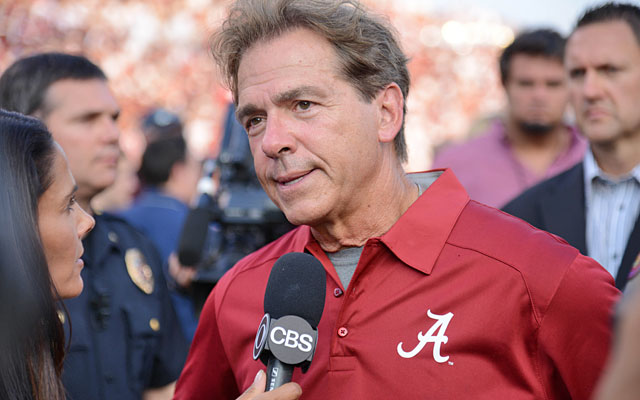 Nick Saban isn't leaving Alabama for Texas, and there I go again, doing what I've been swearing to myself -- and to my bosses, sigh -- that I wouldn't do anymore. No more predictions. Predictions are the bane of sportswriting because what they are, when you get right down to it, is a guess.
Did you come here to read me guess? Lord I hope not. I'm hoping you came here for my skill and precision and insight. Or that cute mug shot. If you're looking for a guess, read your horoscope. Talk about guesswork ...
But here I go again, making another prediction, though this doesn't feel like a guess. This feels like a fact:
Nick Saban isn't leaving Alabama for Texas.
Yes, I know, Nick Saban is a vagabond. He left his first head coaching job, at Toledo in 1990, after one season -- did you know that? -- and since 1995 he has led three big-time football schools and one NFL team. He left behind Michigan State, which could have been a destination job for a Midwest guy raised in West Virginia, schooled at Kent State and pedigreed as an assistant at Michigan State. He left behind LSU, a destination job for almost anyone. He left behind the Miami Dolphins, and almost nobody leaves an NFL job, but Saban did and he left the Dolphins two weeks after swearing he wasn't leaving the Dolphins. Could he leave behind Alabama?
No.
Everybody gets to be naïve every now and then, and if that's me being naïve right there, fine. But it doesn't feel naïve to believe Nick Saban will stay right where he is, at the best job in college football, rather than go someplace else with scarily massive expectations and a rebuilding job that will take several years to pull off. Even if Texas wants him, which it seems Texas does. Two regents flirted with Saban's agent after the 2012 season, and Mack Brown's fade has continued this season, and Texas fans were selling burnt orange "Saban 2014" T-shirts before the Longhorns' game Saturday against Kansas State.
But let's back up for a minute. That thing I wrote in the previous paragraph, about Alabama being "the best job in college football" ... that's a reference to this very point in time. Right now, Alabama is the best job in college football. That takes into consideration tradition, facilities, support and location -- and also roster and incoming recruiting class.
And no program is in better position than Alabama to compete for a national title in 2014. And 2015 and '16. And '17.
Texas could get there, obviously. In a vacuum, considering only tradition and facilities and support and location, Texas could well be the best college job in the country. But we're not in a vacuum -- we're in 2013. And here in 2013, from the standpoint of roster and recruiting, Texas is good.
Alabama is loaded.
And somehow getting better.
So if Nick Saban is who I think he is -- and I think he's the most driven, ambitious coach in the country -- he's not leaving. Because he wants to win and he wants to win big and he wants to win the next five national championships, and he's good enough to do it, and Alabama is loaded enough to give him that chance.
Again -- listen to me, Texas fans -- this is no shot at Texas. Give Saban a few years, and he would have the Longhorns at a similar level. Had Saban left the Dolphins for Texas in 2007, Texas 2013 would be Alabama 2013. Maybe even better, as absurd as that sounds, because I do think Texas is, in a vacuum, the most perfectly located and supported program in the country.
But Saban didn't go to Texas in 2007. He went to Alabama, and look at the Crimson Tide now. They're so loaded, they have one of the best running back recruits since Marcus Dupree chose Oklahoma in 1982 -- and this guy can't get on the field. Because he's behind starter T.J. Yeldon and backup Kenyan Drake and third-teamer Jalston Fowler, and maybe another guy or two. The guy I'm talking about is freshman Derrick Henry, a 6-foot-3, 240-pound monster who became the all-time leading rusher in US high school history last season. He ran for 12,124 yards in four years at Yulee (Fla.) High, but in three games at Alabama he has three carries because he's not better than what they already had.
In this day of 85 scholarships per team, Saban is doing at Alabama what really shouldn't be done anywhere. He has All-America and All-SEC candidates in his starting lineup, and he has future NFL players on the bench. In terms of talent and depth, Alabama has today what Florida State had in the early 1990s under Bobby Bowden.
Saban could do the same at Texas, but how long would it take? If he were in his early 50s, he would have whatever time it took -- and it wouldn't take long. Two years, three tops, and Texas would be winning like Alabama. But Saban isn't 52. Next month he'll be 62. A guy that burns as hot as he does, he can't coach for that much longer, right? I'm not trying to chase him out of the game, just noting he surely can't coach much past 70, assuming he coaches even that long. And assuming all of that, why would he sacrifice any of his remaining years to build something at Texas that he already has built at Alabama?
Makes no sense. Sounds stupid. And Nick Saban is no dummy.
But I am, because I've just spent 900 words predicting what college football's most driven, ambitious, unpredictable sonofagun will do. My only solace is this:
If Nick Saban does make a naked money grab in January and leaves Alabama for Texas -- after saying last week that he was "too damn old" to do such a thing -- I won't be the biggest jerk in this story.
New England native will start from the rear of the field in Sunday's playoff race

A playoff driver could join Martin Truex Jr. in the Round of 12 with a win on Sunday

Denny Hamlin and Kevin Harvick will look to build off momentum in order to catch Martin Truex...
The team of children agreed among themselves to follow Colin Kaepernick's stand against in...

Did Elliott cheat to finish second in the NASCAR playoff opener? You be the judge

Kahne has been with Hendrick Motorsports since the 2012 season and is currently in contention...