O.J. Brigance can't speak, but his words always hit their target
Ravens know what kind of fight O.J. Brigance has. Six years after his ALS diagnosis -- a year after he was supposed to be gone -- Brigance keeps battling.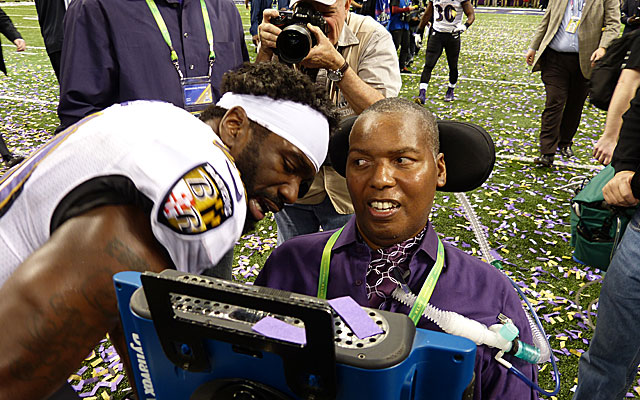 They said the interview would blow me away. That's what they said. They said O.J. Brigance would be so eloquent, so thoughtful, so engaging and charming that I would forget he was talking with his eyeballs.
Brigance, part of the Super Bowl champion Baltimore Ravens' front office, has ALS. He was diagnosed with it six years ago, and has outlived his prognosis. People with ALS are given 3-5 years to live, because the disease doesn't quit. It shuts off motor neurons the brain sends to the spinal cord and ALS patients get weaker, stop walking, stop talking. Swallowing becomes difficult. Breathing, eventually, becomes impossible.
But O.J. Brigance doesn't quit, either. As an undersized linebacker he went from Rice in 1991 to the Canadian Football League, and when a few years later the NFL still wouldn't call him, he called the NFL. Twenty-eight teams he called, asking for a tryout, and 28 teams told him no. The 29th team was the Miami Dolphins. Brigance played four years in Miami, then won a Super Bowl with Baltimore. On the opening kickoff he made the first tackle of Super Bowl XXXV.
Indomitable man, O.J. Brigance.
The day he learned he had ALS, Brigance cried. Soon he was telling people he would be the first person to beat this disease. Someone was going to beat it eventually, he figured. Why not him? Six years later he's still alive. He's in a wheelchair and he can't talk, but he's still here. Still alive.
Still emailing.
That's how Brigance communicates with people, by email, and his emails are a thing of beauty. That's what they told me. I'm waiting for an email back from Brigance, with answers to eight or 10 questions I had for him, and in my head the bar for Brigance's email is high. Maybe too high, but I know what I know, and what I know is that Ravens coach John Harbaugh has a thick stack of emails from Brigance, correspondence from the past five years. Brigance writes so powerfully, so positively, that Harbaugh has saved every word.
Brigance wrote those words with his eyeballs.
He has a DynaVox computer with eye-recognition software that chooses a letter when he blinks at it. After a few letters it gives him some word choices. He keeps identifying letters until the word he wants pops onto the screen. Then he looks at that word and blinks. Letters become words become sentences become emails, the kind that John Harbaugh won't delete.
That's how Brigance communicates. As the Ravens' senior adviser to player development, he emails every player on the roster to motivate or advise or just connect with them. He was the guy emailing cornerback Lardarius Webb regularly last season after Webb tore his ACL. Brigance emails Harbaugh. Soon he'll email me. That's what we're waiting on. An email from O.J. Brigance. It'll blow us away. That's what they said.
• • •
O.J. Brigance is writing a book. Well, wait. That's not true. O.J. Brigance wrote a book. He had help of course, like most book subjects who hook up with a professional writer to get everything just right. Brigance, 44, hooked up with Peter Schrager from FoxSports.com, and their book will be released Tuesday.
While waiting for Brigance's email I called Schrager and asked about the process of writing the book Strength of a Champion with a guy who can't talk. The book came about organically, after Schrager had written a book in 2012 for Penguin Group on Giants receiver Victor Cruz, and after he had written a column on Brigance in January 2013. Penguin asked Schrager about a book on Brigance, then got serious about the topic after Brigance's Ravens won the Super Bowl on Feb. 3.
"The book guys said, 'We need the first draft by June,'" Schrager said. "I didn't know if that was physically possible, but let's dip our toes in the water and see. I sent O.J. an email with 10 questions: What kind of guy is John Harbaugh? What's it like being with the Ravens? How long does it take to get ready in the morning? Basic stuff.
"After one day, no response. Two days, no response. I'm a little nervous. Three days, no response, so I emailed him: 'How's it coming?' No response. I talked to his wife, Chanda, and she said, 'Give him time.'
"On the seventh day I get an email from O.J., and it's 4,500 words long. I'm like, 'We can do this.'"
I tell Schrager I'm worried. What if Brigance outwrites me with his eyeballs?
"Oh, he's going to do that," Schrager said. "We emailed every week for months, and every week I was getting 3,000 or more words -- and it was more eloquent, the vocabulary he used, it was more amazing than anything I could have written."
And here it is. We have email.
• • •
"Yes," Brigance tells me, "I still communicate using my computer. It allows me to write emails, read e-books and most importantly to change the TV. A man has to have his remote, right! My device allows me to have interaction with the world around me. I am very thankful for the technology."
That's how the email from O.J. Brigance starts. It's 641 words without a typo or misspelling, and if there's a misplaced comma in there I'm not good enough to find it. He's a smart guy -- Brigance went to Rice -- and his words are whatever he wants them to be. He's serious, inspirational, funny, honest. A man has to have his remote control, right?
Brigance knew something was wrong in 2007 when he was playing racquetball at the Ravens' facility and his right arm felt weak, with a smaller range of motion than usual. Brigance went to the doctor, underwent a battery of tests, and ALS was the diagnosis. Five years, max, was the prognosis. Again, that was 2007. Do the math.
"I still have that attacking mindset because my battle with ALS has brought clarity of purpose to my life," he says. "I have discovered my gifts and directions for their use. I have discovered the beautiful gift of time and making the most of it by enhancing the lives of others. So am I still on the attack, you bet I am! Time is precious and I plan to accomplish all that God has called me to do!"
He goes to the office three or four times a week, where he is loved and he is teased. The Ravens fuss at Brigance to slow down in that motorized wheelchair before he runs someone over. One day Brigance opened the thing up to 3.7 mph, causing running backs coach Wilbert Montgomery to post speed-limit signs all over the building. Brigance's response was to get his chair up to 3.7 mph again, but he had to stop before it overheated.
"A day in the life for me now consists of waking up at 5:30 a.m. to get ready to leave the house," he says. "It takes me about three hours to get ready with the help of my nurses, then I am out the door. I try to get out as much as I can to movies or concerts when I have time. Most of the time I am just fine relaxing at home when I don't have other obligations."
He's talking to you with his eyeballs. You know that, right?
• • •
O.J. and his wife, Chanda, created the Brigance Brigade Foundation in 2008. The Ravens and owner Steve Bisciotti have taken incredible care of Brigance, providing computers and doctors and transportation by car and plane, but most ALS patients lack such resources. Brigance's foundation raises money for them.
The Brigance Brigade has donated DynaVox computers to ALS patients in the Baltimore area. It has given motorized wheelchairs and built ramps for houses, and when ramps aren't practical the foundation has supplied porch lifts to get patients to their front door.
"We have also discovered the need for respite care and have provided funding for nursing care to assist these brave warriors in their day to day living," he says. "One of the things I am most proud of that we provide, that no money can buy, is hope! We have received hundreds of comments about how people have been encouraged in their own lives to continue to live in spite of their circumstances. Our attitude in dire circumstances is the most important piece of equipment necessary to have in life, if we are to press on!"
He's practically yelling through his eyeballs, and this is why people love Brigance. It's why John Harbaugh calls him "the strongest man in the building, and this is a building of strong men." This is why the Ravens want Brigance to speak to the team whenever he can, using his DynaVox to turn his selected words into a computerized voice. Last September when the team celebrated Brigance's 43rd birthday, captain Ray Lewis was turning Happy Birthday into a motivational speech, doing what he does, when Brigance's DynaVox interrupted with three words:
"All right, Sugar."
Everyone started laughing. Lewis surrendered, walked over to Brigance and kissed his former teammate on the top of his head. Here, see it for yourself. That scene happens at the 4:50 mark.
Schrager, an NFL writer for Fox, says he has never received cooperation from NFL players like he received for this book. All-Pro linebacker Terrell Suggs had two words when Schrager asked to speak with him about Brigance: "When? Where?" Quarterback Joe Flacco, during an offseason when he was working on a $120 million contract while his wife was in her second trimester of pregnancy, offered Schrager an hour, then talked for two.
Meanwhile Brigance was working on the book from home, answering Schrager's weekly email of 12-15 questions.
"The project was challenging but extremely fulfilling," Brigance says. "Since I can't speak verbally, I used my eye-gaze computer to type with my eyes. It is challenging enough to write typing with your fingers, how much more with your eyes! I went cross-eyed typing so much.
"I am very proud of what we accomplished. I hope Strength of a Champion encourages people to not allow man's limitations to restrict God's destiny for our lives. There will always be critics and obstacles to our life purpose. Realize them for what they are and keep pursuing your destiny!"
There he goes again, writing with his eyeballs and summoning more passion and flair -- I went cross-eyed typing so much? Seriously? -- than I can muster with 10 fingers and a writing degree.
They were right, you know. About being blown away by O.J. Brigance.
• • •
Two years ago Brigance sat with the Baltimore Sun for a question-and-answer story. The reporter asked what he wanted to do before he died.
"I have not written my bucket list," Brigance said in September 2011, "but as I think about it I would like to go to Africa on safari, see Mount Rushmore, and write a book."
I asked Brigance if he remembered that comment from 2011.
"Gregg that is so funny you found my proposed bucket list," he says. "I do remember it very clearly, but didn't realize I had already crossed one off the list. I haven't completed the other two yet."
Another reason people love Brigance. "Yet," he says. For now he remains in player development, helping Ravens players adjust to life in the NFL: finding a home or an offseason internship, returning to school, managing their money and free time. That's his job, and he enjoys it, but this is a man with a bucket list. Two items he hasn't completed yet.
"Mount Rushmore might be the next realistic challenge," Brigance says. "I have to figure out how to make engine adjustments on my wheelchair to outrun the lions on the Serengeti before I take my African safari!"
That's how his email ends, 641 words written with his eyes, coming from his heart.
Let the truth set you free, sir

The poor kid never even saw it coming

The burglars that Childress fired at were carrying military-grade weapons on them, the cops...
'Kong Infinity' and 'Happy Ending' headline two additions to the ultimate endurance course...

Nik Kayler's body has been found after going missing last week during a fishing tournament

Florida officials are still searching for Nik Kayler after his boat didn't show up