Oxbow wins Preakness, Orb settles for fourth
Oxbow became the first horse since 1982 to lead wire-to-wire in winning the Preakness.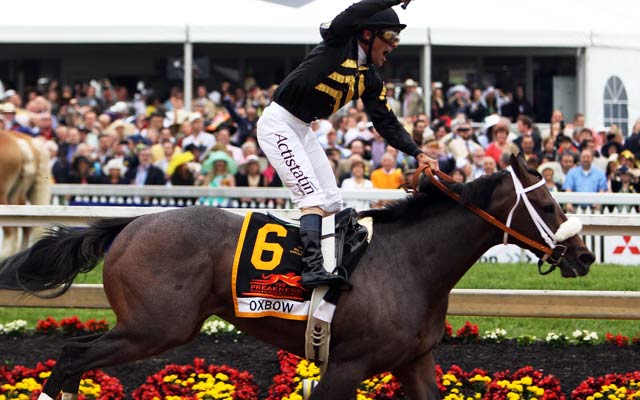 There will be no Triple Crown winner this year, as Oxbow became the first horse to win the Preakness wire-to-wire since 1982 on Saturday.
At 15-1 odds, Oxbow, ridden by jockey Gary Stevens, entered the day with the second-longest chance of winning at Pimlico. But a sensational start extended well past the half-mile mark, and he was able to rebound after a sixth-place finish at the Derby. 
"I get paid to spoil dreams," trainer D. Wayne Lukas told NBC's broadcast shortly after Oxbow covered the 1 3/16-mile track in 1:57:54, ahead of Itsmyluckyday and Mylute. The win was Stevens' third career Preakness victory. 
"We were kind of flying under the radar after the Derby, didn't get a lot of respect, even with the great performance," Stevens said to NBC. He added: "When I hit the half-mile pole, I told myself, 'Are you kidding me? Is this happening?' The race was over at the half-mile point." 
Oxbow was one of three horses trained by Lukas that competed Saturday. Lukas earned his sixth Preakness win, breaking a second-place tie with trainers Bob Baffert and Thomas Healey. It was also Lukas' 14th Triple Crown win, the most in history. 
Orb, the heavy favorite after winning the Kentucky Derby by 2 1/2 lengths, struggled out of the No. 1 post position, and got caught in the pack, unable to gain ground on Oxbow. 
Jockey Joel Rosario held Orb back at the start, similar to how he raced at the Kentucky Derby, but the colt was unable to recover despite the long straightaway at Pimlico. 
Only twice since 1960 had a horse won from the rail, the most recent being Tabasco Cat in 1994. 
How to watch the Professional Rodeo Cowboys Association's 2017 National Finals Rodeo event

John John Florence and Gabriel Medina will look to catch the wave to a championship

Froome was found to have double the legal limit of an asthma drug in a September doping te...
Flanagan, after winning the New York City Marathon, is out to win her 'hometown race'

It's probably better to just buy your shoes online these days