Paralyzed AMA racer Rocco Horvath determined to walk again
Rocco Horvath was told he'd likely never walk again after a motorcycle racing accident, but Horvath is back in 'training' and on the bike.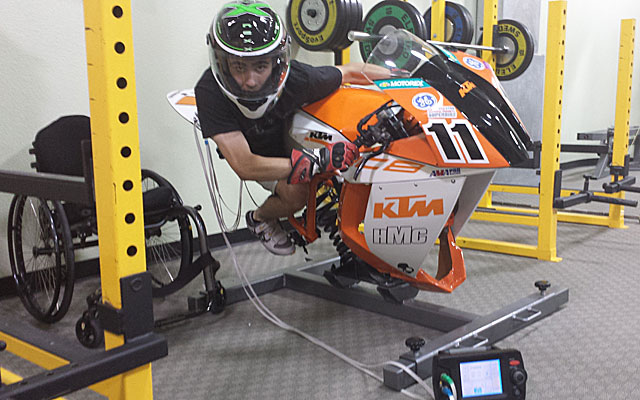 This can't be a happy story -- so when it comes, wipe that smile off your face. Show some respect for what Rocco Horvath is going through, even if he's the one making you smile. And he will be.
Even if he's the one who's paralyzed. Which he won't be, not forever. Not if he has it his way, and so far Rocco Horvath has been adamant: His recovery will be his way.
Who is Rocco Horvath? He's a 19-year-old motorcyclist on the AMA Pro Racing series. Not a sport you read about every day, and not one I write about every day either, but someone told me about Rocco, said he had a story worth hearing -- so I found him, called him, listened to him.
And then I sat down to write, because a story like this doesn't wait. And this is a happy story, even if it can't be.
This is a happy story because it's about Rocco Horvath -- and like Rocco, we're just not going to worry about the word can't.
The fall
Rocco was a rising star in the American Motorcyclist Association, an amateur champion at age 15 and a pro at 16. At 17 he was a regular on the Middleweight Solo series when it made its annual stop at Willow Springs International Raceway, about an hour north of Los Angeles. He had graduated from high school in Chandler, Ariz., two weeks earlier.
It was June 16, 2012. Rocco's father wasn't going to be there, the first time he was going to miss an event. His father's name is Jeff, but he chuckles when he says, "You can call me 'Rocco's father' -- everyone else does." Anyway, Rocco's father is a huge auto-racing fan and there was a 24 Hours of Le Mans race that day, and he was going to stay home to watch it, and ... you're right. That's a silly reason to miss his son's race, and Jeff Horvath is a father before he's a Le Mans fan. So he drove 400 miles from Chandler that morning.
And then Rocco fell. The fall wasn't so bad, really. He was coming out of Turn 2 of the 2.5-mile course when he locked up with another rider and went down. The fall wasn't what hurt him -- it was the rider behind him, too close and going too fast to avoid him, who demolished his own bike by slamming into Rocco's back at 90 mph.
After the accident Jeff Horvath walked through the pits, wondering how Rocco was and where he was. Wondering why his son's bike came back, but not his son.
"The ambulance leaves, and I still don't see my son. I mean, nobody has even talked to me," Jeff Horvath says. "So I drive to the hospital and go to the emergency room and say, 'Yeah, I'm Rocco's dad.' The hard part was the look on some of the nurses' faces.
"The neurosurgeon comes in: 'Hey, he's got a bad fracture, and he's probably not going to walk again.' I'm still in this state of shock: What are you talking about? They showed me the MRI, and where his vertebrae should be straight -- numbers seven, eight and nine -- it just curved in. The middle one was in pieces. There just about wasn't anything left of it."
Because Rocco was 17, the neurosurgeon left it to Jeff Horvath to decide how and when to deliver the prognosis. Rocco's father said no, not yet. It was too soon. And anyway, Jeff Horvath didn't believe it.
It wasn't until a week later when Rocco asked:
"Dad, am I paralyzed?"
His dad's answer: "Yes you are, now, but we don't know what the final outcome is going to be."
How does a paralyzed teenager, his vertebra in pieces, decide he's going to do what doctors say can't be done? It helps when he has a father like Jeff Horvath.
The trainer
It helps when he has a trainer like Jay Schroeder, too.
Schroeder wasn't just the right guy at the right time for Rocco Horvath. He was the perfect guy. Nearly 40 years earlier, Jay Schroeder had been run over on his motorcycle. Not in a race, but on the freeway. Going about 60 mph. A car came up behind him early one morning, didn't see him, ran right over him. Schroeder was paralyzed. Doctors told him he'd never walk again.
Jay Schroeder has been walking for decades.
His journey toward recovery started when he stumbled onto some translated 1950s Soviet training manuals that emphasized high-voltage electrical stimulation to promote muscle growth. Schroeder used that as the foundation for his own rehabilitation, then turned it into a company -- Evo UltraFit -- that embraces neurological therapy: hooking up electrodes to the body and facilitating messages between muscles and brain. Remember how Arizona State safety Adam Archuleta parlayed monstrous workout numbers into a spot in the first round of the 2001 NFL draft? He worked with Jay Schroeder.
These days Schroeder works with Rocco Horvath, and this is the first thing Schroeder said to Rocco after hearing the prognosis of paralysis:
Who says you won't walk again -- doctors? Forget what these people say. I'm living proof that you can walk.
"That helped me decide to try to do this," Rocco tells me. "I've tried and I'll keep trying -- and I will walk again. And then I'm going to race again."
I start to tell Schroeder what Rocco said, but Schroeder interrupts with soft laughter.
"Rocco is a very intelligent young guy and he has dreams -- and he has a very strong will to pursue them," Schroeder says. "We don't look at his situation any differently than somebody who wants to run a 4.3 40 and can only squat his body weight: You need to get stronger. He has things to overcome as we all do. It makes him special because he has something that very few people in the world experience, paralysis, and he goes about it like, OK, I have to overcome it.
"I know he's going to walk. I don't know when, but I know he is. He's already many steps along the road, and I'll help him until I'm no longer around."
The recovery
Using a car with hand-held controls, Rocco drives himself to the gym every day at 8:30 a.m. He spends two hours there, then goes home to eat. Maybe he takes a nap, maybe not. Either way he's back in the gym at 1 p.m. for another two hours.
You could call it physical therapy, but Rocco Horvath doesn't. Patients take physical therapy, and Rocco isn't a patient. He's an athlete, a pro athlete, and when someone mentioned the word "therapy" to him -- OK, it was me -- Rocco offered a correction wrapped in velvet.
"People say physical therapy, but I look at it more as training," he says. "Just like a football player would work out. That's how I look at it."
And his body is responding. It was little things at first, stuff so small Rocco didn't immediately recognize it. Like the day he got out of the shower, maybe four months after the accident, and he felt the air from a fan bristling against his leg hair. Which is what happens when you're wet and ...
"Then I realized: I can feel it," he says. "The doctor told me I'd never feel anything below the waist again."
Six months ago he climbed into his wheelchair and his foot hit the cold metal and he was like: Wow, that's really ...
"Wait -- what? I can feel that!" Rocco yelps in recollection of that victory. "I can feel everywhere now. I just can't feel everything 100 percent yet."
The victories are getting bigger. Three weeks ago Rocco was doing one of his exercises -- standing against his walker for as long as he can -- when he told himself: "You know what? I'm gonna take a step."
"I tried and tried and tried," Rocco says, "and then my left leg jumped."
Gasp there, as I did, and Rocco will say something to calm you down -- while still saying something to lift you up.
"I don't know if you've seen a paraplegic, but they have spasms," he says. "So my legs, they just have a mind of their own and they'll spasm. If I touch them a certain way the muscle will contract. That's kind of how that was, but it was my signal -- 'Leg, pick up' -- that set off the spasm. That's something huge. That means there is a connection getting through."
Rocco trains around the clock. Two hours at the gym, twice a day, and then one day Jeff and LJ Horvath come home from work and see their son fiddling with something that looked like a bicycle without wheels. It was one of those pedal exercisers that people put under their desk.
"I don't know where he got it from," Jeff says. "He just came home one day and started putting it together on our kitchen table."
At night Rocco watches television with his girlfriend, Briyelle Nasby, while his feet are strapped inside those pedals. The pedals go round and round, probably because Rocco is pushing his legs with his hands. But maybe not.
"Typically I always need my hands," he says, "but when I'm pedaling and I'm trying to pedal with my legs, I'll try to go faster, faster, faster. I don't feel like it's my hands doing it, but then it starts going faster."
Could be the legs. We don't say can't around here.
The motorcycle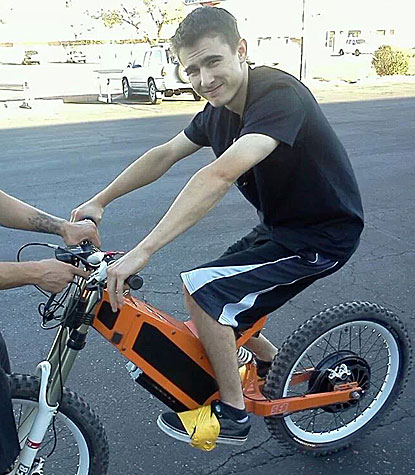 Horvath duct-taped to the bike built by KTM. (Provided)
So when does Rocco get back on the bike? He already has. A few months ago a friend took him to an empty parking lot, set him up on a little motorcycle, and off went Rocco Horvath. It was just a parking lot, nobody around, and he's a professional rider. But still this was ...
"Pretty scary," Rocco says. "If I were to stop and no one was there to catch me, I'd have fallen over. But it was fun -- really fun."
Hang on. Your legs aren't able to squeeze the bike yet. How did you stay on?
"They duct-taped my feet to the pegs."
Oh.
"Right," Rocco says, giggling. "Duct tape."
This is where I asked Rocco the question that drew me to him in the first place. Rocco doesn't want to be handled with kid gloves -- he duct-tapes his feet to a motorcycle and drives the damn thing, for crying out loud -- so he gets the question straight out:
Rocco, you're so upbeat. How do you do it?
"I guess I kind of just -- I don't really let things get me down," he says. "Obviously this isn't fun, and it sucks, but there's ... I don't know. I just realize I'm learning so much from it and I'm getting so many good things out of it and I know it's not going to be permanent no matter what the doctors say. I don't really know exactly where it comes from. I don't know. I know you can kind of make yourself feel happy, and you can make yourself feel sad. I just choose to make myself feel happy."
He's happy on a motorcycle, which is why he spends so much time on the stationary bike at Schroeder's gym, accelerating and leaning into curves, rebuilding the core strength he'll need to race up Pikes Peak next year.
Oh, right. Pikes Peak. For nearly 100 years, motorcyclists have raced up the 14,000-foot summit in the Rocky Mountains. A good racer can get there in 12 minutes. Rocco doesn't know if he's that good, but he's going to try next summer. Even if he's still technically a paraplegic, he's going to try. They have electric motorcycles now, heavier bikes that would be safer for Rocco Horvath if he doesn't have control of his feet just yet, and Rocco plans to race up Pikes Peak next year whether he's walking or not.
He'll still have two of the most unbreakable weapons in his arsenal: His attitude, and his duct tape.
-----------------
Readers: To follow along with Rocco's recovery in real time, check out his Twitter page or his Facebook site ... gregg
How to watch the Professional Rodeo Cowboys Association's 2017 National Finals Rodeo event

John John Florence and Gabriel Medina will look to catch the wave to a championship

Froome was found to have double the legal limit of an asthma drug in a September doping te...
Flanagan, after winning the New York City Marathon, is out to win her 'hometown race'

It's probably better to just buy your shoes online these days