Ready or not, the Kawhi Leonard Era is underway in San Antonio
Kawhi Leonard showed flashes of brilliance before, but a transcendent Finals MVP performance (ahead of 3 future HOF teammates) puts this Spurs star on the map.
More: Berger: Another Spurs masterpiece | Moore: What now for Heat?
SAN ANTONIO -- Kawhi Leonard is a storm in the distance. You can see it coming, and man is it coming fast. Before you know it, he'll be rattling windows and slamming doors and ... oh, right. Looks like the storm just arrived.
Leonard was named MVP of the NBA Finals, and although he plays alongside two or three future Hall of Famers, his selection was obvious. The San Antonio crowd loves Tim Duncan, Tony Parker and Manu Ginobili, but every time Leonard shot free throws Sunday night in the clinching Game 5, the crowd gave him the "M-V-P" chant.
He was that good in this series, and soon he's going to be that good always. To now he has been a role player, averaging 12.8 points and 6.2 rebounds this season for the Spurs , third on the team in scoring and tied for second in rebounds. Good player on a team with great ones like Duncan, Parker and Ginobili.
Soon the great one will be Leonard. This is what people have been saying for months, including Matt Moore here at CBSSports.com. They've been pushing Leonard as the future of the Spurs, and without having seen Leonard since last year in person, I was skeptical. Actually, I was downright disagreeable. Leonard has never been more than a role player, never looked capable or even interested in being more than that. The Leonard of last season was deferential, but this Leonard is different. He's older, though not all that old. The guy's only 22 for crying out loud, the second-youngest player ever to be named Finals MVP -- Magic was 20 in 1980 -- and nowhere near his prime.
But he's coming. It's coming. The Kawhi Leonard Era in San Antonio, when he's the man and the pieces are fit around the contours of his own game, is coming. He looks capable. He looks interested. He looks dangerous, is how he looks, this 6-foot-7, 225-pound athlete who has the moxie to guard LeBron James at one end and to be guarded at times by James at the other and still to end such a series as the winner of team and MVP honors. Not too tired from chasing LeBron, not too intimidated when defended by him, Leonard averaged 17.8 ppg and 6.4 rpg in five games with absurd efficiency, making 61.2 percent of his shots overall and 57.9 percent of his 3-pointers.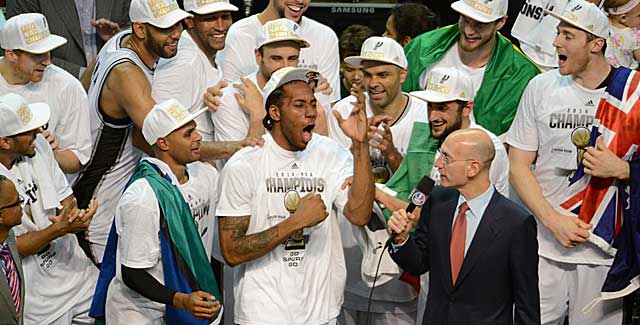 Leonard did this as an afterthought, as a player who was never the focal point of the San Antonio offense for a whole game. Or a single play.
"I haven't called a play for him the whole playoff," Spurs coach Gregg Popovich said after Game 5. "I do not call his number. Everything he did is just out of the motion and out of offense."
When that changes, and it's changing soon, imagine the numbers he can put up. Leonard has to be seen for a whole game, a whole series, to be fully appreciated because he's not a highlight-reel guy. His game is like his personality -- understated. Quiet. He'll throw in the occasional follow-jam, but the stuff he typically does is more subtle than that.
Midway through the second half Sunday, Leonard had the ball on the break and pulled up for a 3-pointer. It was a guard's move, not what we're used to seeing from a 6-foot-7, 225-pound forward, but Leonard pulled up like it was the right basketball play. And the way the ball went through the rim, barely moving the net it was so pure, he was right. It was the right basketball play.
Other times Leonard had the ball on the wing, LeBron James between him and the rim, and Leonard would do something I swear I've not seen since Julius Erving did it in the 1980s. Leonard would grab the ball in one hand, wave it like an orange, and then use the momentum of his moving arm to launch into a jumper. Right in LeBron's face. He made two of those shots Sunday when I asked on Twitter the following question:
"Does Kawhi Leonard have hands like Doctor J? He does that wave-the-ball thing with one hand before burying jumper."
And then this happened:
Look at that hand. RT @h8rproof82: @GreggDoyelCBS yes. Yes he does pic.twitter.com/6EJLIl0957

— Gregg Doyel (@GreggDoyelCBS) June 16, 2014
There are two men in that picture. One of them is LeBron James, and he has an obviously large hand. The other is Kawhi Leonard, whose hand is noticeably, frighteningly bigger. When Leonard won the Finals MVP trophy on Sunday night, two reactions by his teammates stood out. One, when Leonard's name was called, his teammates were demonstrably thrilled. A guy this quiet and humble, and still this good, is a rare treasure. Leonard is without pretense, and that's magnetically charismatic in its own way.
"Seeing Kawhi's expression when they called his name, that was special," Spurs veteran Manu Ginobili said.
Two, when Leonard was handed the trophy, every one of his teammates celebrated by grabbing a wrist and waving their isolated hand around, as if it was something ominous.
And in Leonard's case, it is. That hand is ominous. It's a Doctor J hand, the kind that can control the ball and make it do a player's bidding, and that's where Kawhi Leonard is headed. He's headed for an arena near you, ready to dunk and shoot pull-up 3-pointers and wave the ball like a piece of citrus until he decides to shoot it. Kawhi Leonard is about to rattle some windows and slam some doors, even if the Spurs themselves are trying to slow the storm surge.
"I hope you don't put too much pressure on him," Tony Parker politely lectured the media after Game 5, "because he's still got time. We do it as a team and we play together and Kawhi won that award and it's well-deserved. At the same time, you have to let him grow. He's only 22."
True. But he turns 23 on June 29. And we can't wait any more.
Here's everything you need to know for Sunday's Monster Energy NASCAR Cup Series race

SportsLine's Jody Demling had Kentucky Derby winner early and called the Belmont, Breeders'...

Micah Roberts pioneered wagering on NASCAR races and just locked in his STP 500 picks
SportsLine's Mike McClure, a DFS pro with more than $1M in winnings, gives optimal lineup...

Flores raced nearly 29,000 times in his illustrious career, winning 4,650 times

SportsLine's Jody Demling had the Kentucky Derby winner early and called the Belmont, Breeders'...