Recruiting setbacks, BYU loss should put Mack Brown on Texas' clock
Mack Brown should be on the clock, not only for losing at BYU. Bad as that is, recruiting failures on QBs Luck, RG3, Manziel and Winston are worse.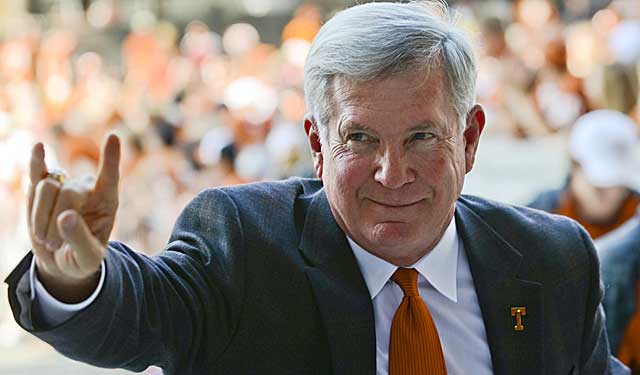 If I'm running the University of Texas, Mack Brown is on the clock. And not that broken clock he thinks he's on, the kind that will never tell him when it's time to go. No, if I'm running Texas, Mack Brown has the rest of this season to fix his football program -- or he's gone. He's gone fondly and appreciatively, but he's gone definitely.
It's about recruiting in general, and it's about that 40-21 loss Saturday at BYU in particular, but it's about more than either of those abominations. It's about the general malaise that happens to a great coach -- and Mack Brown deserves to go down in history as a great coach -- when that coach has been at a place for too long. For some guys, like Bobby Bowden and Joe Paterno, staying too long at a school means staying three or four decades and coaching into their 70s or 80s. It means reaching a point where a coach clearly isn't what he was, and neither is his program.
For Mack Brown, it's a decade-and-a-half. It's his 60s. He has been the head coach at Texas since 1998, he is 62 years old, and it sure looks like he has hit the same wall that Paterno hit at Penn State, and that Bowden hit at Florida State. He just hit it a lot faster than they did, probably because -- while Mack Brown deserves to be called great -- he's not anywhere near as great as Paterno and Bowden. They can't all be the best of the best, you know. Someone is first, someone is second, and so on. Paterno and Bowden are near the top of the list of all-time greats. Mack Brown is down the page a bit.
And right now Texas is down the page a good bit, an embarrassing bit, and I say this not as a Texas fan but as a college football connoisseur who knows exactly how good Texas ought to be. And Texas football ought to be a top-10 program every single year -- and a legitimate national championship contender more often than not.
But Texas isn't there, and hasn't been there since 2009. The Longhorns have gone 5-7, 8-5 and 9-4, and while that's a decent trajectory, a decent trajectory isn't good enough. Not when you're Texas. A decent trajectory is good for Baylor or UAB or South Florida. The top 10 is good for Texas or Alabama or Florida.
So I say again: This should be Mack Brown's last year to get it fixed, or Texas in January should name something after him at the ceremony that announces his replacement.
But maybe he fixes it. Maybe Brown responds to that BYU debacle by making this the year Texas gets back to the business of being Texas. I'm not sitting here telling you Mack Brown is finished. I'm telling you, it looks like he's finished at Texas. I'm telling you momentum is a powerful thing in college football, and Texas' momentum is no good. For three years he has won like he's at North Carolina or Tulane. And if that trend continues for a fourth year, why give him a fifth?
The most obvious manifestation of Brown's erosion has been on the recruiting trail, which once was his strong suit but in recent years has been his weakness. Football is a quarterback's game, and Brown's staff has missed out on a series of franchise QB's: Andrew Luck, Robert Griffin III, Johnny Manziel and Jameis Winston.
And it's not because Texas was outrecruited for those guys. That happens from time to time, even to the University of Texas in the state of Texas, and people understand. You can't sign everybody, know what I mean? But in the case of those four quarterbacks -- all four of them -- Texas couldn't be bothered. All four wanted Texas, but Texas didn't want them because neither Mack Brown nor his staff was able to recognize Heisman Trophy talent (Griffin and Manziel), a future No. 1 overall NFL draft pick (Luck) or the next big thing (Winston).
As the CEO of this company Brown is ultimately responsible for such a glaring, repeated failure. We can go back in time and note that RG3 and Manziel weren't viewed as can't-miss recruits, but that only underscores how badly they were evaluated by everyone -- Texas included. RG3 was in nearby Copperas Cove, and Manziel was only two hours away in Kerrville, and Brown's staff had no idea it was looking at future Heisman Trophy winners. They thought they were looking at future defensive backs.
The point is larger than recruiting, larger than a single (humiliating) loss to BYU. The bigger point, the scarier point for Texas, is that Mack Brown looks to be slipping. He's 62 and he sounds very much like Paterno and Bowden when he digs his heels in the ground and vows that "I won't be" fired and that he will coach Texas until 2020 at least.
Mack Brown will be 69 in 2020, but already there is anecdotal evidence that he is not what he was. To ignore that would be stupid, and the University of Texas shouldn't be stupid. That's why, if I were running that school, I'd tell Brown he has the rest of this year to win like he's at Texas -- or it's time for Texas to go get somebody who will.
Because the coach at Texas A&M, Kevin Sumlin? Assuming he doesn't follow Manziel to the NFL, Sumlin is about to turn Texas into the second-best program in the state. If Texas isn't already behind TCU, and in third.
Junior revealed on Instagram that his first child will be a girl

What does it take to compete at the CrossFit Games? Check out 'Fittest on Earth' on CBS Sports...

Keselowski passes Ryan Newman on the final lap to claim the checkered in a wild, crash-filled...
Three of our four picks have yet to win a race this season

Dale Earnhardt Jr. will be making his final ride at Talladega Superspeedway this weekend

Hear what NASCAR Playoffs contender also has to say about payouts and the sport's future