Report: F1's Schumacher in coma, critical condition following ski spill
Seven-time Formula One champion Michael Schumacher reportedly suffered a brain hemorrhage following a skiing accident on Sunday morning.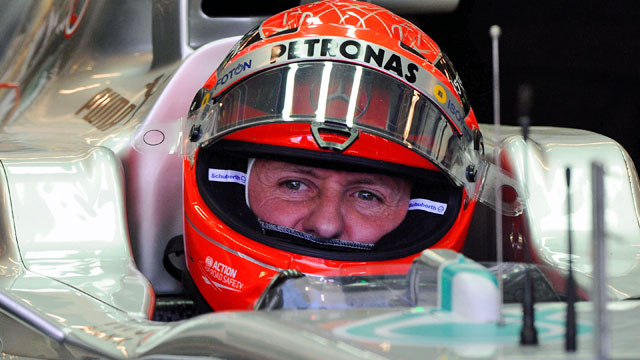 UPDATE: Formula One racing legend Michael Schumacher is in "critical condition" in a coma following a skiing accident on Sunday, according to the French hospital where he was being treated. 
Schumacher "was suffering a serious brain trauma with coma on his arrival, which required an immediate neurosurgical operation," the hospital said via AFP.
****
UPDATE: French radio station RMC is reporting that Michael Schumacher suffered a brain hemorrhage and is now in critical condition in a hospital in Grenoble, France.
Schumacher was skiiing in the Alps when he fell and hit his head on a rock on Sunday morning. He was airlifted to the hospital and reportedly didn't lose consciousness.  
His PR team released a statement earlier this afternoon confirming the accident. 
"Michael fell on his head when he was on a private skiing trip in the French Alps. He was taken to a hospital and is receiving professional medical attention. We ask for understanding that we cannot give out continuous information about his health."
"He was wearing a helmet and was not alone."
****
Formula One race legend Michael Schumacher was hospitalized after he suffered a head injury while skiing in the Alps on Sunday, according to French media reports. 
Schumacher, who retired from racing last year for the second time, reportedly fell and hit his head on a rock, according to the director of the ski resort in Meribel, France.
"Help responded quickly at 11:15 a.m. He was airlifted and taken to the hospital in Moutiers," Christophe Gernignon-Lecomte, the director, told a CNN affiliate.
"He was shocked, a little shaken but conscious. It may be a head injury but it is not very serious," Gernignon-Lecomte said.
From BBC reporter Jennie Gow:
#F1 Hearing from director of Meribel that although head injury "not thought to be very serious." MSC was wearing a helmet. Response rapid.

— Jennie Gow (@JennieGow) December 29, 2013
The 44-year-old seven-time Formula One champion won 91 races throughout his 19-year career. 
Rowdy is the only driver in NASCAR history to accomplish the feat and he has now done it t...

Rowdy took to Twitter after winning Friday night's NASCAR Xfinity Series race

Rowdy will go for the sweep Saturday night after winning both the Xfinity and Truck races.
Truex's Furniture Row Racing teammate Erik Jones will lead to field to green on Saturday n...

Rowdy swept all three stages en route to his eighth NASCAR National Series victory of the...

NASCAR drivers had some fun with Kenny Wallace after he posted a 'crazy story' to his Twitter...