Rodney Harrison said something stupid about Josh Freeman
NBC's Rodney Harrison said Vikings quarterback Josh Freeman is faking his concussion. What an awful, stupid thing to say.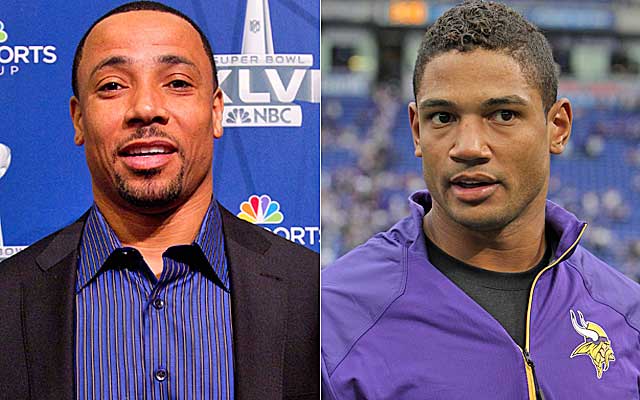 Rodney Harrison said something stupid, and people are eating it up. Is that because people are stupid? No, I don't think so. But I do think people can be gullible, and I'm positive people want to believe the worst about new Vikings quarterback Josh Freeman -- your fault, Schiano -- and so I do think that when Harrison, an NFL analyst for NBC, suggested Freeman is faking his concussion, people believed what they wanted to believe.
And they want to believe the worst of Josh Freeman.
Me, I believe Harrison said literally one of the dumbest things an intelligent, highly paid NFL analyst has ever said.
What Harrison said was this, and see if you can find the logical hole in it. It's not a small hole. If this hole were opened by an offensive line, that team's running back would get to the end zone because nobody on defense would be touching him. Here's what Harrison said. Find the problem before I tell you what it is:
"I played safety at a high level for a long time and I was bangin' and I never missed a game because of a concussion so it just seems like an excuse to me."
Do you see the problem there? No? Let me spell it out:
Concussions weren't a problem for me, therefore concussions aren't a problem for him.
Harrison's statement is so ridiculous it's funny -- only, people are buying it. Go to the message boards below our story. People aren't attacking Rodney Harrison; they're attacking Josh Freeman.
Last month the NFL settled a $765 million lawsuit with more than 4,000 former players about the damages incurred by concussions, which is remarkable given that concussions were never a problem for Rodney Harrison; how can we be sure they were a problem for those 4,000 guys?
Harrison said some other stuff about Freeman that made slightly more sense, stuff about the poor makeup of the Vikings:
"Maybe's he's looking around and saying, 'You know, maybe Greg Jennings isn't as good as I thought ... Adrian Peterson is struggling. Heck I just want out of this situation, I can't wait for the end of the season.'"
I don't like that comment, either, but at least there's no logical canyon in the middle of it. Maybe Freeman is faking it because he thinks the players around him aren't good enough; that's what Harrison is saying. Then again, Freeman's reputation is awful already (thanks, Schiano) and surely his agent and friends are urging him to give the Vikings his very best, lest the rest of the league marks him off as surely as the Bucs did.
But even as someone who wondered why Derrick Rose wouldn't return to the Bulls last season in the playoffs -- I never said he was faking it, just wondered why he wouldn't come back -- I'd never, ever, ever accuse an athlete of faking a concussion. What kind of person would make such an accusation?
The kind who would say this:
Concussions weren't a problem for me, therefore concussions aren't a problem for him.
John John Florence and Gabriel Medina will look to catch the wave to a championship

How to watch the Professional Rodeo Cowboys Association's 2017 National Finals Rodeo event

Settle in for the holidays by watching other people do grueling obstacles like the Funky M...
Talladega is all decked out in white and all of Twitter wants to see some snow tire racing

CBS is excited to announce that Jordan Peele is producing a reboot of 'The Twilight Zone'

Jonah Keri talks to with CBS Sports NBA/Features Writer Brad Botkin to launch their Top 100...