Rubin 'Hurricane' Carter, 76, dies of prostate cancer
Rubin 'Hurricane' Carter, who spent almost 20 years in jail after being wrongfully convicted of a triple murder in 1967, died on Sunday.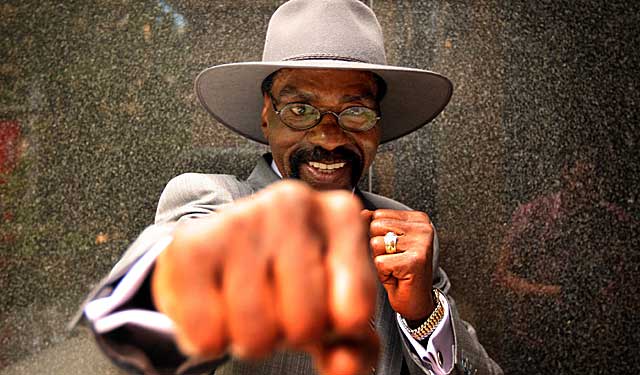 Rubin "Hurricane" Carter, a boxer who was wrongfully convicted of a 1966 triple homicide and spent almost 20 years in prison as a result, died of prostate cancer on Sunday in Toronto. John Artis, Carter's friend who was also wrongfully convicted of the crime and had moved to Canada to care for him, confirmed his death to the New York Times.
Carter's death was first reported by The Globe and Mail. 
Carter's story was immortalized in Bob Dylan's legendary song and it was also portrayed in 'The Hurricane,' the 1999 movie starring Denzel Washington.
Often picked on and ridiculed for his stammer as a kid, Carter took up pro boxing in 1961 as a middleweight where he earned the nickname "Hurricane" thanks to his rapid-fire jab sequences. His promising career was cut short after the incident that has largely defined his legacy.
In the early morning hours of June 17, 1966, two black men fatally shot a bartender and two customers at the Lafayette Bar and Grill in Paterson, N.J. Carter and Artis were eventually picked up and taken to a local hospital where one victim of the shooting did not identify them as the bar shooters. A grand jury later chose not to indict the pair. 
Despite passing lie detector tests and not fitting the profiles of the suspects, Carter and Artis were charged by an all-white jury in 1967. While in jail, Carter prostested by not eating prison food or participating in prison activites since he thought doing so would indicate guilt.
He was released in 1985, but managed to publish his book, The Sixteenth Round, which was largely distributed among icons like Muhammad Ali and Bob Dylan. Since being released, Carter had been an outspoken advocate for those who were wrongfully convicted, going so far as to start his own innocence project.
Federal judge H. Lee Sarokin agreed with one of Carter's final appeals, claiming that the prosecution hadn't disclosed the results of vital lie detector tests from key witnesses. 
"The extensive record clearly demonstrates that [Mr. Carter's and Mr. Artis's] convictions were predicated upon an appeal to racism rather than reason, and concealment rather than disclosure," Sarokin ruled. Carter subsequently phoned the judge every year on the anniversary of his release to give his thanks. 
Dale Hansen, a Vietnam vet, used his airtime to discuss Trump and the right to peaceful pr...

John Middlemas posed for the photo and stated "those kids have every right to protest."

President Trump tweeted he was 'proud of NASCAR and its supporters and fans' on Monday mor...
The popular driver opposed the views of several NASCAR figures and cited Americans' rights...

While NFL teams protested en masse on Sunday during the anthem, NASCAR teams were at full...

Kyle Busch claims a big win Sunday while Kyle Larson clinches a spot in the Round of 12 on...