Rugged Maidana brings toughness to Mayweather showdown
Argentine slugger expects to take everything "Money" has, return with more in Las Vegas welterweight unification
One of these times, it might just happen.
Floyd Mayweather Jr. will go through the same pre-fight machinations, approach the ring flanked by the same hangers-on craving his spotlight -- and suddenly realize he's in his late 30s and no longer able to contend with the younger, less well-heeled segment of the punch-for-pay set.
If Argentine brawler Marcos Maidana's guess is correct, "Money's" witching hour comes Saturday.
"I've crossed paths with lions," said the 30-year-old, who'll lay his World Boxing Association (WBA) compatible keys to the 147-pound penthouse alongside Mayweather's World Boxing Council (WBC) version at the MGM Grand in Las Vegas. "I keep going forward and leave it in God's hands.
"If he wants to win, he'll have to kill me first."
Mayweather, who turned pro in 1996 and turned 37 in February, is an inch taller at 5-foot-8 and presumably more comfortable in the welterweight-and-heavier environment, where he's campaigned exclusively since relinquishing the 140-pound title he ripped from Arturo Gatti in 2005.
Still, he's perceived as less rugged than Maidana, who's a comparative newbie among the elites at 147 but arrives in the Nevada desert with a reputation for rising off the canvas in the face of hellacious punishment – a quality that put him on the map in a pier-6 slugfest with Victor Ortiz in 2009.
The underdog was dropped three times in the initial two rounds by the then-unbeaten Golden Boy Promotions hotshot, but rose each time and ultimately beat the fight out of his more-heralded foe, ultimately prompting Ortiz's in-ring surrender in the sixth.
"I knew I was fighting against the local guy and I had to knock him out," Maidana said. "I went down, but I got up because I have a big heart. I saw that Victor felt my punches and I said, 'I know I can win this.'"
It's been a similar script in several of his 11 fights since, including a 12-round scrap with Amir Khan in 2010 in which Maidana was decked in round one before rallying late to drop a close decision in a match the Boxing Writers Association of America deemed its fight of the year.
"This guy brings it from the opening bell," said Leonard Ellerbe, CEO of Mayweather's promotional company. "A lot of people talk about it and they get in there and they look and they make attempts a couple times and they get frustrated. This guy, he continues to bring it and bring it and bring it and bring it, and he doesn't stop. Floyd hasn't faced anybody like that before.
"It's a known fact, when (Maidana) hits guys, they fall. Floyd's objective is obviously not to get hit with none of that, but like I said, we know what we're in for. That's what Floyd is preparing for, a very, very tough fight."
Maidana became a full-time welterweight in 2012 and has won four of five in the new division, capturing the WBA title by pummeling Adrien Broner – a self-professed Mayweather protégé – in December.
The four victories have come under the tutelage of California-based trainer Robert Garcia, who aimed to add a little more style to Maidana's approach while not tinkering too much with the substance.
"I feel much better," Maidana said. "My punches are connecting even stronger now because the punches are being thrown in a better location and with precision. I feel a lot better. I feel much, much better now that I've been working with Robert Garcia. I'm fighting and beating great fighters.
"Most of them have the same style, very similar style and defensive, but I already beat Broner the way I did and I think I can do the same with Mayweather."
Weekend Watch List
ESPN2 -- Thursday, 9 p.m.
Roberto Garcia vs. Victor Cayo -- 10 rounds, welterweights
Jonathan Gonzalez vs. Rogelio Medina -- 10 rounds, middleweights
Fox Sports 1 -- Friday, 10 p.m.
Ishe Smith vs. Ryan Davis -- 10 rounds, junior middleweights
Mickey Bey vs. Alan Herrera -- 10 rounds, lightweights
Jesus Cuellar vs. Rico Ramos -- 12 rounds, featherweights
Showtime PPV -- Saturday, 9 p.m.
Marcos Maidana vs. Floyd Mayweather Jr. – WBA/WBC welterweight titles
Amir Khan vs. Luis Collazo -- 12 rounds, welterweights
Adrien Broner vs. Carlos Molina -- 10 rounds, junior welterweights
J'Leon Love vs. Marco Antonio Periban -- 10 rounds, super middleweights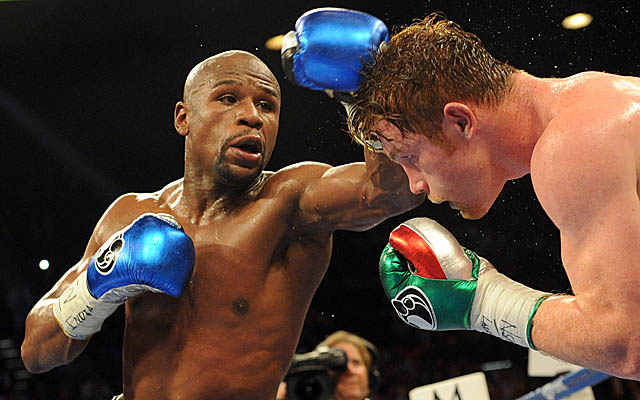 Rowdy is the only driver in NASCAR history to accomplish the feat and he has now done it t...

Rowdy took to Twitter after winning Friday night's NASCAR Xfinity Series race

Rowdy will go for the sweep Saturday night after winning both the Xfinity and Truck races.
Truex's Furniture Row Racing teammate Erik Jones will lead to field to green on Saturday n...

Rowdy swept all three stages en route to his eighth NASCAR National Series victory of the...

NASCAR drivers had some fun with Kenny Wallace after he posted a 'crazy story' to his Twitter...