Rules are rules; if OU wants Green-Beckham, he should be eligible now
Dorial Green-Beckham is not a sympathetic figures, but if rules allow him to play right away at Oklahoma, he should be allowed to do so.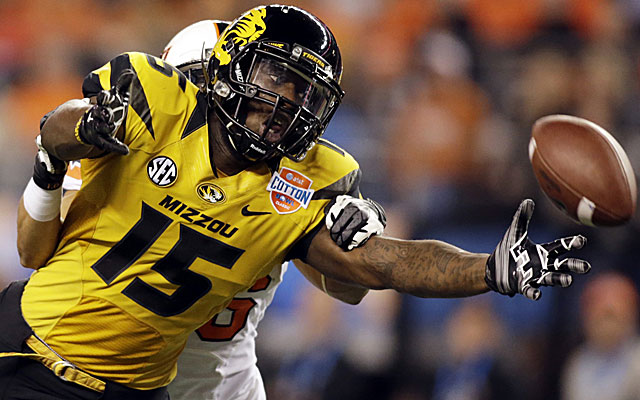 More college football: Dennis Dodd | Jeremy Fowler | Jon Solomon | Latest news
Dorial Green-Beckham has been neither likable nor sympathetic, and Oklahoma is being neither magnanimous nor selfless, but that doesn't change the fact that both have been screwed if the former Missouri receiver isn't ruled eligible to play for the Sooners this season.
I know, I know. Green-Beckham is the wrong guy to protect, and Oklahoma (or any big-time football powerhouse) is the wrong school to promote, but that's the thing about arguments of logic and fairness: They don't play favorites. Logic and fairness don't apply simply to the athletes we want to like or the underdog schools we want to help.
Logic and fairness apply to Green-Beckham, who was in fact run off by Missouri. And logic and fairness apply to Oklahoma, or any school trying to activate a player who has been run off by his previous school.
And make no mistake, Green-Beckham was run off by his previous school.
I know, I know. He was run off because of mistakes of his own making. And the mistakes of his own making include horrible details involving a woman being shoved down some stairs. Like I say, Green-Beckham is neither likeable nor sympathetic. In addition to being investigated for that incident involving the woman and the stairs he allegedly shoved her down -- no charges were filed after the woman declined to cooperate with authorities -- Green-Beckham has been arrested twice for marijuana-related offenses, though one was reduced to a non-drug charge and nothing has come of the other.
Anyway, I'm not hiding behind that stuff -- no serious guilty verdicts! -- to say he should be able to play immediately at Oklahoma.
I'm hiding behind these two words: run off.
Which is the same as this word: dismissed.
Green-Beckham isn't playing at Missouri this season, despite wanting to play there and being eligible to do so, because Missouri got rid of him. Missouri got rid of him because Missouri was sick of him being arrested, but the larger point -- the point that gets to me -- remains: Green-Beckham isn't playing at Missouri this season because Missouri won't let him.
And listen, Missouri was entitled to make that decision. Playing for Missouri, playing for anybody, is a privilege and not a right. Missouri decided Green-Beckham didn't deserve the privilege. Missouri made a strong stand for ethics over victories, because the team will be hurt by the loss of one of the best receivers in the country. Missouri decided it valued integrity over wins, and good for Missouri.
But about Green-Beckham ...
He's eligible. And he didn't choose to transfer. He had to. Therefore he should be afforded the same protection as other athletes who are run off from other schools, who have to transfer to keep playing -- and those athletes do in fact have the opportunity to appeal to the NCAA for a waiver of that one-year transfer rule. It just so happens that the circumstances behind his dismissal are incalculably less sympathetic than when a player is run off from another school because that school recruited too many players. (Which used to happen all the time, by the way).
You want to play? Your school won't let you? Another school will?
You should be able to play right away.
The brain tells me it's as simple as that, even if the heart doesn't want to agree. The heart wants to agree with CBSSports.com colleague Dennis Dodd, who argues that Oklahoma and Green-Beckham are trying to use a loophole to abuse the system. Loophole? Maybe. Green-Beckham doesn't sound like a great kid, and might not even be a good one, but that's not our cross to bear. You know whose cross it is to bear?
Oklahoma.
Green-Beckham has a stench about him stemming from his days at Missouri, and now that stench is on the president at Oklahoma, the athletics director, the head coach. Those are the three people who had to sign off on Green-Beckham playing for the Sooners at all -- this year, next year, whenever.
If the Sooners can pinch their nose and handle the public-relations hit of having Green-Beckham on their roster, then they should be granted his services right away. Not because it's the fair thing for Oklahoma -- but because it's the fair thing for Green-Beckham.
And I know. Believe me. I know.
ABC is looking to revive the popular '90s hockey film franchise

Patrick will drive the No. 7 Premium Motorsports Chevrolet in her final NASCAR race

Patrick plans to call it a career after running at the two most iconic U.S. auto races
Let the truth set you free, sir

The poor kid never even saw it coming

The burglars that Childress fired at were carrying military-grade weapons on them, the cops...