Serena ousted at Wimbledon by 23-year-old Sabine Lisicki
Manic Monday at Wimbledon began every bit as hectic as anticipated as No. 1 Serena Williams lost to Sabine Lisicki, ending her 34-match winning streak.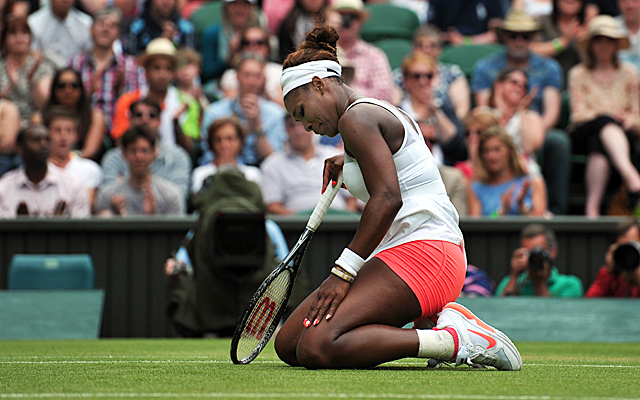 For a Wimbledon rife with upsets and surprises, Sabine Lisicki's shocking takedown of world No. 1 Serena Williams on Monday topped them all.
The 23-year-old German was the first to steal a set from Serena all tournament, and she became the first woman to defeat Williams in the past 34 matches.
Following the match, Lisicki was so overwhelmed that she began to cry. 
"I'm so happy," she said between tears to BBC. "Serena played a fantastic match. She's such a tough opponent. It's just an amazing feeling to win this match. The crowd was so amazing."
Lisicki stole the first set 6-2, then after dropping nine straight games throughout the second and third sets, battled the world's No. 1 to steal the final set, 6-4.
"She played some unbelievable shots and I was just fighting for every single point and just hanging in there," Lisicki said, who improved to 4-0 against reigning French Open title winners.
The loss ended Williams' hopes of defending her Wimbledon crown and attaining her sixth tournament title. 
Williams owned the loss after the match, saying that she simply failed to capitalize. 
"I definitely had my opportunities, and I didn't take them. I definitely feel like I try at some points and then maybe I backed off a little bit at some points," she said. "I just have to know that going forward, if I want to be successful, if I plan on being successful, I'm never gonna do it backing off."
Lisicki isn't new to stunning upsets at Wimbledon. The German is 6-4 against top-10 opponents all-time at Wimbledon's All England Club. 
Her lone win against a world No. 1 came last year in the fourth round at Wimbledon, when she defeated top-seed Maria Sharapova. 
After so many of the top-seeded women were knocked out early, Lisicki posed one of the few remaining threats to Williams, capable of matching Williams' overwhelming power. 
Williams showed little emotion throughout the match (aside from a menacing grimace) until the final set, the first such instance where the defending champion had faced any real resistance. 
Throughout the first three rounds, Williams hadn't conceded more than three games to any of her opponents. 
But down 3-0 in the final frame, Lisicki worked her way back with powerful returns and graceful drop shots, eventually tying the match at 4-4 before taking the final two games. 
Lisicki will move on to face Estonia's Kaia Kanepi, No. 46 in the world, in the quarterfinals
Kahne has been with Hendrick Motorsports since the 2012 season and is currently in contention...

After finishing second in the first playoff race of the season, can the 21-year-old son of...

Find out if you're as smart as you think you are
Truex Jr. automatically advances to the Round of 12 and will have five more bonus points carried...

Martin Truex Jr. leads the way as the NASCAR playoffs begin Sunday at Chicagoland

Kyle Busch will be on the pole for the start of the NASCAR playoffs