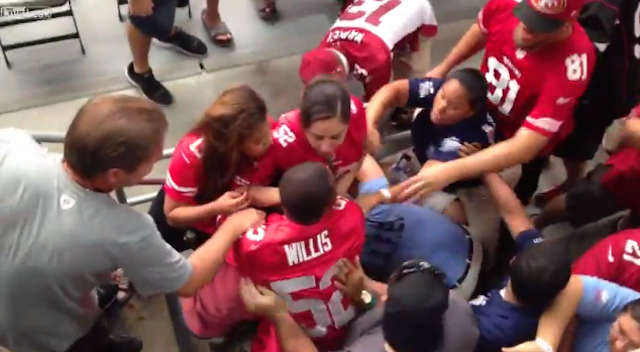 If only the most dangerous people at an NFL game were the ones beating each other up for our entertainment. If only the most dangerous people at an NFL stadium were the NFL players.
It's not. They're not. The true danger is in the parking lot, until it moves inside the stadium and makes itself comfortable in the lower bowl or upper deck. The true danger is carrying a knife or forming a fist or waiting for three of his friends to hold someone down before burying his boot into the guy's ribs.
The true danger is us. We are the thugs, and we are everywhere.
***
The NFL is trying to stop us from hurting each other. It's trying hard, and it's trying to keep it mostly a secret, because going public with this sort of thing is no way to grow your business: Please come to our games; we'll try to make sure you don't get beat up!
And the NFL is trying. The NFL is failing, if only because failure is unavoidable. Put 70,000 people in a confined space, add alcohol and testosterone -- estrogen, too -- and multiply that by the surge of adrenaline that comes from being emotionally invested in the game, and violence is going to happen.
It happened in a scary way Sunday, when fans went tumbling down a flight of concrete stairs at the 49ers-Cardinals game at University of Phoenix Stadium in Glendale, Ariz. Men and women in red jerseys were throwing punches, and a single security officer in a light blue shirt was stuck in the middle, getting hit and even choked, and when the melee was broken up and the stairway was cleared, the steps were splattered with blood.
Same day, different state, more violence. It was Redskins-Eagles at Lincoln Financial Field in Philadelphia, and at least six different fans were beating the hell out of each other when they went flying over several rows of chairs, landing on a man who had nothing to do with the fight but was smashed between a hard chair and several hundred pounds of roiling humanity.
Please come to our games; we'll try to make sure you don't get hurt!
And the NFL is trying. Even if it doesn't want you to know how hard. Ask the NFL for help on this story, as I did, and you are given a copy of the league's fan code of conduct, which outlines unacceptable behavior (includes obscenities, fighting) and the price for such behavior (ejection without refund, loss of ticket privileges to future games). That code of conduct is from 2008. This is what the NFL gives you, along with a single sentence from the public relations staff: "Teams and their stadium authority are directly responsible for fan conduct."
Well, true. But the NFL is trying to help too. Every team has a coordinator for fan conduct and security, someone to represent the team as it coordinates with game-day stadium security and local law enforcement to handle unruly fans -- the coordination varies from city to city; some teams (like the Cowboys) don't own their stadium but are responsible for security, while other teams (like the Colts) lease it and see most of those duties contracted out -- and a security coordinator at an NFL team told me the NFL summons those coordinators and their staff every offseason for a conference lasting three or four days to discuss and improve all facets of the fan experience.
Every Monday or Tuesday, another NFL employee told me, the fan security coordinator for each home team taps into a private Internet server to post various facts and figures from the game: Number of arrests, ejections, injuries. Knives confiscated. Hospitalizations. The NFL gathers that information and studies it.
Most NFL teams post a phone line for fans to text stadium personnel with concerns. And the league strongly advises each team to put ejected fans through a four-hour, online code of conduct class that costs $250 and is mandatory for any fan wanting to return to the stadium. A third NFL team official sent me the link for that, with a drop-down menu for all 32 teams.
Please come back to our games; next time, don't beat anyone up!
***
To be clear -- and fair to the NFL -- fan violence isn't exclusively an NFL problem. This is a sports problem, a fan problem, one that happens overseas as well. Here in America, fan violence happens in various sports.
In college football this past Saturday, law enforcement officials had to clear out roughly 3,000 people and arrest about 15 when a common tailgating spot for Nebraska fans in Lincoln turned ugly.
Last week at LSU, a handful of guys dressed in white beat up a single man in blue at the school's Parade Grounds. Earlier this month at UTEP, a mini-riot left bodies strewn across the pavement and idiots giggling about the violence they had just witnessed. Last season at the Sugar Bowl, a female Alabama fan yelled at an Oklahoma fan until she was forcibly walked away. When her escort turned his head, she headed back for her antagonist, dived over the fans in front of her and crowd-surfed toward her target.
In baseball, a Dodgers fan was stabbed to death last season after attending a game at San Francisco. Two years earlier Giants fan Bryan Stow was beaten into brain damage at Dodger Stadium.
The Bay Area has a terrible reputation for fan violence, but that's also where -- and why -- the group Fans Against Violence was formed. A handful of Raiders fans started the movement after the attack on Stow in April 2011 was followed four months later by the shootings of two fans in the parking lot at the Raiders-49ers game at Candlestick Park.
"We decided it was time for us, as fans, to take a stand and try to make a difference," said Kathy Samoun, CEO of Fans Against Violence. "Although we believe stadiums and teams have a huge responsibility to ensure fan safety, we also believe fans have a responsibility. There is only so much teams and stadiums can do to monitor 80,000 fans. ... They need our help. By doing things like using the text messaging system to report issues before they escalate and being welcoming to visiting fans, just to name a few, things can and are changing."
True, they are.
Seems to be getting worse.
***
Used to be, fan violence -- not talking about a fistfight here or there, but the sort of mob violence that happened Sunday at Phoenix and Philadelphia, or Saturday at Nebraska, or last week at LSU, or earlier this month at UTEP -- was mostly confined to extraordinary events, like a late-season rivalry game or a postseason celebration.
Used to be, fan violence -- the mob kind -- was mostly confined to men.
Those were some of the conclusions drawn by Dr. Jerry M. Lewis, a professor emeritus who has taught sociology at Kent State since 1966, in his book Sports Fan Violence in North America. Lewis wrote that book in 2007, when he said his research showed "most fan violence was associated with championship play" and "women seldom get involved."
Lewis and I talked about the violence in recent weeks, and he tried to explain why this sort of thing happens. Part of it, he said, is the allure of social media.
"The violent are seeking the approval of the non-violent," Lewis said. "They know their picture will be taken, and they think they're showing off. My argument has always been that violent fans are doing what they see as feats of skill. They can't throw a football 70 yards or run off tackle for 40 yards, but they can be violent -- and to them, violence is their feat of skill.
"Police don't like to hear that," he said. "They like to describe violent fans as drunk or crazy. Well, if they're crazy we've got to give up -- because there must be lots of 'crazy' people. And drinking gives you permission to do what you wanted to do anyway."
These aren't playoff games or huge conference contests, I told Lewis. It's September, for god's sake.
"If this trend continues, we've got two new patterns," he said. "One, it's starting much earlier."
And two?
"Now women are getting more involved," he said. "That's changing in a troublesome way. If women also get involved, we're in trouble."
So what can be done about it?
"Well," Dr. Lewis said, "I should begin to think about writing a second edition."