Smart ban didn't make OK State fail, but that's how it'll be viewed
Marcus Smart's ban for shoving a fan will be blamed for Oklahoma State's failed season, though that damage was already done.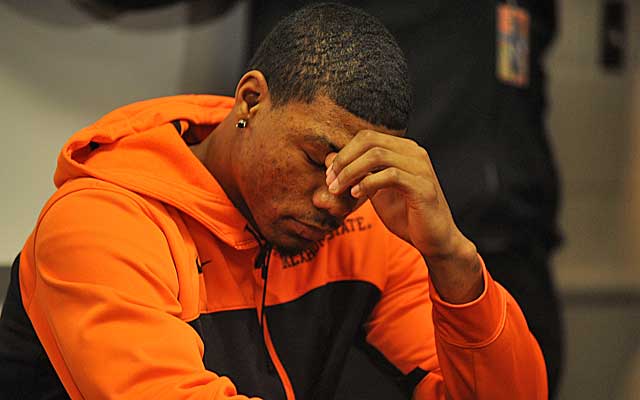 More college hoops: Bubble Watch: OK State almost out | More news, notes
In the case of Marcus Smart, the punishment has not fit the crime.
Note the verb there -- "has not," as opposed to "did not" -- because the punishment hasn't ended even though his three-game suspension has. Smart, who shoved a Texas Tech fan on Feb. 8, sat out the last of the three-game penalty meted out by the Big 12 on Monday night. The Cowboys lost that game, just like they lost the first two without Smart. They also had lost the four before that, which means they're on a seven-game losing streak, the school's longest in 41 years.
The NCAA Tournament? It's pretty much gone, barring (obviously) a victory in the Big 12 tournament or a startling run between now and then. The Cowboys could yet reach the NCAA Tournament, but at 16-10 (only 4-9 in the Big 12) with an RPI of 50, the odds aren't good. Which is related to my story here, and the first sentence, which I will repeat:
In the case of Marcus Smart, the punishment has not fit the crime.
He's going to be blamed for this, you know. Oklahoma State started the season in the top 10 nationally, and implosions like this leave a stain. Coach Travis Ford will feel it, but Marcus Smart will wear it like a second skin. It will follow him forever, or at least as long as we're talking about Marcus Smart.
Marcus Smart? Isn't he the guy who took down Oklahoma State by shoving that dude?
That's how this will be remembered. From eighth in the country to ninth in the Big 12, Oklahoma State has cratered in a way that lasts. And what do you know? The cratering happened at around the same time Marcus Smart was doing something we'd almost never seen, shoving a fan and getting himself suspended for three games. The Cowboys lost all three.
His fault!
Some of this is old news, but maybe with a week to move past the emotional reaction and also with the benefit not just of hindsight but of foresight -- seeing what was already happening to Oklahoma State's season, and what has continued to happen with Smart out, and what will probably happen when the NCAA Tournament field is announced -- you can come to the same conclusion that I have: This whole thing has been tragically unfair to Smart.
Tragic? Sure, I'm going there. He's a college kid who will soon be a millionaire. Nobody died. Tragic? Yeah, tragic. Because his reputation was killed, and not merely from self-inflicted wounds but with help from that idiot fan at Texas Tech and the overly punitive Big 12 and any of us out here who will judge Marcus Smart as being the reason, the main reason, for Oklahoma State's implosion from Final Four contender to ... whatever happens in March. The NIT? CBI? CIT?
Marcus Smart is SOL, and it's a damn shame because he didn't start this. Jeff Orr, the rotten fan from Texas Tech, started it. And let's be honest: While Orr doesn't represent all Texas Tech fans, he had some help from the cowards around him. This is a guy who has been despicable to college kids for years -- he was caught on tape in 2010 shooting a vulgar sign at a Texas A&M player from pretty much the same spot under the basket -- and has been allowed to get away with it. If any of the fans around him ever mustered the strength to ask him kindly, and then tell him bluntly, to stop saying and doing vulgar things to the other team, we don't know about it. And if that happened, it damn sure didn't work.
Bad guys are responsible for their own actions, but when those actions are witnessed by others and not stopped, well, others bear some responsibility as well. For years Jeff Orr was allowed to happen under a basket at Texas Tech.
Marcus Smart responded the wrong way, according to pretty much everyone. He should have walked away! That would have stopped it!
Enough's enough. Bad guy does something bad, victim responds in a way we don't like ... we blame the victim.
Marcus Smart has seen his draft stock tumble. His team has fallen off the NCAA Tournament bubble. If the OSU slide continues, his legacy at Oklahoma State won't be his 1,000 points in two years, or his career averages of roughly 16 points, six rebounds and four assists a game. His legacy will be the shove, the suspension, and the way Oklahoma State tumbled all the way from the national Top 10 to the Big 12 basement.
All he did was shove a guy who yelled something horrible right into his face. It was a mistake, but the punishment continues to be meted out, and it will never fit the crime.
Patrick plans to call it a career after running at the two most iconic U.S. auto races

Let the truth set you free, sir

The poor kid never even saw it coming
The burglars that Childress fired at were carrying military-grade weapons on them, the cops...

'Kong Infinity' and 'Happy Ending' headline two additions to the ultimate endurance course...

Nik Kayler's body has been found after going missing last week during a fishing tournament