Sorry, Horace Grant, but you're not the guy to be slighting Heat's reign
Michael Jordan's Bulls or LeBron's Heat? It's a great debate, but serial coattail rider Horace Grant isn't worthy of opining that the Heat would have no chance.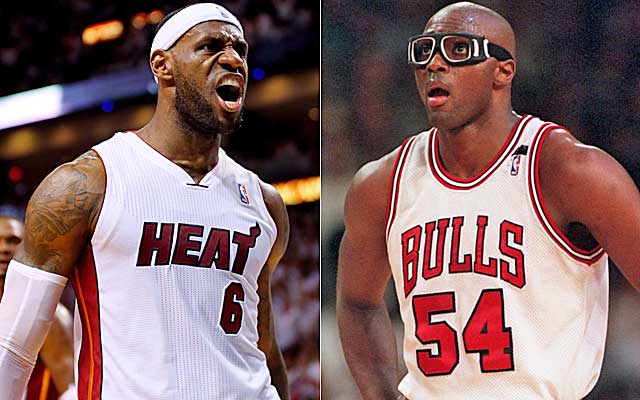 More Finals: Grant disses Heat in radio interview  | Latest news, notes
Horace Grant, whom you may remember from those great Chicago Bulls teams of the early 1990s -- though you may not -- has something to say about the comparison between those Bulls and these Miami Heat:
There is no comparison.
Grant told Chicago radio station WSCR on Tuesday that the 2014 Heat would have lost to his Bulls. In fact, Grant wonders why this conversation even exists.
"The Heat wouldn't have had a chance," Grant bravely told some radio guys. "We would have locked them up. We would have locked them up. Especially with the rules today, Michael [Jordan] would have had a field day."
The only part of that quote that holds water is this one: Michael would have had a field day.
Well, duh. Michael Jordan would have had a field day against the 2014 Heat, the 1927 Yankees and the 1967 Green Bay Packers. Someday evolution will lead to 7-foot NBA point guards throwing entry passes into 8-foot centers, and Michael Jordan would've had a field day against them, too. Jordan was that good. Thanks for pointing out the obvious, Horace.
As for the rest of his comment, I'm going to dismiss it like so:
This is the wrong time, and Horace Grant is the wrong guy, to say such a silly thing.
The Heat are four wins away, assuming they can get them against the San Antonio Spurs, from becoming the second team since Jordan's 1996-98 Bulls to win three straight NBA titles. Jordan Grant's Bulls also won three in a row from 1991-93, as did the 2000-02 Lakers. Those are the dynasties the Heat are nearing in NBA history, but they haven't caught them yet. Maybe they won't catch them at all. Maybe in the next few weeks the Spurs will render this whole conversation moot. Whatever the case, the time to compare the Heat and Bulls -- certainly, the time to dismiss the Heat from the Bulls' level -- is not now.
And for Horace Grant, the time to make that comparison is never.
Seriously, Horace Grant, who are you? I'll tell him, and I'll remind the rest of us: Grant was a coattail rider of epic proportion, which is fine and dandy so long as the coattail rider knows his place, shows his gratitude for his good fortune and keeps his mouth shut. But for a coattail rider like Horace Grant -- whose scoring per 36 minutes (from 13.6 ppg to 11.9 ppg) and efficiency (53-percent shooting to 48.3-percent shooting) plummeted from his time with Jordan's Bulls to his years in Orlando -- to be the one to blithely reject one of the most dominant franchises in recent NBA history?
Shaddup, Horace Grant. This is an argument I can hear from Michael Jordan himself, and maybe even from his Hall of Fame sidekick Scottie Pippen. They won those titles, they made it happen, they've earned the right to opine and even brag on what they would've done to the Miami Heat -- much like Kobe Bryant earned the right in 2012 to say his U.S. Olympic team could've beaten the original Dream Team of 1992. Was Kobe right? Doubt it, but as one of the best players on that 2012 team and as a player who would've fit right in on that 1992 monster squad, he had the right to say his piece.
Horace Grant? You have the right to keep quiet.
Never mind that he raises an interesting question. More importantly, he raises an impossible question. The game has changed, slowed down. In 1991, seven NBA teams averaged more than 110 ppg. None hit that average this season. All but two teams in 1991 allowed at least 100 ppg; twelve teams managed that feat this season. The game is different, the coaching is different, the players are bigger and stronger. Who's better, Jordan's Bulls or LeBron's Heat? Great question. And impossible question.
Jordan and LeBron are a wash, and while the Bulls have the superior supporting cast, the Heat have enough advantages to make this silly debate more legitimate than Grant would have us believe. Pippen vs. Wade? Advantage Wade. Bosh vs. Grant? Please. I'm not an enormous Bosh fan, but he was a 24-ppg scorer in Toronto. Grant was a coattail rider from the day he entered the league to the day he left it, also reaching the NBA Finals in 1995 with Shaquille O'Neal in Orlando and picking up a fourth title with Shaq and Kobe as a 35-year-old with the Lakers in 2001. Grant's last year in the league was 2004, with the Lakers of Kobe, Shaq, Gary Payton and Karl Malone, when he clung to some more coattails for another trip to the NBA Finals.
You thought about Horace Grant since then? Me neither. Didn't dislike him then, don't dislike him now -- but this is irritating, for a player of that caliber to clear his throat and opine that his team from two decades ago could've beaten this Miami Heat team today. Show some respect, know what I mean? The Heat are just the fourth team in NBA history to reach four consecutive NBA Finals, joining Larry Bird's Celtics (1984-87), Kareem's Lakers (1982-85) and Bill Russell's Celtics (1957-66.) LeBron did that. Dwyane Wade did it. And Bosh, to a certain extent.
Horace Grant? He was a third-fiddle player at best, but he was no Chris Bosh. He was his team's Mario Chalmers, and the day Mario Chalmers clears his throat and dismisses some future dynasty is the day I tell him the same thing I'm telling Horace Grant today:
Know your place, Horace. And your place was at the end of Michael Jordan's coattails, holding on for dear life.
Junior finished 25th in his final ride after starting last and was happy to cede the spotlight...

Truex held off Kyle Busch on the final lap to win while Dale Earnhardt Jr. finishes 25th in...

Dale Earnhardt Jr. is preparing to take his final ride while four other drivers compete for...
Patrick says she will run in the Daytona 500 and Indianapolis 500 next year

The threat of a ban has loomed for Russia as its doping scandal continues

'You knew some guys had a propensity to smoke a little bit' in the NBA, says Raja Bell