Spurs, Heat are aging, vulnerable ... and still best NBA has to offer
The Spurs and Heat ought to be declining, but instead these two seem destined for another meeting in the NBA Finals.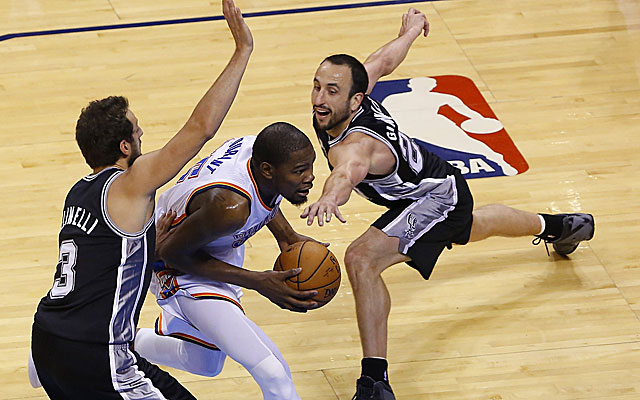 More Game 4: Court Vision | Indy not good enough | Bosh's big night
This should be the most vulnerable Miami Heat team of the Big Three Era, because the Heat aren't a Big Three anymore. More of a Big Two, When Wade Feels Like It. More like LeBron and friends. The 2014 Heat aren't the 2009 Cavaliers -- they're better than that -- but they're not the super team we loathed and feared when LeBron James, Dwyane Wade and Chris Bosh joined forces the summer of 2010.
And still they're the best team in the Eastern Conference by a margin that has grown, not shrunk, since 2010.
This should be the most vulnerable San Antonio Spurs team in years, too. The Spurs have three future Hall of Famers in their rotation, but not one produced this season like a Hall of Famer. Tim Duncan, Tony Parker and Manu Ginobili already have put in the work, posted the numbers and earned the NBA championship rings to deserve their place in the Hall of Fame, but that is not who they were in 2013-14. Duncan averaged 15.1 points and 9.7 rebounds. Parker averaged 16.7 points and 5.7 assists. Ginobili was good for 12.3 ppg. These are Hall of Fame players, but not because of this season.
And still, this season, the Spurs are the best team in the Western Conference by an absurd margin.
Don't talk to me about Chris Bosh and Serge Ibaka, either. Not yet. Both had great games their last time out, Bosh for the Heat to suggest he's still a great player and Ibaka for the Thunder to suggest the Spurs aren't necessarily, or at least easily, advancing to the NBA Finals. Time will tell if those were flukes or something more. Maybe time will bury this column, like time does to the occasional opinion piece so many I've written.
Time will tell -- but it's already told. And it's told on the rest of the NBA, calling out not a team or two but the whole damn league for being inferior to the Heat and Spurs, yet again. A high tide raises all boats? Not in the NBA, where the Heat and Spurs are two luxury liners amid a sea of schooners. Or dinghies. Or is it dingbats? Retirement is catching up to the Heat and Spurs faster than the rest of the league. Some ages:
Miami Heat: Dwyane Wade is 32. Ray Allen is 38, Shane Battier 35, Udonis Haslem 33, James Jones 33, Rashard Lewis 34, Chris Andersen 35, Bosh 30.
San Antonio Spurs: Duncan is 38, Ginobili 36, Parker 32.
What the hell is happening here? A couple things for each team. First, the Heat:
• LeBron is that good. Never mind that Kevin Durant won, and deserved to win, the MVP. Durant had one of the finest individual seasons in NBA history, and he needed it to finish ahead of LeBron, who did the same. Averaging 27.1 ppg on 56.7-percent shooting? For a de facto point guard who also averaged 6.9 rebounds and 6.3 assists? Ridiculous. We'll never see those numbers again, unless LeBron does it next year. James is so good, and so good in an unselfish way -- watch how many "hockey assists" he produces, making the pass that leads to the pass that leads to the easy shot -- that the Heat are running away with the East despite Wade being (still great but) a shell of what he was, and despite Bosh being good enough to hoot and preen like a star exactly one time in the last 11 postseason games. The Heat will win the NBA title, or come close, because LeBron is the greatest offensive talent of all time and the reason the Heat can overcome mediocre team defense by scoring 112.7 points per 100 possessions in the playoffs.
• Erik Spoelstra isn't just a carrier of coats. He's actually coaching this team, putting his stamp on it, mixing and matching the support pieces -- anyone not named LeBron or Wade -- in ways that work. Some days it's Norris Cole. Others it's Mario Chalmers. Or Andersen. Allen. Some days it's even Chris Bosh. All days, it's Erik Spoelstra. I don't know on a historical level how good the guy is, but he's more than good enough to get the most out of LeBron and friends.
The Spurs:
• Gregg Popovich and R.C. Buford. When they go into the Hall of Fame, they should go in together. Popovich coached them, but Buford found them. Duncan was a no-brainer out of Wake Forest, but Parker and Ginobili? Not so much, given that they were drafted 28th overall in 2001 (Parker) and 57th overall in 1999 (Ginobili). Buford also accumulated Kawhi Leonard, Danny Green, Patrick Mills, Boris Diaw and the rest of this roster. Buford found them ... but Popovich coached them. They are the chicken-and-egg of the Spurs' dynasty. Which came first? The four NBA rings. Those came first. And a fifth could be coming soon.
• I can't think of another reason. I'm like the rest of the West when it comes to figuring out the Spurs: Clueless.
John John Florence and Gabriel Medina will look to catch the wave to a championship

How to watch the Professional Rodeo Cowboys Association's 2017 National Finals Rodeo event

Settle in for the holidays by watching other people do grueling obstacles like the Funky M...
Talladega is all decked out in white and all of Twitter wants to see some snow tire racing

CBS is excited to announce that Jordan Peele is producing a reboot of 'The Twilight Zone'

Jonah Keri talks to with CBS Sports NBA/Features Writer Brad Botkin to launch their Top 100...