Stephenson's selfish play may cost Pacers ... and the future free agent
Lance Stephenson is a singular talent. Singular is the operative word because the Pacers guard is all about Lance all the time. And it could cost him and the Pacers.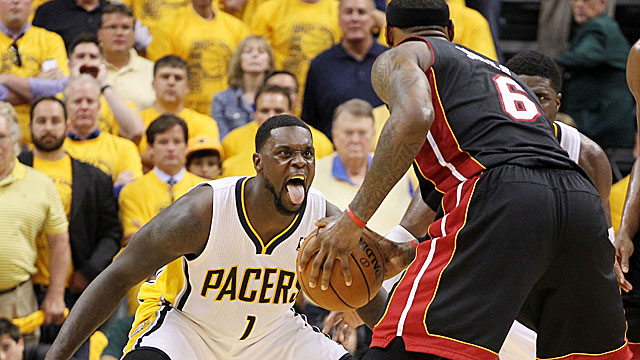 More postseason coverage: Playoff schedule, results | Latest news, notes
This isn't a story about the Eastern Conference Finals, but about Lance Stephenson. Which, I suspect, is just the way he likes it.
Lance is all about Lance in a way that is breathtaking in its purity. Does he want to win? Sure he does. Lance can be all about Lance and still want the Indiana Pacers to win, because let's be honest: Winning makes Lance look good. And so if blowing in LeBron James' ear and leaning in to listen to Miami's Erik Spoelstra coach his team and flopping all over the court and even, at one point, having to be dragged to his feet by Roy Hibbert will help the Pacers win, Lance will do it. And he did, all of that, in Game 5 against the Heat.
But ultimately Lance is going to take care of Lance, and if the Eastern Conference Finals suffer from his antics and if some great performances in this series get overshadowed, so be it.
Because Lance is going to Lance.
Reports, signs and evidence have mounted into one big heaping mountain of Me First, which is what Lance should have tattooed on his right arm instead of the nickname already there, "Born Ready."
Remember when Pacers center Roy Hibbert said earlier this season that there were "some selfish dudes in here?" According to ESPN.com, Hibbert was talking about Lance Stephenson. The report went a bit farther, noting not only that Stephenson had been on a Me First rampage since being left off the Eastern Conference All-Star team -- starting a "personal vendetta" against Eastern coaches -- but that Stephenson "has always had a habit of so-called 'stealing rebounds,' jumping in front of or over a teammate who had an uncontested rebound to get it for himself. This phenomenon reached a new level in the back half of the regular season. Hibbert ... was often a victim in these friendly-fire rebounds."
So I went back and looked at the timing. Hibbert made his "some selfish dudes in here" comment after the Pacers lost to the Wizards on March 28. Stephenson had a season-high 14 rebounds that night. Hibbert had two.
So that's one piece of information. Guilt beyond reasonable doubt? No, not just from that. But add that tidbit to the fight Stephenson had with Evan Turner in practice, and to the time he and teammate George Hill had to be separated on the sideline during a loss to the Spurs, two bits of information that came out in April during the Pacers' late-season slide. People in the organization were leaking information about the team's chemistry issues. Both issues involved Lance Stephenson. Coincidence? Of course not.
There's also the way Lance plays. This, you have to see to fully understand. I've seen it now several times in the playoffs, and I believe it with all my heart: Lance Stephenson will pass the ball, and happily, but only if he thinks he's getting an assist. He's chasing the triple-double, see, stealing rebounds and seeking assists, and if you're in the arena and watch it happen, well, it's breathtaking. Some guys, most guys -- LeBron James, to name one -- are more than happy to make hockey assists, making the pass that leads to the assist. Not Stephenson. Too many times to count, I've seen Stephenson swing the ball to Paul George or David West and literally flail his arms in anger when they don't reward his benevolence with an immediate shot. Sorry, Lance. No assist for you.
There's this.
Chris Bosh misses on corner 3. #Pacers secure ball and likely push series back to Miami and Lance to scorer's table: "Where's my rebound!"

— Candace Buckner (@CandaceDBuckner) May 29, 2014
And there was the totality of Game 5, Stephenson's magnum opus of Me First, when he decided to engage Norris Cole in such a blatant, one-way game of one-on-one that Pacers coach Frank Vogel literally called timeout from the bench as Stephenson was dribbling in circles. Stephenson walked to the bench spitting fire, because he wasn't interested in Frank Vogel's timeout. What did that timeout do for Lance? Nothing but take the ball out of his hands.
Late in the game with the Pacers clinging to a one-possession lead Vogel took out Stephenson, benching his third-leading scorer and leader in assists for reasons unstated, but understood: If given the chance, Lance was going to Lance. So Vogel took that chance away, sending him back onto the court only for defense.
And Stephenson was good on defense. He hounded LeBron James into 2-for-10 shooting, though James' career playoff-low total of seven points could have been more a function of his five fouls and 24 minutes played. Afterward Stephenson was credited by some in the media for getting into LeBron's head, drawing those fouls and bothering the world's greatest player, and maybe he did. That's open to interpretation, just as LeBron's decision to pass the ball in the final seconds was open to interpretation.
All of this is open to interpretation, really. Lance's selfishness, his Me First motivation. Open to interpretation, all of it. You've seen my interpretation, of course, and here's another one:
Lance is doing the one thing he desperately wants to avoid: Devaluing Lance. He's a special talent -- that is not open to interpretation -- but he's a handful. Does his talent exceed his temperament? It does if he's being paid like a role player. But Lance becomes an unrestricted free agent in July, and the Pacers reportedly aren't sure he's worth the money a player of his caliber normally would deserve.
Self-destructive history repeats itself with this guy. He was the all-time scoring leader in New York schoolboy history but saw the A-list choices (Kansas, UCLA, Calipari) on his list disappear until he was left going to Cincinnati. (No offense intended, Cincinnati. I live here. I think Mick Cronin's the best. But let's be real.) Why did that happen? Because coaches with elite options didn't want to mess with Lance. Too many issues there.
It's happening again. So much talent, but so many issues. Stephenson was asked 18 questions by the media Thursday, between Games 5 and 6 of the Heat series, and not one of the 18 questions was about his actual game. They were about blowing in LeBron's ear, trying to get in a player's head, etc. They were about peripheral stuff, the silly stuff Lance brings to the table. Stuff that teams can handle at a modest rate of pay. For tens of millions of dollars? No team -- no team with a solid general manager or a sensible head coach -- will want that.
The Heat talked Thursday about Lance like he's an embarrassment: "Our teammates wouldn't do that," Dwyane Wade said of his Game 5 antics, while Chris Bosh called Lance "immature" and compared his Game 5 behavior to being "like bad kids. ... If they throw a tantrum on the floor, just ignore them, and they'll stop."
(A bad kid with a tantrum on the floor? Have another look at this Lance clip.)
Vogel said Stephenson "crossed the line" when he blew in LeBron's ear, and Paul George urged Lance to stop talking about LeBron before Game 5 and then gave a backhanded compliment afterward when he said: "Lance is a great defender when he wants to defend. ... He gets a lot of credit for being savvy offensively, but when he decides to get into a guy and play defense, he can play defense."
When he wants to defend. When he decides to play defense. Some things, Lance will do when he's good and ready. Other things? Like getting his? Like the tattoo says, Lance was born ready.
Maybe getting his will help the Pacers win. That would be cool, too.
The brand new Tough Mudder competition is set to debut on CBS

Jody Demling had the Kentucky Derby winner early, but isn't high on him for this race at S...

CBS Sports' Bill Reiter shares how he thinks the superfight could play out
Rowdy is the only driver in NASCAR history to accomplish the feat and he has now done it t...

Rowdy took to Twitter after winning Friday night's NASCAR Xfinity Series race

Rowdy will go for the sweep Saturday night after winning both the Xfinity and Truck races.