Steve Masiello pays steep price -- maybe too steep -- for his lie
Steve Masiello's undoing is his own fault, but you almost have to feel sorry for the would-be South Florida coach.
Latest in hoops: NCAA Tournament | Expert Brackets | Coaching Changes
In the case of Steve Masiello, the punishment did not fit the crime -- it was too harsh -- though it had to happen.
If you're South Florida and you find out that the bright young basketball coach you've decided to hire had a lie on his resume -- Masiello didn't graduate from Kentucky in 2000; his resume says otherwise -- you have to decide not to hire him. Colleges and universities can be as full of crap as anyone, but an institution of higher learning has to have a line somewhere. And Masiello crossed it.
The punishment is too harsh, but sometimes life isn't fair. Look, Masiello wasn't fair in 2000 when he got a job out of college as an entry-level staffer at Tulane under Shawn Finney, who surely wouldn't have hired Masiello -- wouldn't have been able to hire him -- had he known Masiello didn't have a degree. Which means Masiello got a position that should have gone to someone else. Who was that someone else? We don't know. We'll never know, because Finney never had to go down the list. He hired Masiello, and whoever would've been next simply didn't get the call. Maybe that guy, whoever he is, got a job the next day at another school. Maybe that guy didn't get a job the next day, or the next, and now is selling cars in Yuma.
Some things, you just can't know.
But this thing, you can. This thing, you simply have to know if you're a teenager or a young adult. It's the lesson you have to learn from Steve Masiello, and from disgraced Notre Dame almost-coach George O'Leary, and from anyone else who has lost a job because of a discrepancy on their resume:
You can't tell a lie there. Not on your resume. Not if you want any peace of mind for, say, the rest of your life.
Big words, but true. Imagine being Masiello on Monday night, knowing you're closing in on the biggest career break of your life. You're about to leave little bitty Manhattan for a school in the AAC. Manhattan was a steppingstone, and USF was a destination, and Masiello was a day or so from arriving.
Think he was scared? Think he was nervous, anxious, sick to his stomach, wondering if the lie he wrote on his resume way back in 2000 when he was a stupid kid of 22 was going to catch up to him now, at age 36?
Another thing we don't know. But you can imagine the pit in Masiello's stomach as he went to bed Monday night, thinking that on Tuesday he was going to get the USF job ... unless.
You want a word like that to follow you around the rest of your career?
Unless?
Again, no apologies for Masiello. We're all in this world together, all competing for jobs, and what he did was a betrayal to everyone who tries to compete the right way. What Masiello did wasn't a victim-less crime; he cost someone that job at Tulane in 2000, and someone else at every job he has held along the way. Masiello didn't deserve to be a Manhattan assistant in 2001. He didn't deserve to sit on Rick Pitino's Louisville bench in 2005. He didn't deserve the head-coaching position at Manhattan in 2011. But he got them, which means somebody else didn't.
It almost happened again at USF. Good for the Bulls for taking a hard line on Masiello.
But part of me can't help but ache for Masiello. I don't know the guy, but the lie he told in 2000 was one of those lies you simply cannot make right. I mean, you can go get your degree. Maybe Masiello did, maybe not, but not having a degree was a mistake he could fix.
Lying about it in 2000? Can't fix that. Unless you think this scenario works:
Manhattan coach Steve Masiello, whose 2012-13 team could contend for a league title, admitted today that he never graduated from Kentucky in 2000, as his resume and official school bio say. He regrets the error, says he won't lie again, and trusts that this is now a closed topic.
Is that how it works? Of course not. How it would work is this:
Manhattan coach Steve Masiello admitted today that he never graduated from Kentucky in 2000, as his resume and official school bio say. Manhattan officials immediately announced his dismissal, putting the school's integrity ahead of its men's basketball program.
This was a lie you can't un-tell, and it's Masiello's fault for setting this series of events into motion in 2000, but what is happening to him now is brutal. The punishment has exceeded the crime, because the punishment isn't merely the loss of a job.
The punishment is national humiliation. If you didn't know who Steve Masiello was before today, you do now. And you don't know him as the rising star at Manhattan or the guy who is so good at coaching that he almost got the USF job. You know him as the liar. The phony.
The fraud.
Is that fair? Can't say. Another thing we just can't know.
But I know this: Don't lie on your resume, young people. Maybe you'll get away with it, unless you won't. Want to spend your entire career wondering which it will be? Haunted by a single word?
Unless ...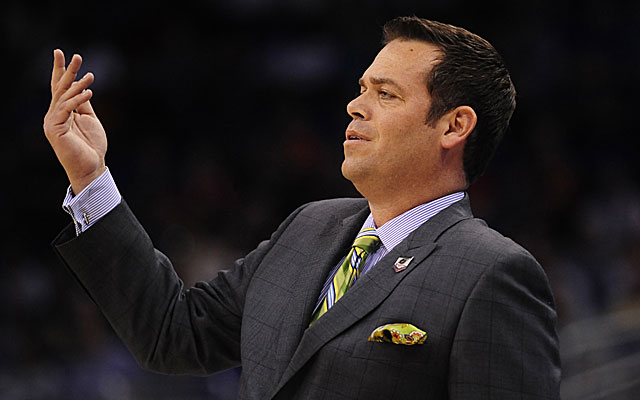 How to watch the Professional Rodeo Cowboys Association's 2017 National Finals Rodeo event

John John Florence and Gabriel Medina will look to catch the wave to a championship

Froome was found to have double the legal limit of an asthma drug in a September doping te...
Flanagan, after winning the New York City Marathon, is out to win her 'hometown race'

It's probably better to just buy your shoes online these days