Taste of the NFL: Bengals at their most remarkably unremarkable best
The Bengals raised more than $125,000 for the Freestore Foodbank thanks to its version of "Taste of the NFL."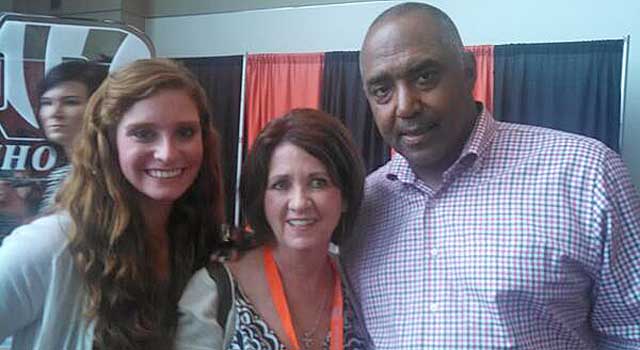 CINCINNATI -- A trouble-making NFL player is interesting. We'll write about that. Give it a headline. Hope you click the link.
What happened Wednesday night at Paul Brown Stadium, home of the Cincinnati Bengals? Not interesting at all. Not worth a headline. Nobody's rushing to click this link.
All the more reason to write the story.
Because what happened Wednesday night at Paul Brown Stadium, what happens once a year at NFL facilities all over the country, is what's right with sports and sports fans. That storyline doesn't sell, not nearly as much as a storyline about What's Wrong With Sports, but it's a storyline that needs a good telling every now and then.
So read about something called "Taste of the NFL," which is what happens when the NFL team in your community partners with restaurants and fans to raise money for the hungry. On Wednesday night, the Bengals and Cincinnati-area restaurants and Bengals fans helped to raise more than $125,000 for the Freestore Foodbank, which makes the Bengals' version of "Taste of the NFL" the most successful in the league and translates to nearly 375,000 meals for local residents, according to Sarah Cook of the Freestore Foodbank.
Those are the facts, the nuts and bolts, but they don't do justice to just how remarkably unremarkable this event is. Boring? You bet it's boring. Bengals head coach Marvin Lewis walked around the event like he was no big deal, because on this night that was sort of the point. This night wasn't about big-shot coaches. It was about the cause, and Marvin Lewis was there to support the cause, and if that meant stopping for a few photos he was willing to do that -- he did that for me, here -- but he was on hand to support the Freestore Foodbank at $150 a ticket and to contribute memorabilia for the silent auction. And he was here to eat. I saw Marvin Lewis 10 different times. Never saw him without food in his hands.
I saw Bengals defensive tackle Domata Peko pushing a stroller, using it for two purposes: One, to move the baby through the crowd. Two, to balance all the plates of food he stacked on the handle.
I saw receiver A.J. Green, the team's best and most popular player, never get a chance to eat because he was swarmed by fans with cameras. The closest Green came to eating, that I saw, was when he started walking toward a booth. Could've been Holtman's Donuts. Might's been Jag's Steak and Seafood. Both were in the area but we'll never know, because Green never got there. He was swarmed again by fans and their cameras. He was smiling the whole time.
I saw Pacman Jones mingling with people. He was soft-spoken and polite and utterly boring. I was standing in his way once -- crowded floor -- and he softly said "excuse me," which is so boring that I'm writing about it. Because we write about the times Pacman Jones is a jerk or worse. He hasn't been a jerk, or worse, in some time. A new Pacman? Don't know, just saying: He hasn't been a jerk or worse in some time, but he was soft-spoken and polite and boring on Wednesday night, and he was mingling with fans and supporting hungry folks in the community and he was doing it like the other 50 or so Bengals I saw: On his own.
As a franchise, the Bengals can't make their players show up for something like this. The Collective Bargaining Agreement prohibits it, so all the franchise did was let their players know about this opportunity to help the Freestore Foodbank and connect with fans who were paying $150 apiece to be there. And damn if every single Bengal didn't show up. Just because it was the right thing to do.
Boring, too. Completely not worth the story I just wrote.
Next year I hope to write it again.
How to watch the Professional Rodeo Cowboys Association's 2017 National Finals Rodeo event

John John Florence and Gabriel Medina will look to catch the wave to a championship

Froome was found to have double the legal limit of an asthma drug in a September doping te...
Flanagan, after winning the New York City Marathon, is out to win her 'hometown race'

It's probably better to just buy your shoes online these days